Slot Thors Thunder Playtech — Game Review
Age of the Gods: Norse Ways of Thunder online slot game
Ways of Thunder is an Age of Gods Norse online slot game with 1-3-5-3-1 rows over 5 reels. Unlock reel positions to extend this slot to a 5×5 game and the pay lines from 45 up to 3125! In the meantime, you can land bonus scatters that award up to 50 free spins, and keep on spinning for your chance at the Age of Gods progressive jackpot!
Theme and Story Line
In cold mountainous regions of the Norse culture, you will set out on a mission with Vikings and serpent gods to unlock battle-hardened win spins.
Graphics, Sounds, and Animations
The Age of the Gods: Norse Ways of Thunder slot game comes with a flurry of animations, lots activity on the reels, and even snow falling in a very nicely designed backdrop of a snow-covered Viking village. You will instantly notice that you will be playing on reels with positions blocked off which you will see unlock as continue to play. The sound effects are made up of a loud but gentle Viking theme song, ice-breaking as you unlock blocked reels positions, and the sound of cash wins!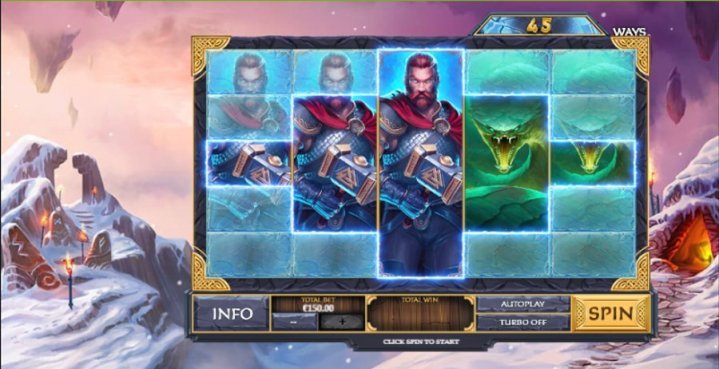 Top Casinos to Play Age of the Gods: Norse Ways of Thunder:
100% up to €200 + 20 Free Spins
Get Bonus
100% up to €100 + 100 Free Spins
Get Bonus
50 Wager Free Spins + Cashback on Every Bet
Get Bonus
Gameplay
The Age of Gods: Norse Ways of Thunder online slot has 5 reels but some of the symbol positions are locked. Therefore, you will begin with 1-3-5-3-1 rows with the chance to max out the number of rows to 5 making it a 5×5 slot game.
Under the slot's 'Info' tab you will be able to access the paytable where the 'wild', 'bonus', and 'regular symbols' as well as their payouts are listed. The 2 symbols that stand out the most are Thor the Norse warrior god and the serpent. Both are stacked 1×5 high and pay when 2, 3, 4, or 5 line up across the reels. These 2 symbols also pay the slot's highest rewards of 16x and 10x your spin bet when 5 line up from left to right respectively.
You will see 8 further regular symbols. The dragon will pay for 2, 3, 4, or 5 on a pay line while the remaining 7 will payout when you link 3, 4, or 5 symbols from left to right. Finally, the wild symbol will substitute as a wildcard for any of the slot's 10 regular symbols.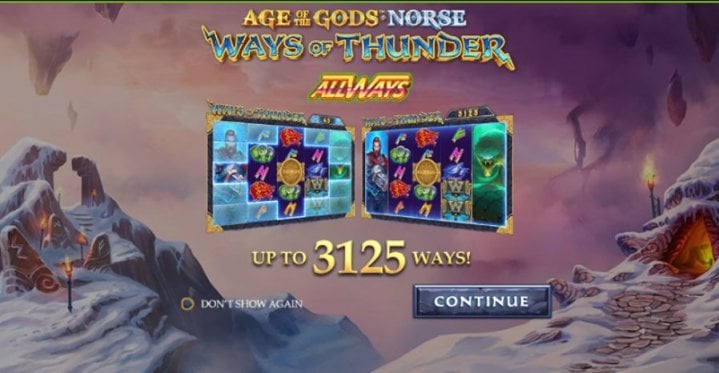 Bonuses and Free Spins
Lightning Feature: Each time you land a symbol combination win or 2 bonus symbols, the locked positions will unlock giving you more ways-to-win. There are 6 stages of unlocked reels in total.
Stage 1 = 45 paylines
Stage 2 = 135 paylines
Stage 3 = 405 paylines
Stage 4 = 675 paylines
Stage 5 = 1,125 paylines
Stage 6 = 3,125 paylines
Bonus Symbol: Landing 2 bonus symbols will unlock more positions while 3, 4, or 5 will unlock 8, 20, or 50 free spins. You will also be paid 3x, 8x, or 25x the spin bet, respectively.
Thor's Free Spins: Free spins are unlocked by 3 bonus symbols even if they land in a position that is locked. 2 bonus symbols after a free spin will add 2 additional free spins and unlock more pay lines. Reels can expand as each winning combination will unlock more positions.
Jackpot: The Age of Gods progressive jackpot can be triggered randomly at any time.
Bet sizes, RTP and Variance
Use the 'Total Bet' box to set the min-max bet of 0.20-150.00 per spin. In the rules section of this slot, it says the theoretical RTP is 94.5% with a jackpot contribution and with the jackpot contribution the RTP is 96.61%, and Playtech rate the payout frequency as high variance.
Conclusion
The Age of the Gods: Norse Ways of Thunder jackpot slot is a lot of fun. Most players enjoy the challenge of unlocking reel positions to extend the number of pay lines. The knock-on effect of more wins will always be more locked positions unlocking which progressively gives players higher wins. Speaking of progressive wins, this slot game also has the Age of Gods progressive jackpot!
Thor Slots
First appearing in a comic book back in 1962, Thor is based on the Norse mythology God of the same name, and has since become one of the most iconic characters in the Marvel line-up. Due to the vast popularity of the comics, Thor hit the big screen in 2011 in a blockbuster movie where Chris Hemsworth played the leading role, and it is this film which the Thor slot machine developed by Playtech is based upon.
For those of you unfamiliar with the story of Thor, he is the crown prince of Asgard famous for his enchanted hammer (Mjolnir) who is exiled top Earth where he develops a relationship with a scientist named Jane Foster, but he must return to Asgard to prevent his adopted brother Loki from becoming the new King of Asgard.
Playtech have done a wonderful job designing the Thor slot machine across 5 reels and 30 paylines to fit with the Norse mythology theme, with characters from the movie such as Loki and Jane featuring as symbols on the reels, a spine tingling animated introduction, plus a selection of exciting bonus features – not to mention the opportunity to win the Marvel Jackpot!
Play Mobile Slots for Real Money
200% UP TO £88
100% UP TO $500
Play Mobile Slots for Real Money
200% UP TO £88
100% UP TO $500
Thor
Like VegasSlots.co.uk:
Casino of the year 2023 Read Casino Review
Deposit $100, Get $100 Free
For all new players at 888 Casino
Deposit $100, Get $100 Free
For all new players at 888 Casino
Casino of the year 2023 Read Casino Review
For all new players at 888 Casino
Play Mobile Slots for Real Money
200% UP TO £88
100% UP TO $500
Play Mobile Slots for Real Money
200% UP TO £88
100% UP TO $500
Magnificent Mythical Symbols
The symbols in Thor are simply sensational so props to Playtech as they really help to propel you into the Norse mythology theme of the slot. Of course, it's Thor himself who is the standout symbol and of highest value as he appears in an intense pose and acts as the Wild symbol, with five on a payline resulting in a hefty win of 5000 coins – plus there are other perks as he can appear stacked on reels 2 and 4, but more on that below.
The Scatter symbol is the iconic Mjolrin hammer while Loki, Odin, Heimdall the Gatekeeper, Jane Foster all feature alongside the Ace to 10 symbols you will be familiar with in casino table games being the lowest in value of all.
Thunderstorm Respin
As alluded to above, the Thor Wild symbol brings benefits when it appears stacked on the second reel with a Thunderstorm respin occurring. This simply sees the second reel held in place as the four other reels are respun providing you with additional opportunities to win.
Lightning Free Spin
When the Thor Wild symbol lands on the fourth reel it's a Lightning free spin that you will enjoy. This provides you with one free spin which sees between two and five Wild symbols randomly added to the reels to dramatically boost your chances of winning.
Rainbow Bridge Feature
Rainbow Bridge is without doubt the standout feature in the Thor slot machine, beginning only when Heimdall the Gatekeeper covers all of the third reel, and while this doesn't occur as often as the Thunderstorm respin or the Lightning free spin, when it does trigger strap yourself in and get ready for some very big wins.
You get the choice of two orbs – either Earth or Jotunheim, with both offering different benefits in a free spins feature. The biggest incentive of this is that your free spins don't end until Heimdall the Gatekeeper covers the third reel again – which has enabled me to enjoy 26 free spins before.
Jotunheim Free Games: Choose Jotunheim and you will find yourself in familiar surroundings from the film – the land of the frost giants. The reels change to an ice covered design which is a lovely touch and sees extra Wild symbols added throughout the reels, with only Thor or Heimdall the Gatekeeper appearing on the third reel. There are also locked Wilds with Frost Giant Wilds that are part of a winning spin being locked in place for the next spin.
Earth Games: In the Earth free game mode Thor and Heimdall the Gatekeeper are once again the only symbols that appear on the third reel, however a scorching symbol also features which can only appear on the fifth reel. When you do land it, it sees fire blown onto a maximum of six other symbols which stay on fire for up to four spins. The benefit of this is that they act as multipliers when part of a winning spin which greatly boosts standard wins!
Fatal error: Uncaught PDOException: SQLSTATE[42000]: Syntax error or access violation: 1055 Expression #8 of SELECT list is not in GROUP BY clause and contains nonaggregated column 'vegasslotscouk.r.nrrates' which is not functionally dependent on columns in GROUP BY clause; this is incompatible with sql_mode=only_full_group_by in /home/web/vegasslotscouk/public_html/includes/template-functions/games-boxes.php:235 Stack trace: #0 /home/web/vegasslotscouk/public_html/includes/template-functions/games-boxes.php(235): PDOStatement->execute(Array) #1 /home/web/vegasslotscouk/public_html/includes/template-functions/games-boxes.php(65): get_games(Array) #2 /home/web/vegasslotscouk/public_html/includes/template-functions/helpers.php(786): games_list(Array) #3 /home/web/vegasslotscouk/public_html/playtech/list.php(3): print_free_games_offers_list(64) #4 /home/web/vegasslotscouk/public_html/playtech/thor/index.php(44): require_once('/home/web/vegas. ') #5 thrown in /home/web/vegasslotscouk/public_html/includes/template-functions/games-boxes.php on line 235