Slot Scarab — Game Review
Scarab Kingdom
Mummy's the word! Join us as we practice walking like an Egyptian in Scarab Kingdom by Microgaming partner Just For The Win.
Just For The Win are definitely not the first studio to send us to Ancient Egypt, so we've definitely seen our fair share of hieroglyphs, scarabs and pyramids before, but can it stand out from the rest?
In Scarab Kingdom we're ready to embrace the culture once more as we see what Cleopatra has up her sleeve this time.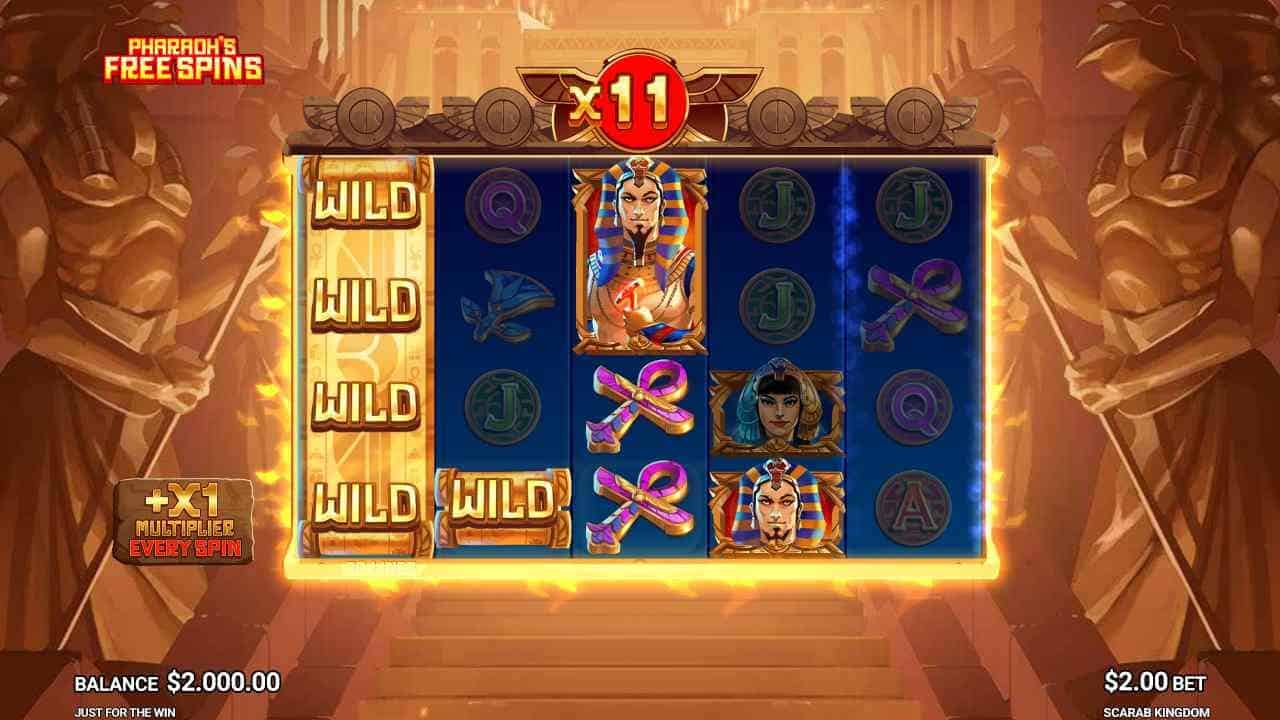 Scarab Kingdom Theme
As we take a look at the theme, the background speaks for itself, you will notice an Egyptian statue on the right, and a beautiful river surrounded by stunning scenery.
Just For The Win has definitely exceeded all expectations when it comes to the overall theme, capturing the sheer beauty of the Egyptian era with impressive visuals and alluring sound effects.
When you look at the name of the slot Scarab Kingdom, you already have a sense of the theme and how it ties in with the Egyptians. As we know Scarab Beetles were one of the most popular amulets in ancient Egypt.
Overall, Just For The Win has done a brilliant job at taking one of our oldest pieces of history, and using that to create a work of art for us all to enjoy.
Scarab Kingdom Betting and Symbols
Scarab Kingdom offers players a variety of Betting options, For those who feel more comfortable playing on a lower stake, you can breathe easy knowing this slot has a minimum £0.20 per spin option.
Scarab Kingdom also caters for those who 'Live life in the fast lane' with a maximum stake option of £25 per spin. Plenty of Betting options are available in between the two.
In sticking with the Egyptian theme, Just For The Win has definitely done their homework when choosing their symbols.
In this instance, Scarab Kingdom has not one, but three highest paying symbols which consists of the Wild, Pharaoh and Cleoptra, these are then followed by the Ankh, the Eye of Horus and the Lotus.
Lower paying symbols are as standard, Ace, King, Queen and Jack.
Features
| | |
| --- | --- |
| Bonus Game | No |
| Free Spins | Yes |
| Autoplay | No |
| Multipliers | Yes |
| | |
| --- | --- |
| Wilds | Yes |
| Jackpots | No |
| Megaways | No |
| Bonus Buy | No |
Scarab Kingdom Base Game and Features
Scarab Kingdom is a 5 reel slot with 30 fixed paylines and a staggering max win of up to 5,000x!
If the max win alone is not enough to entice you, Scarab Kingdom has a few tricks up its sleeve with its very own Scarab Scatter Collection, Cleo's Bonus Bar and Wild Scrolls Feature.
Situated atop each reel, you will notice a Scarab Holder is present, during gameplay when a Scarab scatter lands, it will be added to the Scarab Holder for that reel. All Scarab scatters collected will also go towards filling Cleo's Bonus Bar by one each time.
Once 3 Scarab scatters have been collected, the Wild Scrolls feature will activate for that reel, normal gameplay will resume once all the Wild Scrolls have expired.
Free spin symbols can be seen through the Wild Scrolls, and therefore can be triggered during the Wild Scrolls Feature.
Scarab Kingdom certainly provides us with plenty of excitement on the basis of what it has to offer, Just For The Win has filled this slot with endless possibilities of reaching those hard to come by big wins.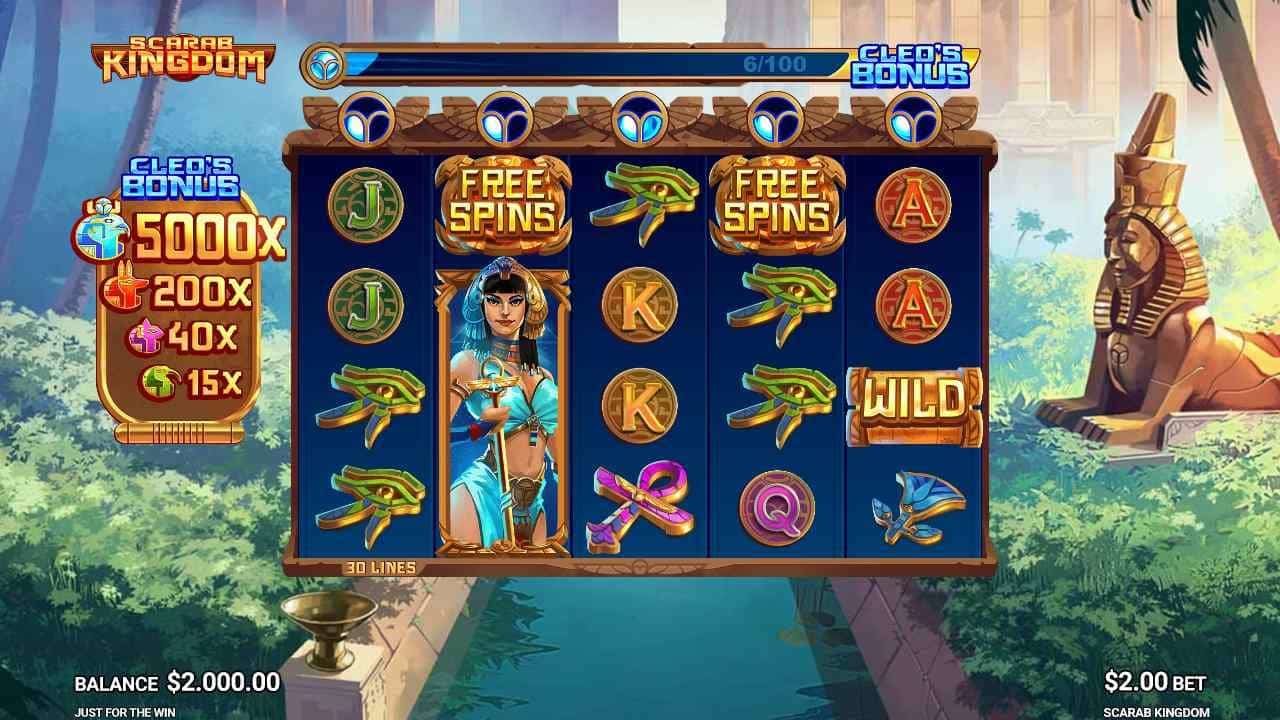 Cleo's Bonus
When you look at the layout of Scarab Kingdom, you may have already feasted your eyes upon Cleo's Bonus Bar atop the reels.
In order to be awarded this Bonus, you will need to accumulate 100 Scarab Scatters throughout gameplay. Once you reach your quota, Cleo's Bonus will be activated.
In Cleo's Bonus, there are 4 types of Bonus coins and each type has 3 coins, tallying to 12 Bonus coins. Each coin type corresponds to a cash prize, 15x, 40x, 200x and a substantial 5000x.
Revealing 3 of the same coin type rewards you with the corresponding cash prize according to your bet. Upon completion of Cleo's Bonus, the Bonus Bar is then set back to 0.
Scarab Kingdom Pharaoh's Free Spins
In the base game, you will come across Red Scarab Scatters, these are situated on reels 2, 3 and 4. Landing Three Red Scarab Scatters will trigger Pharaoh's Free Spins.
Free Spins symbols awards an indefinite amount of Free Spins, and Free Spins starts with a multiplier of x1.
At the start of the round, Wild scrolls are automatically active on reel 3. Any regular Wild on any reel thereafter will also activate the Wild Scrolls Feature, and every spin increases the multiplier by +1
This feature ends when Wild Scrolls are no longer present.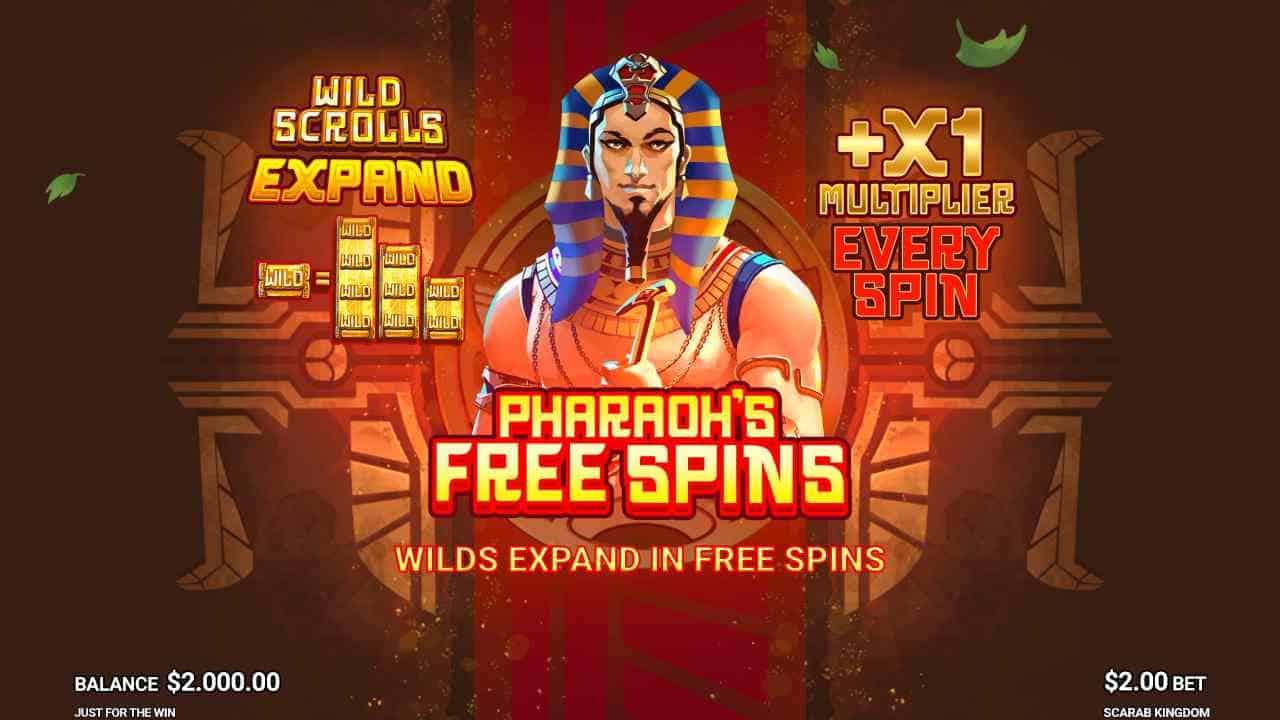 Scarab Kingdom Our Verdict
Scarab Kingdom may not be a Just For The Win blockbuster title, but it's a pretty dependable title. A 5,000x win capability makes it alluring enough to those searching for a big hit, and an RTP value of 96.13% is well within the satisfactory range.
Scarab Kingdom Is not overly complicated, and in hindsight, it's not overly innovative given the time-worn Egyptian Theme, but it speaks to the heart of the kind of player who loves something a little classical, and it's even got a couple of surprises mixed in there too.
Some might consider Scarab Kingdom a bit of a grind game, given the Cleo's bonus feature, but with the concept of Free Spins thrown in the mix too, it's not a bad thing to have something extra to work towards.
Overall, Scarab Kingdom may not look like much at first glance, but it can throw in some surprising
Scarab Kingdom
Just for the Win transports you to Ancient Egypt for a spectacular journey filled with scarabs, seals, amulets, pharaohs, symbols, and jewels. Scarab Kingdom is a high-risk slot with a 96.13 percent RTP that offers action and excitement. Join in the fun, participate in the treasure hunt, and try your luck at winning big!
Where Can I Play Scarab Kingdom Slot?
Casino Lab
Casino Planet
Luckland
Casino Gods
Scarab Kingdom Information
With the new Scarab Kingdom slot, you can immerse yourself in the glories of Ancient Egypt. Just for the Win's high-volatility slot will take you on a magical quest for a thrilling treasure search. Be on the lookout for slot bonuses, free spins, and wild features when playing the Scarab Kingdom slot.
Scarab Kingdom is a 5-reel slot with 30 different chances to win. You may simply transfer yourself to ancient times and be ready to explore the game with large win potential and an oriental influenced music. Also, don't forget about the free spins, so saddle up and try your luck!
THEMES, SYMBOLS, AND PAYABLE INSTRUCTIONS
Scarab Kingdom is a high-volatility slot game with an Ancient Egypt theme. This one, though, is a little different from the other Egypt-themed slots available. Contrary to what the game's name suggests, there is no pyramid in site in this low RTP slot game. Scarab Kingdom is unlike other slot games accessible on hundreds of CA gambling sites in that it features more vegetation rather than merely dusty old tombs and yellowish sands. Scarab Kingdom claims to hold your interest with a variety of enigmatic symbols, signs, scrolls, wilds, and scarabs.
Collect the scarab scatters to activate challenging and extended wild scrolls, and then hit the massive Pick'Em bonus for a chance to win enormous rewards up to 5000x your bet. All wilds that land become extended wild scrolls, and the multiplier increases by +1 every spin during the bonus round. Collect three scarabs on the centre reels and you'll be rewarded with the finest scarab extra feature: limitless free spins.
The Pick 'Em bonus is the greatest method to get that 5000x your wager reward.
Because Scarab Kingdom has 30 paylines, finding a match can happen in a variety of ways. Finding a match has never been easier, whether it's up, down, across, or in a straight line.
VARIANCE, RTP, AND PAYOUTS
Scarab Kingdom has a high level of turbulence. It has an RTP of 96.13 percent, which is rated above average in a number of other CA online slot sites, and it keeps players entertained for hours.
It's a potentially extremely volatile slot game if you can match the proper symbols, with 5 reels and 30 paylines and a maximum win potential of 5000x your stake.
Furthermore, the additional features and free spins in this game contribute to the overall thrill and action.
FEATURES AND GAMEPLAY
Scarab Kingdom has a variety of features, including as slot bonuses, symbol collection, growing wilds, the Pick'Em bonus, and more.
The wilds, on the other hand, play an important role in the story.
This online slot game provides players with a free spin bonus, which is most likely where a large win may be found.
PAYOUTS IN SCARAB KINGDOM
Stakes in Scarab Kingdom range from $0.20 to $25 every spin. Furthermore, you have the chance to win 5000 times your investment. You'll need 5 of the high-value symbols, or wilds, to achieve a winning combination.
The low-paying royal symbols, on the other hand, require at least three matching symbols to form a winning combination. If you obtain 5 of the Pharaoh symbols across the 5 payline, you'll win 10 times your bet. With three matching symbols, the Cleo Bonus Symbol will award you one of four jackpot prizes: 15x, 40x, 200x, or 5000x your wager.
Wild Scroll Feature in Scarab Kingdom
Wilds appear as growing substitutes in the Scarab Kingdom. A wild scroll feature appears on the reels when a scarab holder is full. Expanded wild scrolls get sticky and decrease one spot per spin from top to bottom until they vanish.
Cleo's Bonus in the Scarab Kingdom
That's a jackpot feature, right there! When you gather 100 scatters in the bonus bar, the bonus is unlocked. A new screen will open, with 12 face-down coins to pick from. To uncover the huge reward, match three of them!
OUR OPINION
This is the game for you if you appreciate Ancient Egypt themed games and prefer to immerse yourself in a world of pyramids and pharaohs. Players may get the impression that this game has it all, with multiple symbols, extra features, and free spins. Furthermore, a peaceful music will accompany your slot adventure, along with a pleasantly green backdrop, which will undoubtedly contribute to a restful but delightful playing experience. If you want to go big, go for the Cleo's Bonus and take advantage of the various opportunities to win!