Slot Om Nom — Game Review
Om Nom Slot Review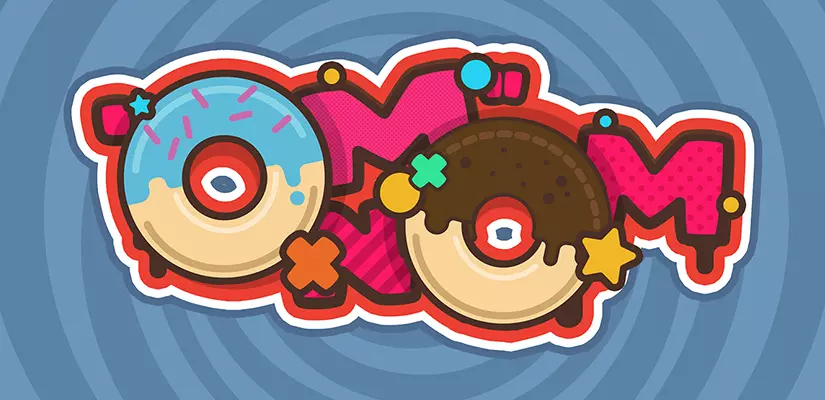 Inspired around foods, Om Nom is a tasty video slot that is a creation of the novice gaming studio Hacksaw Gaming. In spite of being rather simple in terms of animations and graphics, the game can turn out to be very satisfying to play because the maximum win it offers is x4,800.
This is one more pocket format slot game designed by the software provider that boasts a 4×4 reel grid, but the ways in which payoffs are granted are not what players have used to seeing in other slot games. Of course, this bright and cheerful game does not go without its special icons and bonus features that can sweeten up the playtime of gambling enthusiasts.
Om Nom Slot Summary
Provider
Hacksaw Gaming
Paylines
256
RTP
96.28%
Minimum Bet
$0,20
Maximum Bet
$100
Wild Symbol
Wild symbols are introduced during the free spins feature
Scatter Symbol
The free spins feature is unlocked when at least three scatter icons appear together
Bonus Features
Free spins feature
Jackpot
N/A
Symbols and Winning Combinations of Om Nom Slot
If players have already tried their hand at Hacksaw Gaming's Stick'em, they will notice that in terms of layout, the games have much in common. In Om Nom, the reels are set against a baby blue background where there are lots of different candies. Instead of being clearly defined, the reels are not boxed off as they look as if they hover above the game buttons.
Om Nom's name will make much more sense to players as soon as they start spinning the reels as once they do so, they will see various delicious-looking foods. Apparently, the content creators have decided to put great stress on simplicity as the characters that will appear on the reels might seem to players slightly basic.
The least valuable characters that will land once players get down to playing are the cupcake, the chocolate bar, and the ice cream as all these three icons will award a payout of $25, given that they appear four times. The popcorn is more lucrative as when such icons appear four times across the reels, players' bankroll will increase with $40.
The flavorsome hamburger can bring slot lovers a decent reward as well as if it pops up four times on the reels, a payout of $50 will be added to players' balance. The fries, together with the pizza slice return higher prizes because a reward of $100 will be given when such symbols appear four times. The best-paying icon in Om Nom is the pink frosted donut that is wearing a hat. Players should expect to get $200 each time when four such donuts land across the reels.
Bonus Features of Om Nom Slot
The special features Om Nom is equipped with can make players' experience far more joyous and can help them improve their results. Perhaps, slot lovers have already noticed that the game logo is positioned on the left-hand side of the reels. Each time they decide to hit the spin button, they will see that one of the characters from the paytable of the game will be picked at random, and will be added on the first "O".
In the event that the chosen mystery character is included in a winning combination, the win multiplier will start spinning. Thus, eventually, the wins players have scored can be boosted up to x100.
With each spin of the reels, players will also have the opportunity to unlock the free spins bonus feature. So as to unlock it, they need to get three free spins icons during the same round. Once this special feature comes to life, extra wild characters will be introduced in order to enhance players' chances to bag better prizes.
Additionally, while the bonus rounds last, the win multiplier will continue to be in effect, which can result in heftier wins.
Our Verdict
Om Nom is a foot-themed slot that, in spite of being slightly basic, has its charm. Although the game is not overflowing with special characters or features, the free spins rounds, the multipliers, and the extra wild symbols that are introduced can help players enjoy a good time. So, if players are looking for a light-hearted slot, Om Nom is an alternative that is worth considering.
Quick Links
Symbols and Combinations
Bonus Features
Our Verdict
Om Nom: Merge Review – Cutie-Fruity Idle Merge Game
Zeptolab, Creators of Cut the Rope, are back with a new idle merge game. Om Nom: Merge merges (pun intended) the best of both genres. It not only allows you to combine your favorite nommies to discover new adorable creatures, but also idle away as cute creatures keep gaining rewards when you are not playing.
The game starts with our dear Om Nom discovering an anomaly in the forest. Fruits are growing uncontrollably. Only Om Nom can stop this "fruitocalypse" and with his fellow nommies munch on fruits to restore the balance of the magic forest.
As Om Nom starts eating fruits, you will have to find and combine new creatures to eat more fruits to stop them from growing. A creature earns gold each time he munches on a fruit.
As more and more creatures gobble fruits, you will reach new bonus stages where you can come across giant fruits. Unleash all nommies to eat these large fruits before the timer reaches zero to get lots of rewards.
Creatures are just unstoppable. When you are not playing, they keep eating fruits and earn gold for you. You can see how much gold you have earned when you open the app.
Addictive or Repetitive
Definitely Addictive! Once you start playing Om Nom Merge, you won't stop until you unlock all characters. There are lots of funky and quirky creatures to discover and each has a unique trait.
You can buy new nommies using the in-game gold earned from eating fruits or make present boxes rain down on empty slots by watching a promo video. There are also several tasty upgrades or "perks" that can boost gold earnings or decrease the price of gold to purchase new creatures.
Om Nom Merge can be played offline, but you must have an Internet connection to claim prizes or double your rewards.
The Gold Boost icon on the bottom of the screen turns fruits into gold for a few minutes, offering double gold. You can get this boost by watching an advert and the more adverts you watch, the more rewards you will unlock. Similarly, you can select a prize from three different gifts in "Nature's Gifts" mini game (golden mushroom icon). Sometimes, a treasure chest will float in the air and tapping it will reveal lots of gold which you can obtain by watching an ad.
You can also double AFK earnings or offline earnings by watching an advert. So yes, there will be quite a few ad-viewings involved if you want to quickly earn a lot of gold, but if you are obsessed with your Internet data usage, then I would recommend turning off your mobile data to play it offline.
Can You Play It Without IAP?
Just like every other Android game, Om Nom Merge has IAPs in the form of "welcome offers" that grant a bundle of goodies, such as gold present boxes containing rare nommies, gold and gems. You can also buy gems and instant gold by spending real money.
Gems are used to purchase rare creatures and unlock special power-ups such as rain to get more fruits in the jungle. Power-ups are one-time purchases. You can earn gems for free when you reach a new level.
Completing achievements also grants gems. Tap the trophy icon regularly to check for new achievements.
Yes, you can play without spending money on bundles, gems or coins, but you won't be able to unlock all Om Nom Merge nommies in a very short span of time without IAPs.
With such an easy learning curve, the game's pretty addictive, and you can easily unlock all characters if you have patience and know the creature combination sequence. Of course, you will have to watch promo videos to increase your gold earnings or double your rewards as simply playing the game without these offers won't let you get a lot of gold in a short span of time. Gold is required to buy creatures if you want skip merging and purchase an identical creature directly.
Om Nom Merge is the perfect game to play on a lazy Sunday afternoon. On my "time-waster" rating, I will give a 4/5 as you can play the game for hours, and I would surely recommend playing it while traveling.
Last Updated on December 20, 2019 by