Slot Necromancer — Game Review
New VR Slot Machine from Evoplay, Necromancer Slot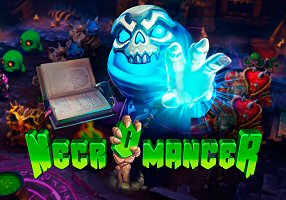 For the last few years, online casino fans have been promised that 'virtual reality is the future' of iGaming. We've been teased with a few titles here and there. Microgaming debuted a demo of its VR Roulette in 2015, and NetEnt's 2018 recreation of Gonzo's Quest VR was fantastic. But nothing too notable has come along since.
Today I'm happy to announce that a new VR slot machine has been released. Earlier this week, Evoplay Entertainment launched the Necromancer Slot. It's got phenomenal graphics and an undead theme that's perfect for the upcoming Halloween festivities.
Before I continue, I should point out that, while I spent a good while spinning the reels in demo mode in order to deliver a genuine, unbiased review, I haven't played Necromancer for real money. There are currently just a handful of online casinos that employ Evoplay's software and accept Canadian players. Those that do are all licensed in Curacao. I'm perfectly willing to risk my extra cash on internet gambling entertainment, but I refuse to risk my personal and financial security by playing at a site that isn't responsible enough to obtain a license from a regulatory authority with higher standards.
Necromancer Virtual Reality Online Slot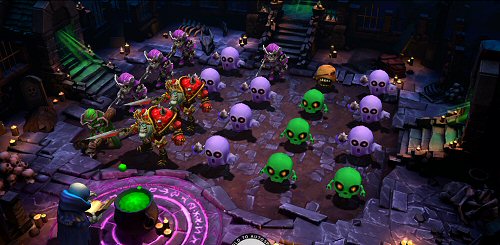 What I love most about this game is the imaginative theme. Evoplay did an excellent job of building characters. The necromancer calls forth his evil, undead minions, who represent the symbols on the reels. Some are spike-armored, skeletal warriors; others are smaller ghosts and mummified creatures. Generally speaking, the size and ferocity of each character will tell you whether it's a higher or lower paying symbol. The bigger and scarier the better!
Necromancer has a 5×4 reel grid with 40 paylines, but because it's in 3D, they are set at a unique angle. There are two special symbols—the Jack-o-Lantern Wild, and the Treasure Chest Scatter. Wilds can appear only on reels 2 and 4, substituting for any other symbol except scatters.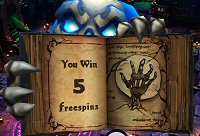 Scatters appear only on reels 2, 3 and 4, and only during the base game (not in Respins or Free Spins). When 3 land on the reels, players receive 5 Free Spins. Before each free spin, the necromancer randomly chooses one high paying symbol to clone by dropping it into his boiling cauldron of green goo. This symbol will appear in higher quantity on the reels for the ensuing spin.
Any time a winning combination pays in the base game, it triggers a free Respin. Again, the necromancer will clone one symbol, which will show up in higher abundance during the respin, increasing the odds of another win and subsequent respin.
The VR Aspect of Necromancer Slot
You obviously don't have to have a virtual reality headset to play the game. The 3D graphics are pretty awesome on their own. I actually enjoyed the game outside VR more than in, although it was a cool experience at first.
The screen is a bit larger than it should be, in my opinion. You can't see everything that's going on without turning your head to look around. You can barely see all of the reels at the same time, and have to look pretty far up to see the spin button, bet size, credits, and wins. I think the novelty will wear off pretty quick on this new VR slot machine as most players revert back to the standard desktop and mobile 3D mode.
I also feel like the RTP, which is a bit low at 95.8%, only pays well with larger bets. As I said before, I only played in demo mode, but at the lowest bet size, I spun the reels 35 times without a single winning combination. That's outrageous! When I upped the bet to $1, I triggered free spins in less than 10 spins. Again, it was only demo mode, but take from that what you will.
With Halloween just around the corner, I'm sure the Necromancer virtual reality online slot is going to get a lot of attention. If you're in Canada like me, though, I recommend waiting for Evoplay's platform to get picked up by more reputable sites regulated in Europe. Until then, you can try out the Necromancer Slot Demo here.
#1 Canadian-Friendly Casino
Jackpotcity.com is our editorial pick for your gaming needs. Currently offering an entire suite of casino games, as well as a wide range of Canadian deposit options, JackPotCity truly offers world-class gaming.
JackpotCity.com
Related posts:
About the Author
Adalene Lucas: is our jack of all trades here at DBC. She is a skilled coder, gambler, writer and webmaster. She lives in Manitoba where she enjoys the lush landscapes and camping near Tulabi Falls. Nature gives her inspiration to write. When she's not immersed in nature, her favorite words are «game theory». She lives with her husband and their two Labradors, Kophy and Whisper.
Recent Posts
Canadian Credit Card Casinos : Availability, Risks & Checklist
Integrity Concerns Lead iGaming Ontario to Halt UFC Betting
High Flyer Launches Mobile-First Bingo & Casino in Ontario
Sault Mayor Renews Argument for Exclusive OLG Office
Gambling Software Deal: SkillOnNet adds Playson, Spade Gaming
Sword of the Necromancer Review: Bring Out Your Dead
Bring back Koko from dead, along with some others, if they'll follow you, in this Sword of the Necromancer review.
The opening sequence for Sword of the Necromancer was excellent and got me raring to go. I'd conveniently placed a few of the undead to the side of my desk, so once the game taught me the dark arts, all my household chores would be catered for.
Alas, 'tis not an educational title but an adventure – a dungeon crawler quest to save the soul of your beloved, Priestess Koko. She's dead. There's still plenty of resurrections, but the button pressing variety. The diploma in Necromancy will have to wait.
RECOMMENDED
But has the wait for the game been worth it? Press card firmly in my Fedora (carrying the flame for fiction), I've been following Sword of the Necromancer since the Kickstarter campaign and was keen to try it out. Well, now we find out.
Sword Of The Necromancer Review
That intro scene was woo-like – not John Woo, just the kind where you'd see American cinema-goers stand up at the opening credits shouting "Woo! U-S-A" and stuff like that. Too many films.
Majestically teleported to the gameplay, the visuals take a very different approach to the cinematic; pixel arty, with a top-down perspective, but I knew this beforehand and endorsed Tama's character with an illustrious seal of approval. A bit like Secrets of Mana, don't scoff, with a definite RPG vibe, her pink hair is what they'll be sporting this season.
She's the protagonist in Sword of the Necromancer, a game from Grimorio of Games, JanduSoft and Game Seer Ventures. Her mission, and you have chosen to accept it, is to raise Koko from the dead. It's not something the average person knows how to do, hence my pile of cadavers in preparation, but she's heard of this sword that can do precisely that.
Coincidentally, you find this sword within the first few minutes, but while you can raise the oozing pools of corpses you've just slain, you can't reanimate ol' Koko Pops and instead have to do a bit of dungeon crawling.
Re-Animator
The visuals didn't disappoint – Tama is a rather cool-looking protag, but there was something a bit off with the combat. Tama floats like a butterfly but stings like a sloth, it doesn't match her movement speed and found that attacks were a bit laggy.
The third reason is capacity. Tama has four slots in Sword of the Necromancer, but you may as well say two as you need to keep one for the titular sword, and another for the longbow for ranged attacks. A note: the longbow doesn't require ammo, it just has a cooldown, if you have the patience.
What happens is you have to lose whatever is assigned to that button in place for a minion – the same goes for equipment. Occasionally you will find a chest where you can stash away goods for another run, but to tell the truth, you can stick with the same loadout throughout.
Sword of the Necromancer is a bit more tolerable with the dash button. Tama can slip across skinny chasms with grace, and dodge an incoming attack at the press of a button. There's no gauge as such, but there is a cooldown, and you'll find you're dashing through corridors to get to the next room and get it all over with.
Saving graces? The story is good and between a few rooms will be a cutaway with some nice artwork and a bit of exposition. It's here that I realised Tama was female, just assuming the translation for the character's name was Balls. The music is also good, when it doesn't shift so much into a fast tempo when nothing is happening.
Sword Of The Necromancer Review Summary
Sword of the Necromancer is neither a resource for reanimating your beloved guinea pig or an enjoyable dungeon crawler. Perhaps the hype outweighed the potential as aside from the decent artwork and music, it's all rather bland. It also proves that raising the dead is pretty fruitless.