Slot Labyrinth — Game Review
Ways of the Labyrinth Slot Review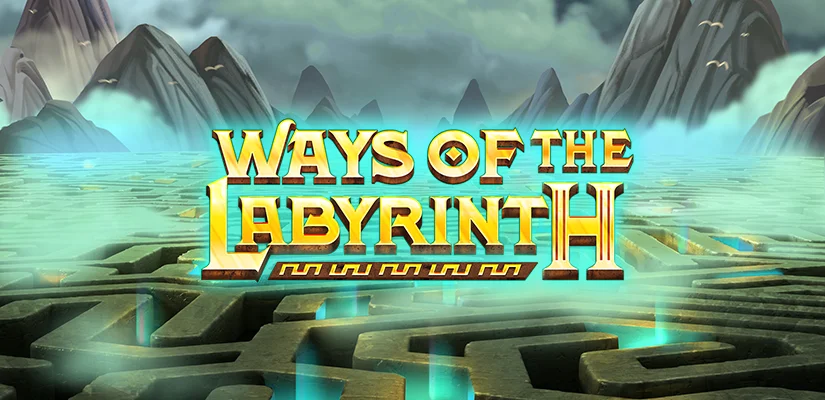 Ways of the Labyrinth is a slot by Leander Games, inspired by the fearsome Minotaur, a creature from Greek mythology with the head of a bull and the body of a human being. Legend has it the fabled beast lived imprisoned in an intricate labyrinth on the island of Cretes and feasted on human flesh every nine years.
As gruesome as the original myth sounds, you have no reason to fear while you spin the reels of this Leander slot. The worst that could happen is for you to win the top prize of 200x your total wager. The slot does not offer traditional paylines but rather uses the All Ways Win format, allowing for up to 1,024 winning combinations on each spin.
Ways of the Labyrinth Slot Summary
Software Provider
Leander Games
Payline Number
1024 ways to win
RTP
95.89%
Minimum Bet
$0.25
Maximum Bet
$125
Wild Symbol
Yes, the labyrinth symbol
Scatter Symbol
Yes, free spins icons
Bonus Features
Respins, Medusa Wilds Feature, Minotaur Mystery Feature, Cerberus Infectious Feature, Mighty Medusa Feature, Wild Sweetener Feature, Free Spins
Jackpot
6419x the total bet
Symbols and Winning Combinations in Ways of the Labyrinth
The ferocious Minotaur is not the only mythical creature that will help you score wins in this 5-reel slot. The snake-haired Medusa and the three-headed dog Cerberus will assist you in forming the other high-value combinations. In order to win, you must land at least three matching symbols in any position on adjacent reels, starting from the leftmost side of the 5×4 grid.
Wins are multiplied by your current bet level, which is equal to your overall wager divided by 25. There are four regular high-value and four low-value symbols in Ways of the Labyrinth. In descending order, the high payers include the game's logo against an emerald backdrop, Medusa, the Minotaur, and Cerberus. A five-of-a-kind with the logo delivers payouts of 50x the stake. Five Medusas and five Minotaurs produce maximum prizes of 40x the bet, while five matches with Cerberus offer 20x the stake.
Low-paying combinations form with four different letters of the Greek alphabet – delta, omega, phi, and psi. You need three, four, or five matches with each letter to receive payouts of 5x, 7x, and 10x your bet, respectively. Keep your eyes peeled for the symbol with the labyrinth. Being wild, it substitutes all icons bar the bonus one. The labyrinth also offers you the highest value, awarding payouts of 30x, 50x, or 200x for three to five matches.
Bonus Features of Ways of the Labyrinth
Leander's developers have done an excellent job at crafting a feature-rich slot, capable of keeping players engaged for a long time. Several features trigger randomly and each is associated with one of the three mythological creatures incorporated into the game. The Medusa Wilds Feature transforms all symbols with the snake-haired lady into wilds.
During the Minotaur Mystery Feature, random icons are replaced with alike mystery symbols. And finally, there is the Cerberus Infectious Feature where the three-headed dog explodes on the reels and infects neighboring positions with its symbol, creating more winning combinations.
The slot randomly awards free respins when one or more free spins icons appear on any reel. However, this happens only on condition you don't have enough special symbols to kick off the free spins. In essence, the feature allows you to have a second go at triggering the round of free spins since only the reels without the triggering symbols respin.
The free spins are obviously combination-driven as they require at least 6 bonus symbols to trigger. You can get up to 25 free rounds when landing 12 to 20 special symbols. Respectively, you receive 12 free spins for 7 to 8 special icons and 15 free spins for 9 to 11 free spins symbols.
Retriggering the feature is also possible. If you fail to score the six bonus symbols necessary for this purpose, they will all turn wild to help you create more winning combinations. During free spins, Medusa icons will randomly transform into wilds with 1x or 2x multipliers attached to them.
Verdict
Ways of the Labyrinth is bursting at the seams with great extra features and this by itself makes the game worthwhile. As usual, Leander has delivered a highly enticing slot that will keep you at the edge of your seat, although the prizes in the paytable could be a little bit higher. The game is likely to appeal more to fans of Ancient Greek mythology. It is fully compatible with mobile devices, allowing spinners to join the mythical creatures from any location, at any time.
Quick Links
Symbols and Combinations
Bonus Features
Verdict
Lapis X Labyrinth is an action RPG with all the pizzazz of a casino slot machine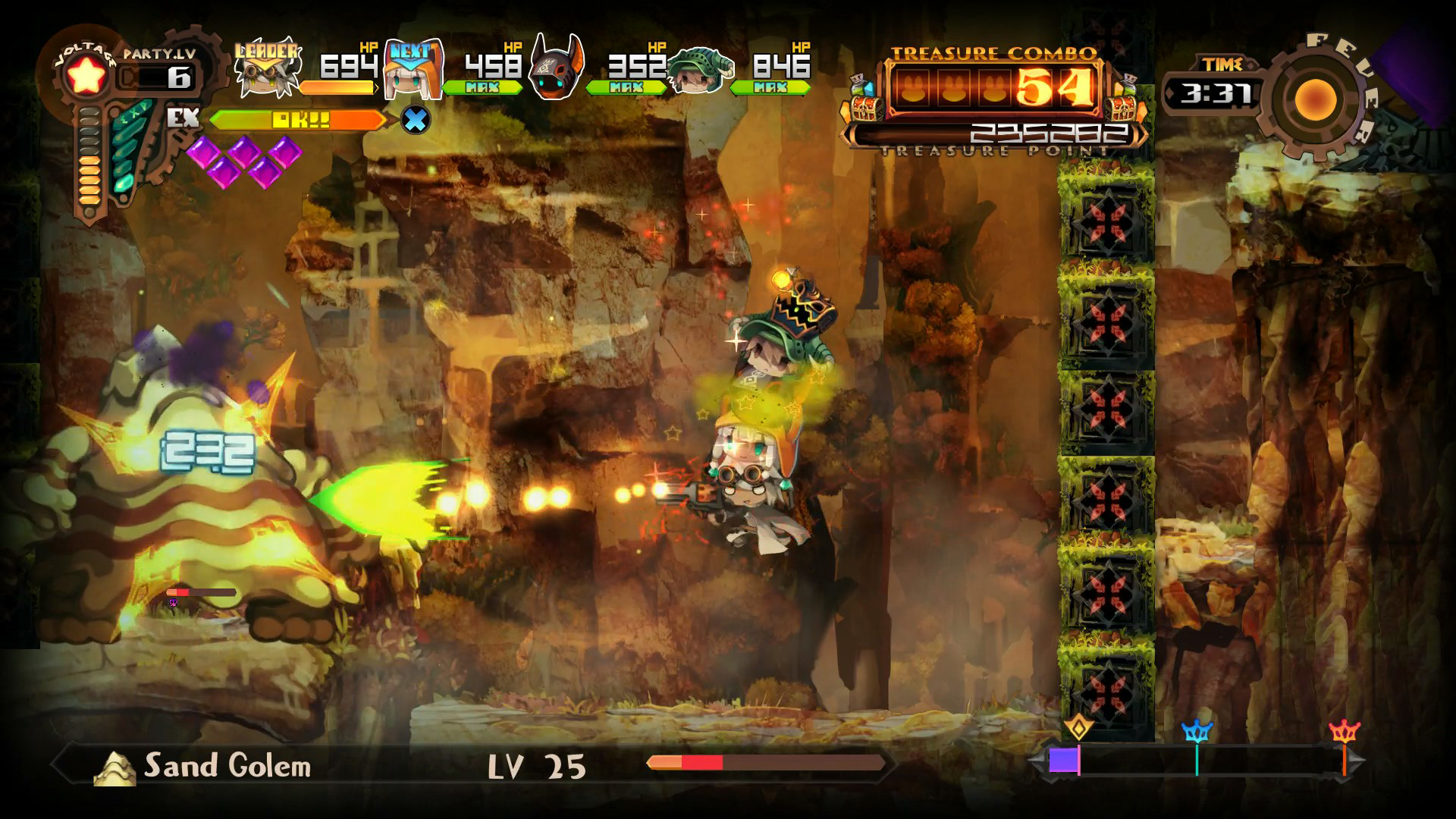 I've been pretty high on Lapis X Labyrinth since it was first announced by NIS America late last year. With its adorably cute characters, well-drawn levels, and fast-paced combat, it quickly became a game I needed in my Switch to play after a long day at the office. The thought of running a few dungeons with my totem pole squad excited me, and after taking it on at a recent NIS America event, that excitement hasn't quelled.
Lapis X Labyrinth is a side-scrolling 2D action RPG that's all about diving into dungeons and collecting that sweet, sweet loot. Players will be able to create characters in eight different classes, including gunners, warriors, and maids. Only four characters can go into a dungeon at a time, stacked up on top of each other like cans at a grocery store. The more characters you have the more powerful your team is and each class brings its own specialty to the table.
I got my first hands-on with the title a few weeks ago on Switch, but at the NIS event, I was able to take the PS4 build for a spin. The game looks largely the same across the board, but the PS4 version has a much smoother framerate, especially when it comes to fever mode. This wasn't a deal breaker on Switch, but it is nice to see how Lapis X Labyrinth performs on more powerful hardware.
Right out of the gate, I ran into the same problem I had the last time I tried the game. In the first dungeon after the tutorial, the monsters absolutely wiped the floor with me. My combo of warrior and maid just wasn't powerful enough. I thought to try a different combination before a NIS representative, wearing their customary "Dood" jersey, politely pointed out I hadn't made a full team yet. In my rush to get to the action, I completely skipped over the exposition where the game told me to make more characters. With a full team of four, I headed back down to the first dungeon and promptly made it my bitch.
Combat in Lapis is extremely simple. There are one button combos and more powerful moves that are activated when combining that button with a direction on the control pad. A second attack button will trigger whichever character is at the top of the pile for a unique action that depends on their class. Some will attack, others will buff your team. The character on the bottom of the pile acts as the leader of the group, however, everyone in the stack is open to damage. The key to survival will be judging the situation and figuring out which characters you need at the top and bottom of the stack. In the hour I played the game, I got a good handle of swapping my team but not necessarily to the point where I knew the exact order they were stacked in.
Enemies in these early dungeons were pretty simple, mostly light damage sponges that didn't do too much harm to my team. Lapis X Labyrinth loves to get players in a small area and throw as many enemies at them as it can. This is how I died so easily when I just had two team members but these situations are quite manageable when rocking a full squad. It's in these moments it's easy to lose track of exactly what you're doing as there is so much happening all at once on screen, but it's actually kind of brilliant in a way, making you feel like an all-powerful team of warriors. These moments become even more hectic when you reach fever mode.
I'm not quite sure what triggers it yet – probably just doing a lot of damage – but fever mode turns Lapis X Labyrinth from a simple action RPG into a slot machine that keeps paying out. Defeating enemies and destroying blocks releases a torrent of gems to collect. The flashing lights, colorful gems, noise, and music combine in these moments to really give the game the same vibe I get every time I play the nickel slots at the Rancheria casino. It's truly a rush, adding a level of flamboyant energy to an already visually spectacular experience.
My only concern at the moment is Lapis X Labyrinth will end up being too button-mashy long-term. The two-button combat is fine and actually works quite well when enemies are coming at me from all angles, but switching team leaders is clunky and doesn't work as fast as it should for this type of title. Activating team attacks is equally stunted as my team needed to be completely still before it would actually work. With a bit more fluidity to these actions, I think Lapis X Labyrinth could end up even better than it's looking right now. I don't think that's going to happen because the game I played at the event wasn't a demo but rather the full game, achievements and all.
There is a lot more to Lapis x Labyrinth, including chests, keys, scores, and possibly even more features not available in the first six dungeons; but everything I've seen so far is exactly what I want out of it. I hope it has enough long-term appeal, but even if it doesn't, blasting through a dungeon or two on the train home will be a cathartic way to end the workday. Lapis X Labyrinth launches May 28 for PlayStation 4 and Switch.
CJ Andriessen
Editor-at-Large – CJ has been a contributor to Destructoid since 2015, originally writing satirical news pieces before transitioning into general news, features, and other coverage that was less likely to get this website sued.
Lucky Labyrinth — Slots review
Navigating the giant maze, there is no telling what features you will unlock in Lucky Labyrinth from Rival. This is because this 5 reel and 1 to 30 variable paylines slot contains expanding wilds with multipliers, free spins, and bonus rounds!

Allusion to «Labyrinth» fantasy film
If you have never seen the 1986 film cult-classic fantasy Labyrinth from Jim Henson we highly suggest you do as it stars the late David Bowie and award winning actress Jennifer Connelly. It is about a teenage girl, Sarah, who wishes for the Goblin King to take away her crying baby brother, only to later regret it. She subsequently goes on a quest to get him back while befriended by strange characters along the way. The upper paying symbols include a toddler, Goblin King and teenage girl representing Toby, Jareth the Goblin King and Sarah. There is also Didymus, Hoggle, the Junk Lady and Ludo in the medium-value and the 9, 10, J, Q, A and K at the lower-value end. To reinforce the theme there is a rather calming tune along with other audio effects from triggered features.
Barn owl expanding wild
In the film, The Goblin King had the power to transform himself into a barn owl. This barn owl is an expanding wild who can substitute for other symbols. The wild will ordinarily occupy one space but expand on the reel if it can create a new win. The expanding wild can appear on the first four reels. During normal play the wild also acts as a 2x multiplier which increases to 3x during free spins.
Free spins and Super Round spins
The blue crystal ball scatter symbol may appear in sets of the 3, 4 or 5 to reveal 5, 10 or 15 free spins respectively with 3x multipliers on all winnings. While the free spins mode is active, 3+ red crystal ball drop icons will trigger 5 Super Round spins. Here only the high and mid-value character symbols are used as well as the extra maze icon.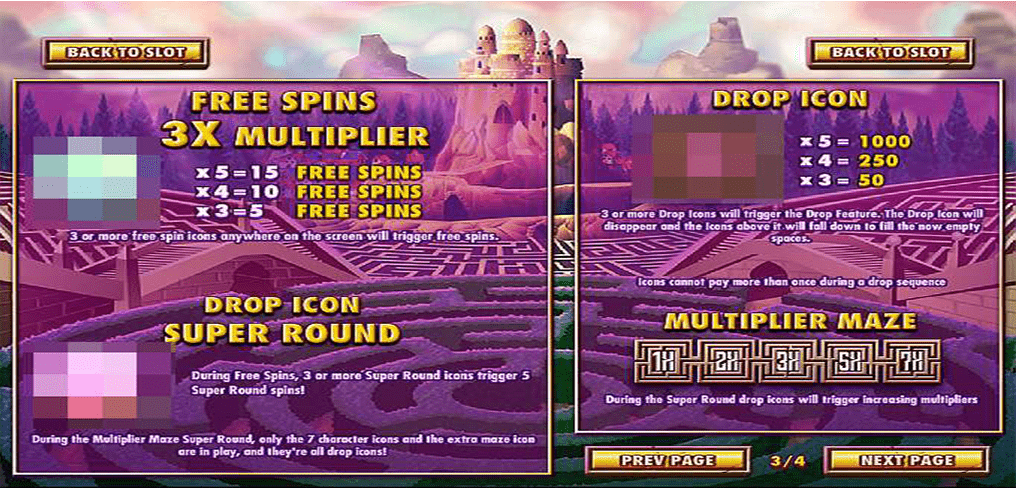 Drop Feature
Three or more maze drop icons will unlock the Drop Feature where the drop icons disappear causing a cascade effect. Symbols above the spaces fall in the empty spaces while creating increasing multipliers.
Fantasy-themed slot inspired by Jim Henson
Lucky Labyrinth slot is designed in HTML5 allowing for multi-platform game play from pc, mobile or tablet. If you're playing on the move then it is compatible with iOS, Android and Windows Phone devices. The bets can be adjusted from as little as €0.01 to as much as €75. While you can adjust the number of paylines, for the best chance of winning we recommend you play with all 30 paylines. You can visit one of our recommended casinos to get you started on this Jim Henson inspired slot or on any of the other games.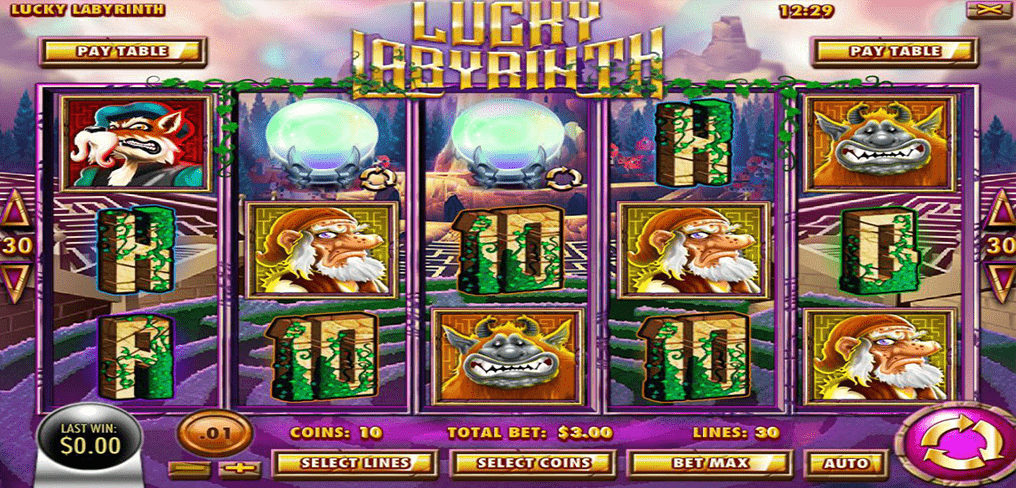 Play Now!