Slot Horror House — Game Review
Haunted House Slot Review
Haunted House is a chilling slot machine from Magnet Gaming that offers two progressive jackpots and four terrifyingly good bonuses. It features 3 reels and 8 fixed paylines, allowing you to play from as little as 0.20 to a maximum of just 20.00 a spin. Are you ready to explore the ancient haunted house to win big?
You won't have come across a slot machine such as this before because the design, theme and layout of the reels is superb – watch out for the symbols floating around the reels – there's a ghost loose and it seems he likes to mess about.
Two Progressive Jackpots
You could trigger big cash prizes because there are 2 progressive jackpots on offer as well as big base game wins. As bonuses go, they're highly entertaining; feed a ghost dog, search spooky rooms for cupboard keys, haunted hallways and free respins with brilliant multipliers.
A green fog lays heavy around the haunted house, lights turn themselves on and off in the house, lightning bolts illuminate the skies, loud cracks of thunder echo through the trees and various symbols float around the reels – that's what you will get from this online slot game. A lot of thought has gone into the design of this slot game, especially when it comes to the reels of the game. There are 3 reels with 9 symbols – 3 on each reel and as you spin the reels, the symbols will disappear and emerge from the background as if they are being thrown into place by some evil spirit.
A gate arch and stone wall surrounds the reels and to the very top you will see the current progressive jackpot to the left and the super jackpot to the right. Hanging from the top of the gate is the paytable – this lists the symbols and winning paylines. If you look closely you will see gravestones in the grounds of the haunted house. Symbols on the reels are; gravestone, portrait of a male and female, dog sign, burning candle, iron, gramophone, rocking horse, clock, book and telephone.
Terrifying Wins
When it comes to base game wins, the biggest cash amount will come from three of a kind of the telephone symbols – this will award 50,000 coins when betting maximum stakes. You can trigger the progressive jackpots randomly at any time.
Chilling Slot Features
How does a free respin sound? Every time you hit a winning combination on the reels, you will be awarded a free re-spin along with a multiplier value. This is played out automatically after every win.
Beware of the Dog bonus round is triggered when three of the dog sign symbols land on your payline. Feed the ghost dog with the delicious bones you find in the garden to win cash.
Search the spooky rooms within the haunted house for cupboard keys when you land three of a kind of the Spooky Rooms portrait lady on the reels. Watch the white lady doesn't make an appearance because she will end your bonus game. Three portrait male symbols on your payline will award the Haunted Hallways bonus. Try not to get lost in the hallways to make as much cash as possible.
Haunted Slots
If you like scary-themed slot machines, you will love Paranormal Activity slot game from iSoftBet. Based on the Paranormal Activity movie franchise, you can spin the 5 reel, 243 ways slot machine from as little as 0.020 a spin. Sit back and watch the film footage unfold on your screen and you may trigger the 750x multiplier jackpot.
Too Good to Be True?
Haunted House slot machine is one of the best online slots we have ever come across – the design and theme is spectacular and the bonuses are equally as good. The symbols on the reels come alive when they land as a winning payline, which adds a little more eeriness to the reels. Haunted House is a medium to high variance slot, which means wins fall few and far between – so you may need a big balance to withstand losses. Win big for little stakes because all of the bonus features – even the free re-spin can award stacks of cash to your balance.
Review: Stay Out of the House
Is Hallowe'en done yet? Each year I have the goal of playing as many horror games as possible in October, and usually, I get sidetracked, and it doesn't happen. This year, I both succeeded and started early. And now, I'm sick of them. I don't want any more monsters or grungy aesthetics. I'm tired of some dude with a knife getting in my way while I try to slot crests in their respective crest-holes.
I'm so tired of keys. I don't even lock my door anymore… Okay, maybe one more.
Part of this initial flood of horror titles has been through Puppet Combo's publisher label, Torture Star Video. Stay Out of the House is pure Puppet Combo. Guy's been working on this one for a while, and it's finally here. So, at least if I'm forcing myself to swallow one more morsel into my critically full gullet, it promises to be a tasty one.
Stay Out of the House (PC)
Developer: Puppet Combo
Publisher: Puppet Combo
Released: October 13, 2022
MSRP: $14.99
Stop me if you've heard this one before: your car broke down (sort of), and the nearest refuge you find is a creepy house. Maybe they'll let you use their phone, just go right on in. Oops! There's a bad man with a hammer. Maybe you should stay a while, but not too long because The Butcher obviously has plans for you.
I feel like I did this so recently with Deadly Night, which was a Torture Star Video published title. Really, the games run pretty parallel. The difference is, while Deadly Night felt relatively routine, Stay Out of the House feels like its majestic final form. It feels kind of like what previous titles in the slasher genre have been leading up to. It's the whole cake, when before we were just licking the spoon.
Of course, it's definitely still a slasher title.
This time around, you're locked in a house with the Butcher and Grandma. Avoiding them is a matter of sticking to the shadows and staying quiet while you try to pull at the threads and unravel their grotesque tapestry. That's the routine part. Like in Deadly Night, you're left to find a means of escape.
However, on top of that are numerous other layers. Stay Out of the House lifts from the nebulous immersive sim genre. It plays a bit like a tighter, more intricate version of Nun Massacre in which you explore the house, pick up items, and figure out what you're supposed to rub them against. Put in the effort, and you can open up shortcuts and new routes. Just don't get spotted.
There are also various traps throughout the house. There are security cameras that will spot you and sound the alarm, Grandmother scooting up and down the stairs in her wheelchair, and if you piss off the Butcher enough, he'll put down some bear traps.
You have three days to escape, which technically means you have three lives. If the Butcher knocks you out, you wake up back in captivity the next day. He'll also upgrade the apparatus, placing more cameras and traps around.
Slaying the elderly
It's the small victories that make Stay Out of the House worthwhile. Every time you manage to snip a wire and unscrew a vent, it feels like a victory. Progress comes steadily as you work at different small puzzles throughout. It feels rewarding to scour the house, trying to outsmart grandma and the Butcher.
Actually, Grandma is a huge pain. She moves quickly and constantly shifts to different spots around the house. She's got comparatively bad vision and hearing, but when she does spot you, she starts screaming, drawing the Butcher to wherever she is. That might just sound like a mobile security camera, but she always had a habit of showing up at the worst times and parking herself there.
Eventually, I got fed up and stabbed her face-off. I cannot stress how satisfying it was to stab Grandma. Kudos to Puppet Combo for his ability to make slaying the elderly so cathartic.
The graveyard shift
Stay Out of the House also does a good job of telling its story. It's not necessarily a very standout plot, but the way it flows is pretty well done. It's technically broken into four chapters, with the first part acting as a prologue. While most of the action is secluded in the last two chapters, the different paces they offer flow together well while still offering variety. Starting with Night Shift was a good choice, as it lays down a baseline of suspense before you start crawling through vents.
I also enjoyed the addition of other victims in the third chapter. You have the ability to release them from their prisons and lead them to safety. Y'know, if you want to. If not, the Butcher eventually goes out and kills one of them, dragging them in and chopping them up. It's a really nice touch that adds some tangible stakes to the plot, even if it's more fun to watch them get killed.
All this is wrapped in a lo-fi aesthetic that can be tweaked to your liking. Whether you want it to look like a PS1 game with shifting textures or a rental VHS abomination with unreadable text, the world is your low-poly oyster.
Mr. Puppet Combo has told me that the least favorite of his own games are the more conventional ones, and this fits into that category. I absolutely respect that perspective, but it's hard to deny that he has a talent for the conventional. Stay Out of the House is a tight experience with a lot of moving parts. Too many, perhaps, as he and his team have been patching it since release, and while it seems that a lot of the critical bugs have been fixed, I hit a few weirdities, but nothing that frustrated me.
This may be my favorite of the Puppet Combo game. I love the weird experiments, but it's also nice to see the results applied to a cohesive and polished design. More marketable? Maybe, but it's hard to look at this wonderfully nuanced game and not have a deep appreciation for the craftsmanship. That's what Stay Out of the House is: a solid end result that doesn't stray too far from the jank and seediness of the Puppet Combo brand. It's a well-carved victim. An expertly stabbed Grandma.
[This review is based on a retail build of the game provided by the publisher.]
Horror Hotel
Whilst most of us are getting into the Christmas spirit and preparing our list of New Year's resolutions, developer Relax Gaming are stuck in the Halloween rut. After their success in 2022 with releases like Money Train 3, the team are preparing for their next one, and it's a spooky one. Don't let the timing of this one put you off it though, as it comes loaded with enticing statistics. Namely, a highly (5/5) volatile maths model, a fixed RTP of 96.17%, and win potential up to 20,000x bet. Think Santa's Stack meets Halloween, and you'll find you're closer than you think to Horror Hotel.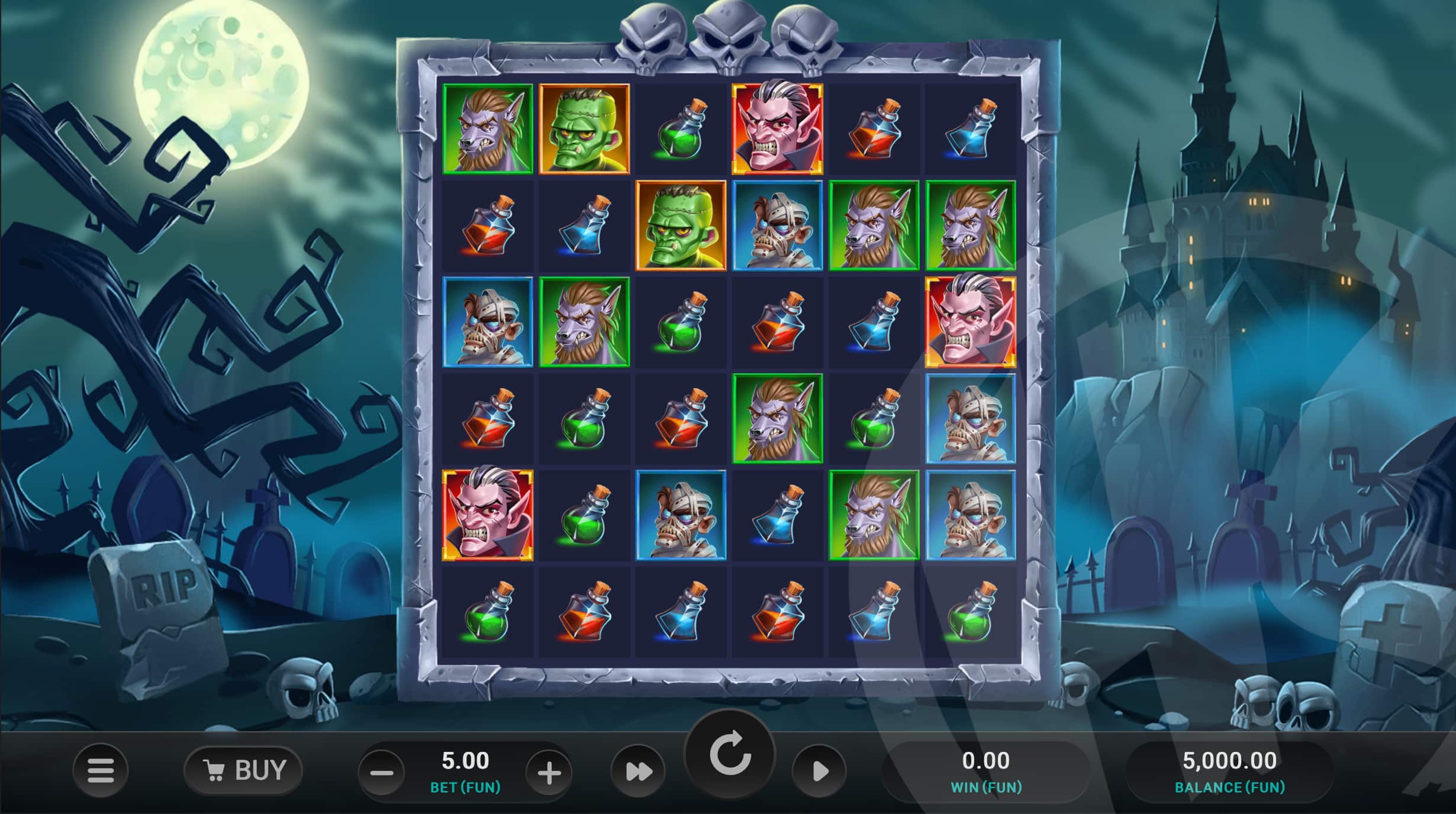 Well… Horror seems about right. We're in an eerie graveyard at night, with skulls, fog, headstones, creepy branches and a full moon setting the scene of tension. In the background, the 'horror hotel' sits upon the hill with a few lights on to indicate that someone might be home – probably not someone you'd want to bump into though, especially not in a dark graveyard at night. Audios further set the scene, although also further enhance the kind of Halloween feeling, which again has us wondering why this release is coming in the New Year. Still, we're not one to question a studio of Relax Gaming's calibre.
Horror Hotel Base Features
Taking place on a 6×6 grid, wins are formed on Horror Hotel by matching clusters of 5 or more symbols, touching horizontally or vertically. Symbols pay in clusters of 5, 6, 7, 8, 9, 10+, 12+, 15+, 20+, 25+, 30+, or 35+, and being with non premiums – three potion bottles that are blue, green, and red in colour. Land clusters of 5 potion bottles to see wins of 0.10x bet, increasing to 500x bet wins for clusters of 35+. At the premium end, we have a mummy, a werewolf, and Frankenstein. Land clusters of 5 of any premium to see wins of 0.30x bet, increasing to wins of 1,500x bet in size for clusters of 35+. The highest paying symbol available is the Dracula symbol, awarding wins of 1x bet for clusters of 5, increasing to 5,000x bet wins for clusters of 35+. Finally, Wild symbols are available, substituting for all symbols except Bonus Symbols.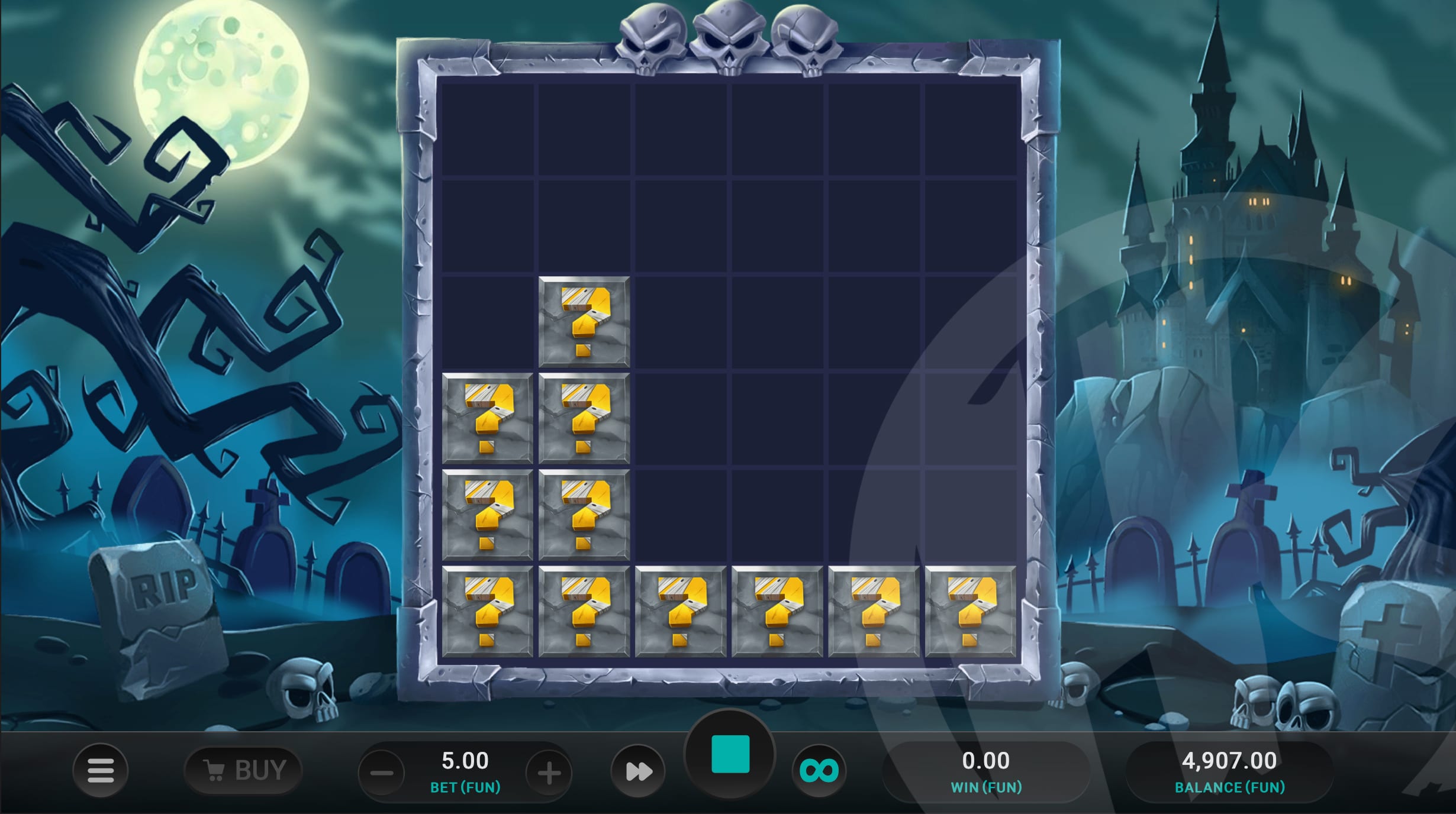 There's only one main feature acting as the driving force behind Horror Hotel, although this is normally the case with Relax Gaming who opt to keep things simple in their games – the Mystery Symbol feature. After any win occurs, the winning cluster of symbols (including any Wilds, if relevant) will transform into Mystery Symbols and award a re-spin. The winning cluster is transformed before the re-spin occurs, with all non-winning symbols being destroyed.
Mystery Symbols will all reveal the same paying symbol when the new symbols land during the re-spin. If any new cluster wins are formed, or a non-converted symbol contributes to the win formed by the Mystery Symbols, all winning symbols will then again be transformed into Mystery Symbols, with another re-spin awarded. This continues until no new wins are formed, or no new matching symbols are adjacent to the winning reveal, thus contributing to its' win.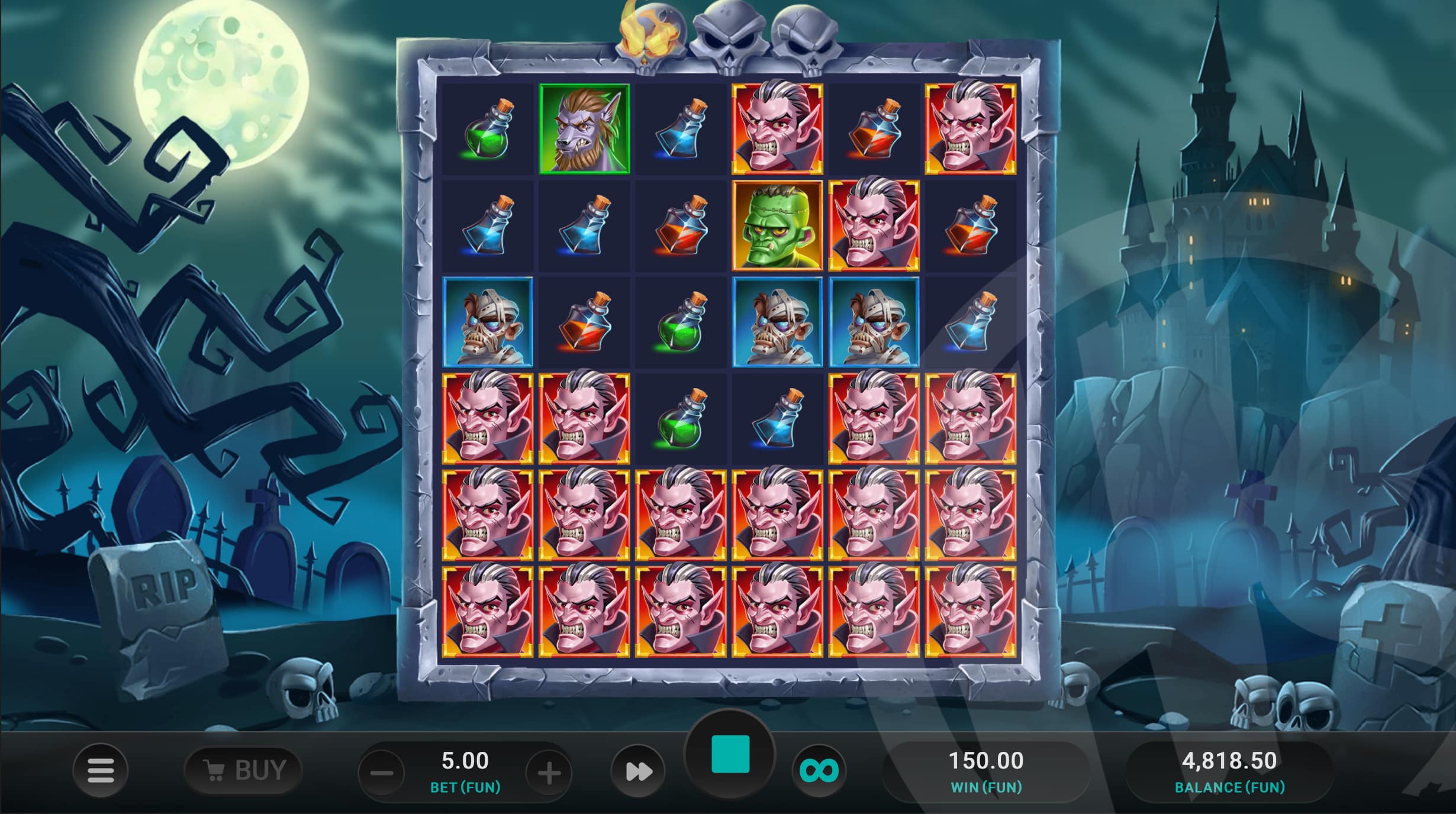 Horror Hotel Bonus
Land 3 or more skull styled bell Bonus Symbols to trigger 5 Free Spins, with one additional spin awarded for every Bonus Symbol beyond the third. During Free Spins, one additional Wild symbol is awarded for each spin.
Aside from this, things continue as normal during Free Spins, with the Mystery Symbol feature remaining active. In addition to what would happen during the base game, there is also a win multiplier, which increments by +1 before any new win converts to Mystery Symbols. Finally, each Bonus Symbol that lands will award an additional +1 spins.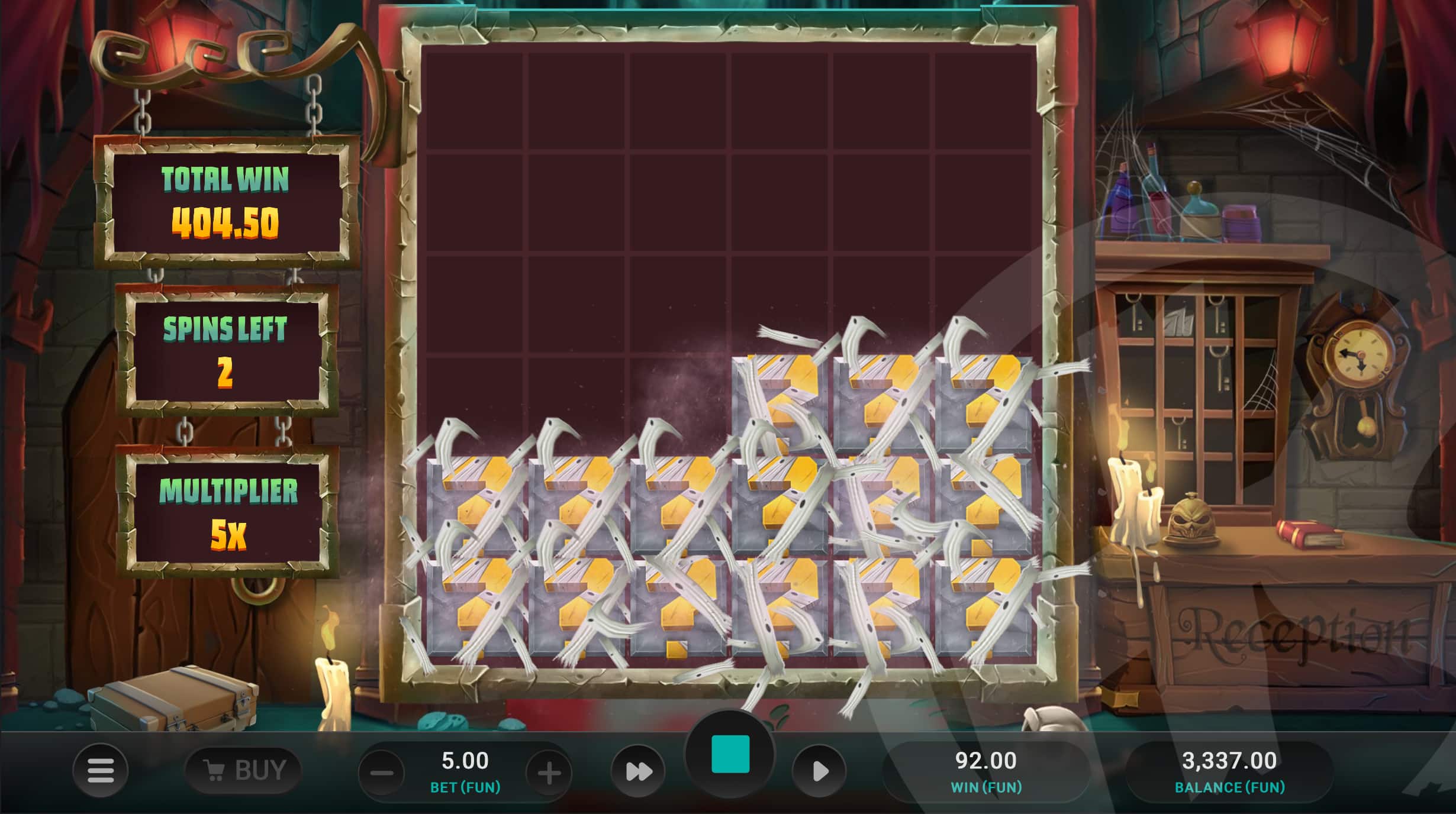 Players in appropriate regions can skip straight to the action with the Buy Feature option. For a cost of 100x bet, players guarantee Free Spins will be triggered.
The maximum win available in Horror Hotel is 20,000x bet. If the sum of a single game round exceeds this, the game round will end and 20,000x bet will be awarded.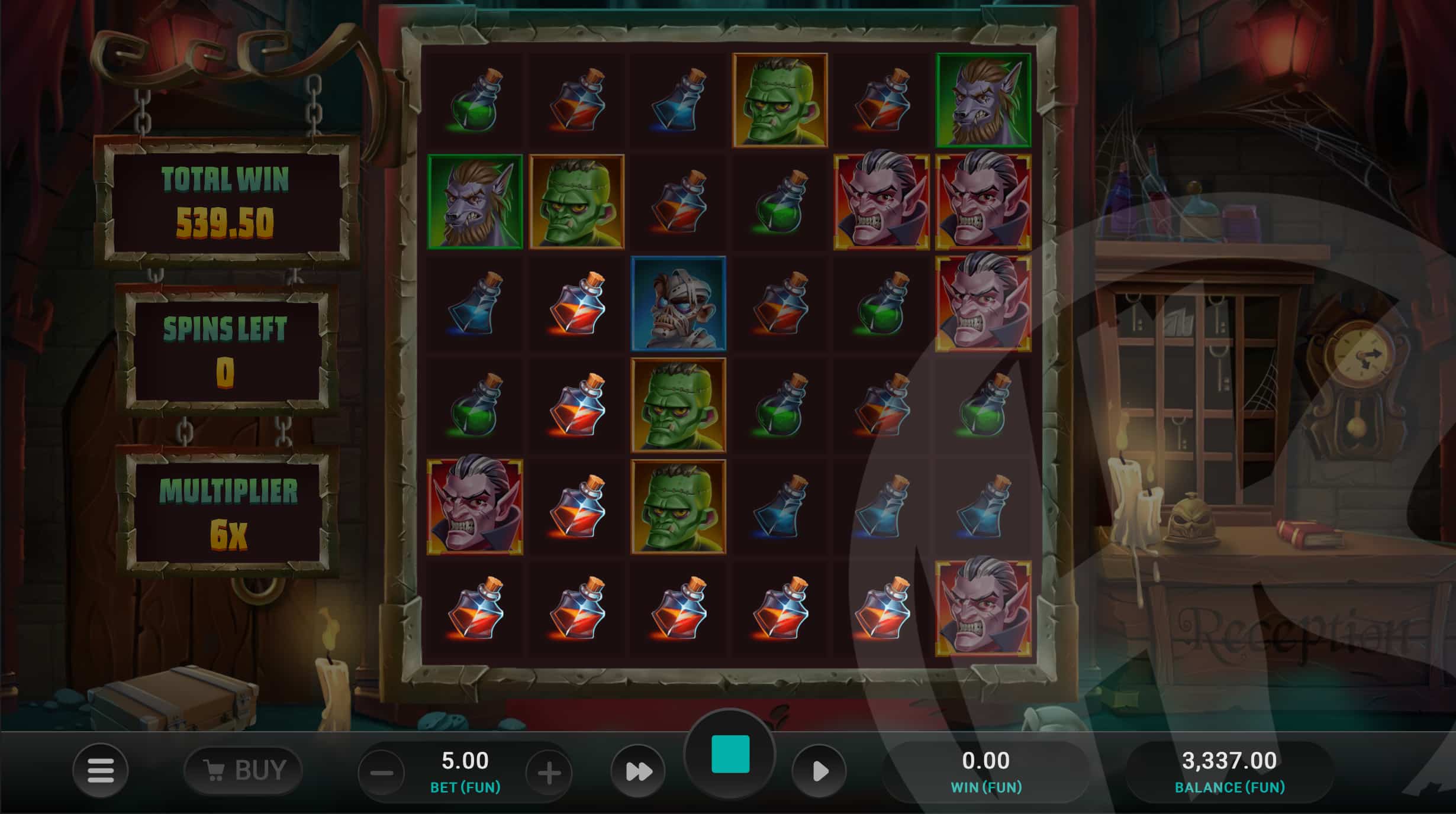 First Impression
In spite of only one main feature, Horror Hotel holds its own. This in itself is somewhat of a staple of Relax Gaming and their style – keep it simple, but pack a punch with what you do offer. Horror Hotel is, obviously, a follow on from Santa's Stack, but offers a few differences – enough to keep things exciting with a unique element to it. The first example of this is in the fact that rather than any gaps being filled in with Mystery Symbols, all converted symbols drop to the bottom of the grid. Additionally, the multiplier increments for each conversion, rather than requiring symbols to land.
Similarities do exist of course, like one additional Wild landing for every spin of the feature – which incidentally is where things get really exciting. When the right combinations land, wins are possible up to 20,000x bet. That said, maths is highly (5/5) volatile, so don't expect an easy ride.
The last thing to cover is RTP, which is fixed at 96.17%. And that's it. I could go on, but with such a straightforward release, there's no need to overdo it. If you're looking for something simple yet potent, Horror Hotel is the one for you.
*The screenshots taken of games reviewed on this site are taken from Demo Play, as reviews are often written before games are released for real play.