Slot Genie Jackpots Jackpot King — Game Review
Play the Genie Jackpots Slot at PokerStars Casino
Be careful what you wish for – unless your wish is for a Progressive Jackpot win and you have an all-powerful Genie to help you out!
Take a trip to the ancient Arabia of legendary stories in a classic-style Slot taken straight from the arcades and rebooted for a modern and fluid online Casino experience.
The eponymous Genie is the star of the show, of course, and fans of a fun online Slots experience who want to bear the magical lamp will want to save one of their three wishes for the other star of the game: the Progressive Jackpot.
Gameplay: How to Play the Genie Jackpots Online Slot
Let's not beat around the bush here: the Progressive Jackpot is the biggest draw of this game. Every player taking a spin on Genie Jackpots contributes to the Progressive Jackpot, and every player hopes to win it as well!
Of course, even the most optimistic Slots player knows that the chances of a Progressive Jackpot win coming their way – magic lamp or not – are pretty slim. So let's focus on how you can play Genie Jackpots while you're waiting on a wish.
Genie Jackpots is a 20-payline, five-reel video Slot machine that does exactly what it says on the tin (or should that be on the lamp?) with very few surprises. However, it is consistently rated as one of the world's most popular online Slots.
The reels are full of Arabian treasures such as the magic lamp, turbans, curved swords and Middle Eastern styled poker card rankings.
Exclusive Features
Despite its apparently simple style, Genie Jackpots is positively bursting with bonus features that can come into play at any time, on any spin at any stake.
The Three Wishes Power Spin can be triggered during any spin of the base game. You'll spot it instantly, because three identical magic lamps will materialize on top of the reels. Choose one, rub it, and then see what emerges!
You'll receive one of the following treats on the current spin:
Infectious Monkey Wilds: any Golden Monkey Wilds on the reels will go, well, ape! They'll infect surrounding symbols, turning them into wilds and increasing the chances of a big win.
Genie Wilds + Re-spin: the Genie will appear on the reels and with a powerful burst of magic, turn a random reel position into a wild symbol. Then, you'll get a free re-spin.
Genie Wilds All Pays Doubled: of course, you don't need to be an online Slots expert to work out what this feature means for you! This feature can turn any reel position into a wild symbol, with all pay-outs doubled.
Magic Carpet Bonus: in this mini-game you have to advance the monkey across a series of floating magic carpets towards ever-increasing prize payouts, up to 1,000x your total bet!
Mystery Win Bonus: enter the Genie's cave and open a treasure chest to find a mystery instant win prize of up to 100x your total bet.
The Magic Carpet Bonus and the Mystery Win Bonus will also be triggered during the base game if you land two bonus symbols on reels one and three, then the corresponding bonus symbol on reel five.
How Much Can You Win?
The Return to Player (RTP) for Genie Jackpots is 96.53%, with a maximum base game win of 500x your line bet.
However, the Progressive Jackpot is of course the biggest prize on offer in this game – this jackpot has paid out multi-million dollar prizes before, and there's no reason why it can't climb to those lofty heights again.
To win the Progressive Jackpot, you need to land five Jackpot King symbols on the reels. This will take you to the Jackpot King mini-game, in which you must spin the bonus reels to try and win the Progressive Jackpot prize.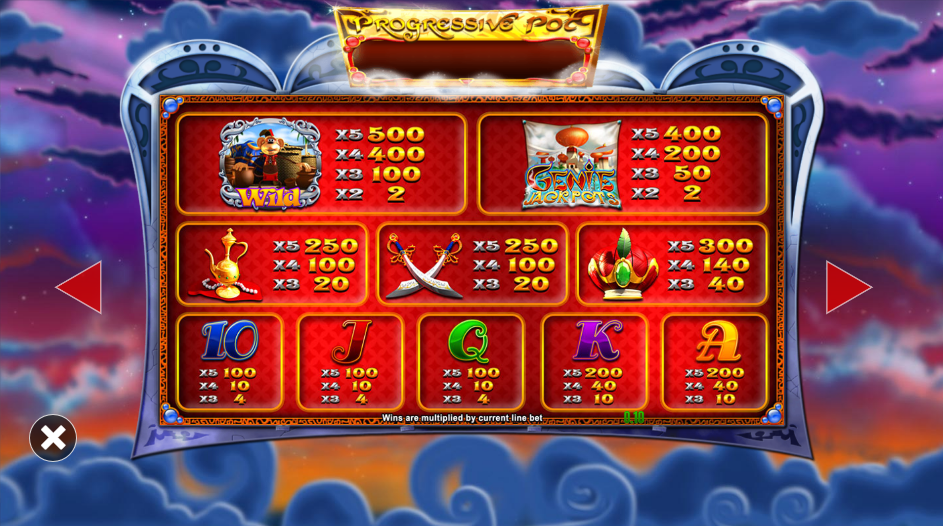 Overall Opinions: Who Should Play Genie Jackpots?
If you're interested in taking a spin on a Slot with excellent gameplay, a fun story, and the chance to win major prizes then you should give Genie Jackpots a shot.
Even if you find you're not in the hunt for that progressive jackpot, there are plenty of smaller (but no less welcome) rewards that are much more common – and will keep you happy as you give the Genie's lamp a rub. You might wish for a Progressive Jackpot win, but a 100x or 1,000x multiplier wouldn't go amiss either!
Genie Jackpots is available for Windows, MacOS, and Linux platforms, along with Android and iOS mobile devices.
Click here for general Terms & Conditions. Please contact Support if you have any questions.
Genie Jackpots JPK
You might have been with us when we reviewed Genie Jackpots Cave of Wonders online slots. We gave it a rare 9/10 as we were super impressed, and agreed with the notion that is was maybe the best online slot game of the whole of 2021.
That's why we had to check out Genie Jackpots JPK, another game of the series, or if you sign up today, you could always check out the amazing scratch games Wizard Slots have on offer!

Genie Jackpots Jackpot King Theme and Graphics
The whole Genie Jackpots saga is well designed and Genie Jackpots JPK graphics are no different on either mobile or desktop.
In particular, we love the design of the Three Wishes bonus round which is super exciting and visually immersive, so you're going to want to aim for that! More on that shortly.
How to Play Genie Jackpots Jackpot King Slot
You might have found yourself wondering what the 'JPK' stands for in the title of this slot, so let us clear that up for you. JPK is an abbreviation of Jackpot King, which is the type of progressive jackpot that is used in this slot.
With progressive jackpots, it depends on how many other people are playing JPK slots from the same batch as you at any given time, as well as how much they are staking and how much they are winning. For this reason, it is often advised to play JPK slots such as Genie Jackpots JPK at non-peak times.
With the jackpot bit out of the way, let's explain how to get the slot up and running in the first place. First things first, you're going to need an account if you do not have one already, so follow these really easy steps to get that done right here at Barbados Bingo:
Hit Join Now
Fill out some details
Confirm your email address
After this, we recommend placing a deposit of £10 or more so that you can have a go at spinning the Mega Wheel. This could land you an awesome prize, the best of them being 500 free spins to play on Fluffy Favourites ( Full Ts & Cs Apply ).
If you prefer, you can use the Autospin feature which will spin the reels for you with your set preferences a selected amount of times before stopping. Once you've begun to spin those reels, you're going to want to hope to match up 3 symbols in a row or more to win a prize (or, a couple of symbols and a wild).
The other key things to know about when it comes to how to play Genie Jackpots JPK are the bonuses as there are quite a few decent ones in this slot, including that awesome progressive jackpot which you are going to want to know all about. More on that later!
Remember, you can always try out Genie Jackpots JPK free play before playing it for real by finding a demo version of this slot game online, of which there are a few.

Slot Game Statistics
If you are interested to see what the ins and outs of Genie Jackpots JPK when it comes to the numbers then read on below as we crunch them all for you.
RTP — a bit of a low RTP this time around unfortunately, at just 94%.
Volatility — once again, this is a medium variance number.
Minimum and maximum bets — the betting starts at 10p again here, and you can go up to £100.
Paylines — there are 25 ways to win here.
Reels — just the 5×3.
Bonuses — quite a few of them. In fact, these are the best bits about this slot so read on for more on those…
Wilds and Scatters — both, and they're both important to the gameplay in different ways. Plus, there are a couple of different types of wilds to play with.
Maximum payout — 1000x your stake, but remember there are those progressive jackpots on offer as well.
Genie Jackpots JPK
Characteristics