Slot Flowers — Game Review
Wild Flower
For players across the globe, when they think of Big Time Gaming, they immediately think of the Megaways™ mechanic, established in 2016. It is a mark of stellar creativity and innovation to create something entirely new that continues to run rampant in a sector as large as gambling, even 5 years later. However, perhaps the second most notable Big Time Gaming creation that players continue to enjoy would be Danger High Voltage. In 2019, we were presented with Lil' Devil, which quickly became known as "Danger High Voltage 2". The wins were bigger and the experience was more volatile. Soon, Lil' Devil stood in its own right as one of the greatest slots of the decade.
This year, on April 21st, Big Time Gaming are releasing Wild Flower. Wild Flower is easy to mistake as a Lil' Devil sequel upon first glance. However, there are many important aspects of Lil' Devil missing from this new release, so we plant it somewhere between Danger High Voltage and Lil' Devil, as a small step sideways rather than a leap forwards.
There are no ground-breaking new ideas coming to the forefront within this slot, but there are many well established mechanics. These are tried and tested, but are taken to heights we have not witnessed from Big Time Gaming before. And that, in itself, can be more than enough. With an RTP of 96.52% – 96.59%, depending on the bonus chosen, Wild Flower has a maximum win of 114,100x. This comes close to Nolimit City's San Quentin, which picked up a fair amount of hype surrounding the potential. Volatility is high on Wild Flower, but the wins are even higher, so let's dive in…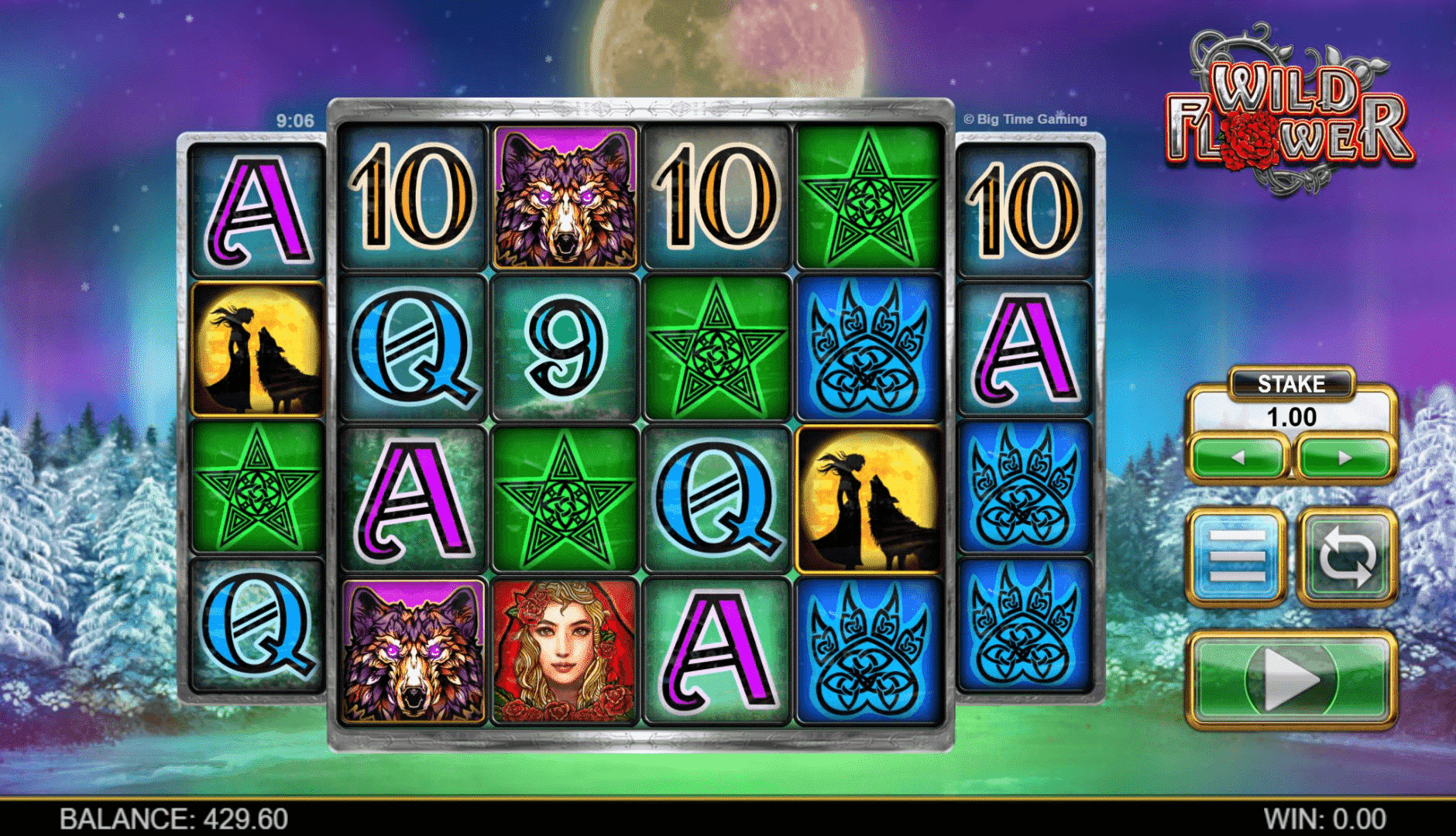 The pay table of Wild Flower consists primarily of royal symbols, including 9s, 10s, Js, Qs, Ks, and As. Premiums follow the well-established Big Time Gaming colour theme, starting with a green pentagram, which pays between 0.3x bet and 1.5x bet for 3-6 of a kind. Blue paw prints pay between 0.3x bet for 3 of a kind, and 2.5x bet for 6 of a kind. Second from the top, the red woman pays 0.4x bet for 3 of a kind, and 5x bet for 6 of a kind.
Finally, the highest paying symbol is the purple wolf, which pays 0.3x bet for 2 of a kind, and a whopping 10x bet for 6 of a kind. When we factor in the multipliers possible within the game, the potential is huge. There are two Scatter symbols available within Wild Flower, a regular Yellow Moon Scatter, and a Red Moon Megascatter. Ending the pay table, two types of Wild Reels are available.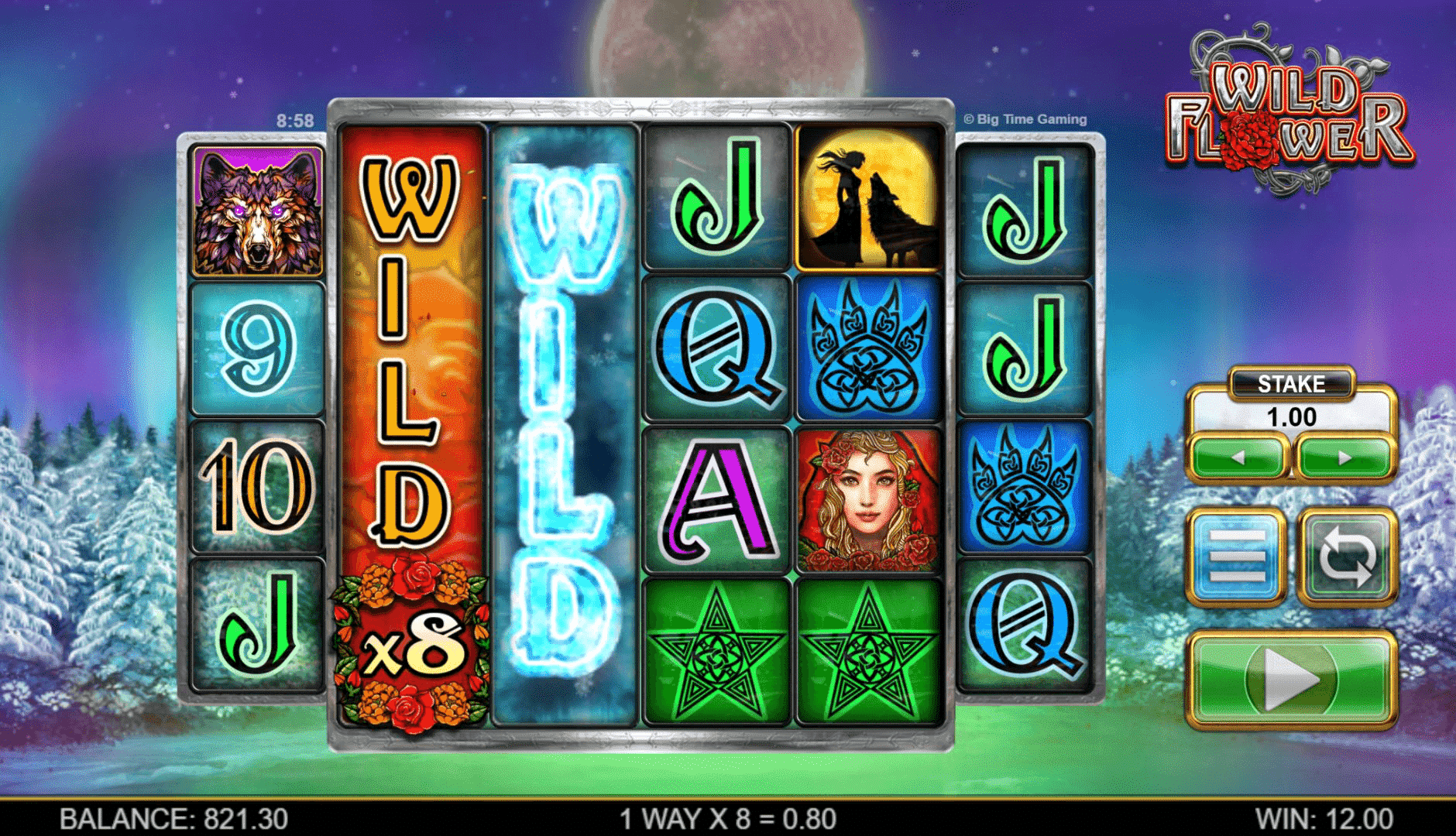 Wild Flower Base Features
The first thing we immediately notice missing from Wild Flower, in comparison to Lil' Devil, is the Heartstopper™ feature. On the one hand, this can be considered a good thing, as it feels like less of a grind to see the full potential, but on the other hand players tend to like having something to work towards, feeling as though the money wagered is tangibly leading somewhere, with progress that is stored across sessions. Wild Flower presents its' own version of the Mega Feature, though, so there are some boosted wins and bonuses on offer.
What we do have, first, are two full reel Wild symbols, capable of landing on reels 2 or 5. The first, is the Ice Wild, which comes with no multiplier but substitutes for all symbols except the Scatter. The second is the Flower Wild, again substituting for all symbols except the Scatter, but instead with a multiplier attached. All Flower Wilds have x8 multipliers, and landing two or more multiplies the values together, with a potential for a x4,096 multiplier. This knocks the previous "triple x6" we coveted from Danger High Voltage, out of the water.
That's everything Wild Flower has to offer within the base game, but as we have seen within previous instalments from Big Time Gaming, Wild Reels with multipliers can be more than enough for some huge hits on the way to the bonus. Approach with caution, though, as we don't expect to see 4 Flower Wilds together all too often. This slot is indeed highly volatile.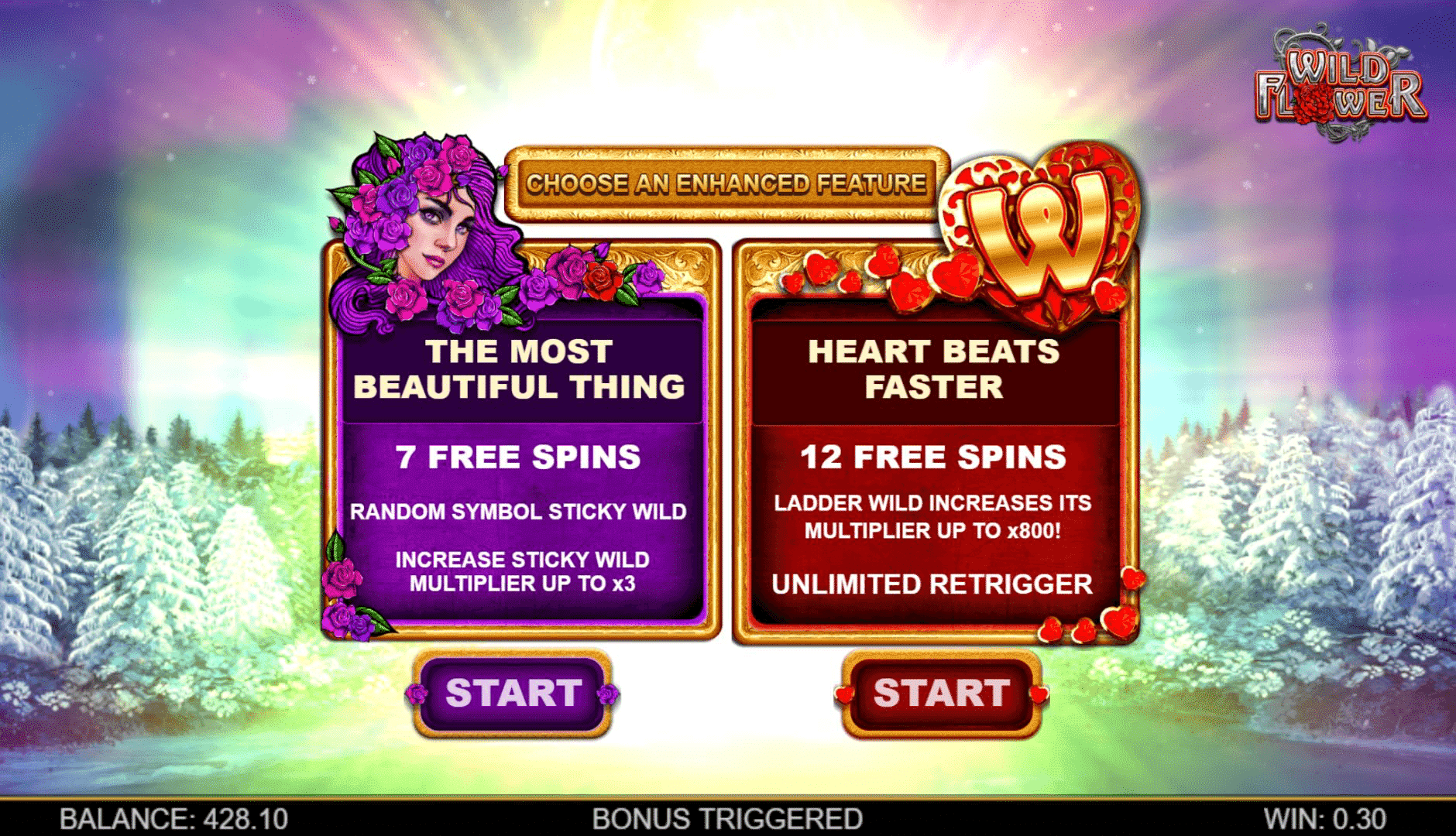 Wild Flower Bonus
Landing 3 or more mixed Scatter symbols triggers Free Spins and landing Free Spins with a Megascatter symbol on the 6th reel awards the Enhanced Free Spins. In either instance, there are two bonuses to choose from:
The Most Beautiful Thing Free Spins: This bonus is Wild Flower's answer to Gates of Hell, and Be My Angel. On the regular version, 7 free spins are awarded, where one symbol is chosen to act as a sticky wild. Most importantly here, premium symbols cannot be chosen as the special symbol, which will no doubt please players. Landing this chosen symbol on reels 2, 3, 4 or 5 changes it to wild, where it remains for the duration of the free spins. Filling an entire reel awards 3 more free spins.
On the enhanced version, wilds can land on top of each other during the 7 free spins. This turns the original wild into x2. If this happens twice, sticky wilds can have multipliers of x3 attached. This means an entire screen full of wilds could have the potential to all be worth x3, equating to 4 wild reels, each with a value of x12. It might seem impossible, but we have seen full screens of wilds with two x12 wild reels in Lil Devil. The RTP of The Most Beautiful Thing Free Spins is 96.52%.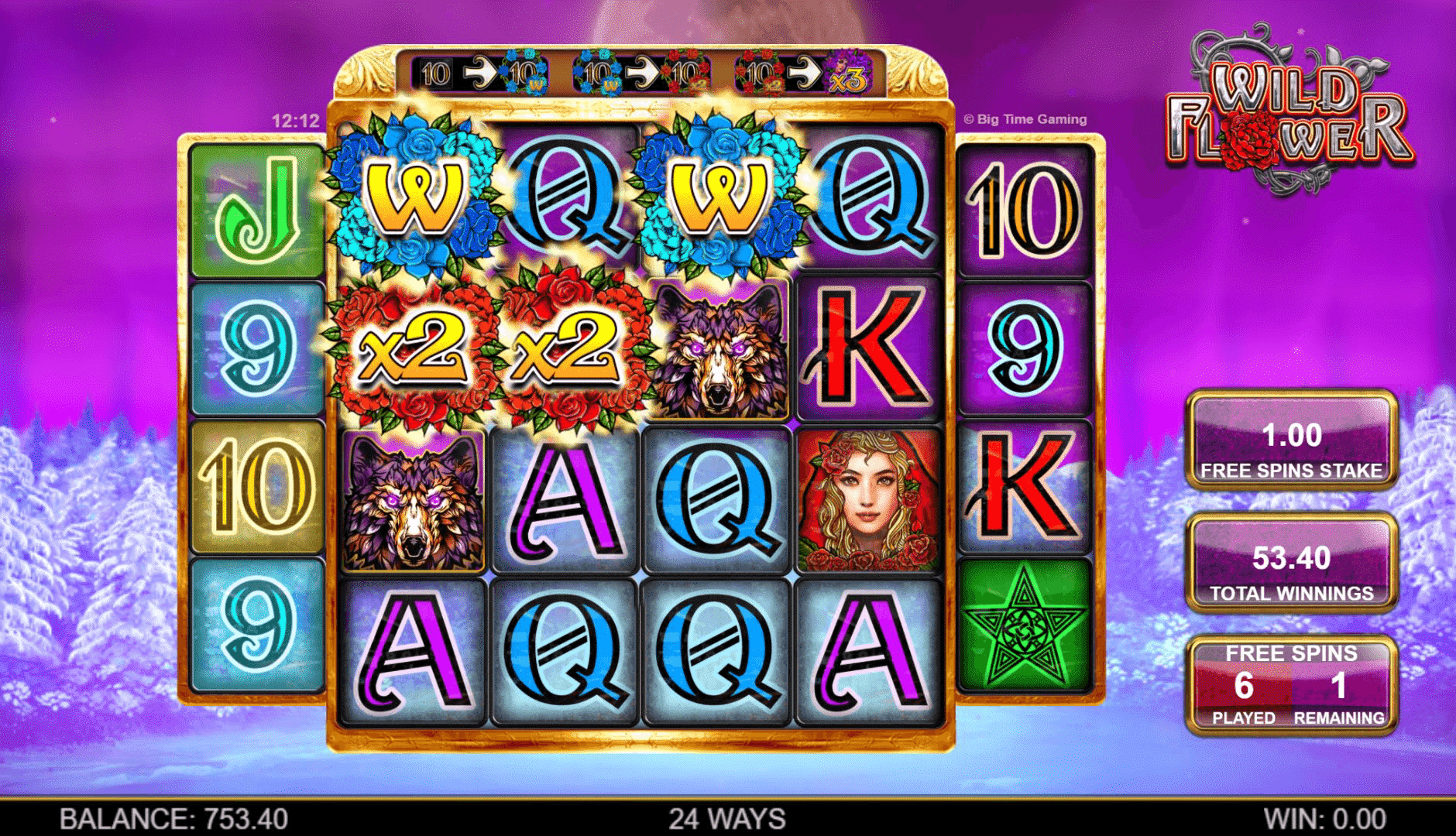 Heart Beats Faster Free Spins: Reminiscent of High Voltage and Dynamite Lover, this feature awards 12 free spins. Ladder Wilds may appear in any free spin, and display a multiplier, up to x80. In the enhanced version, every time the Wild Ladder substitutes in a win, its' multipliers increase, and can reach up to x800. Extra Scatters can land to retrigger up to 20 extra spins at any one time, with no limit to the number of retriggers possible. The RTP of Heart Beats Faster Free Spins is 96.59%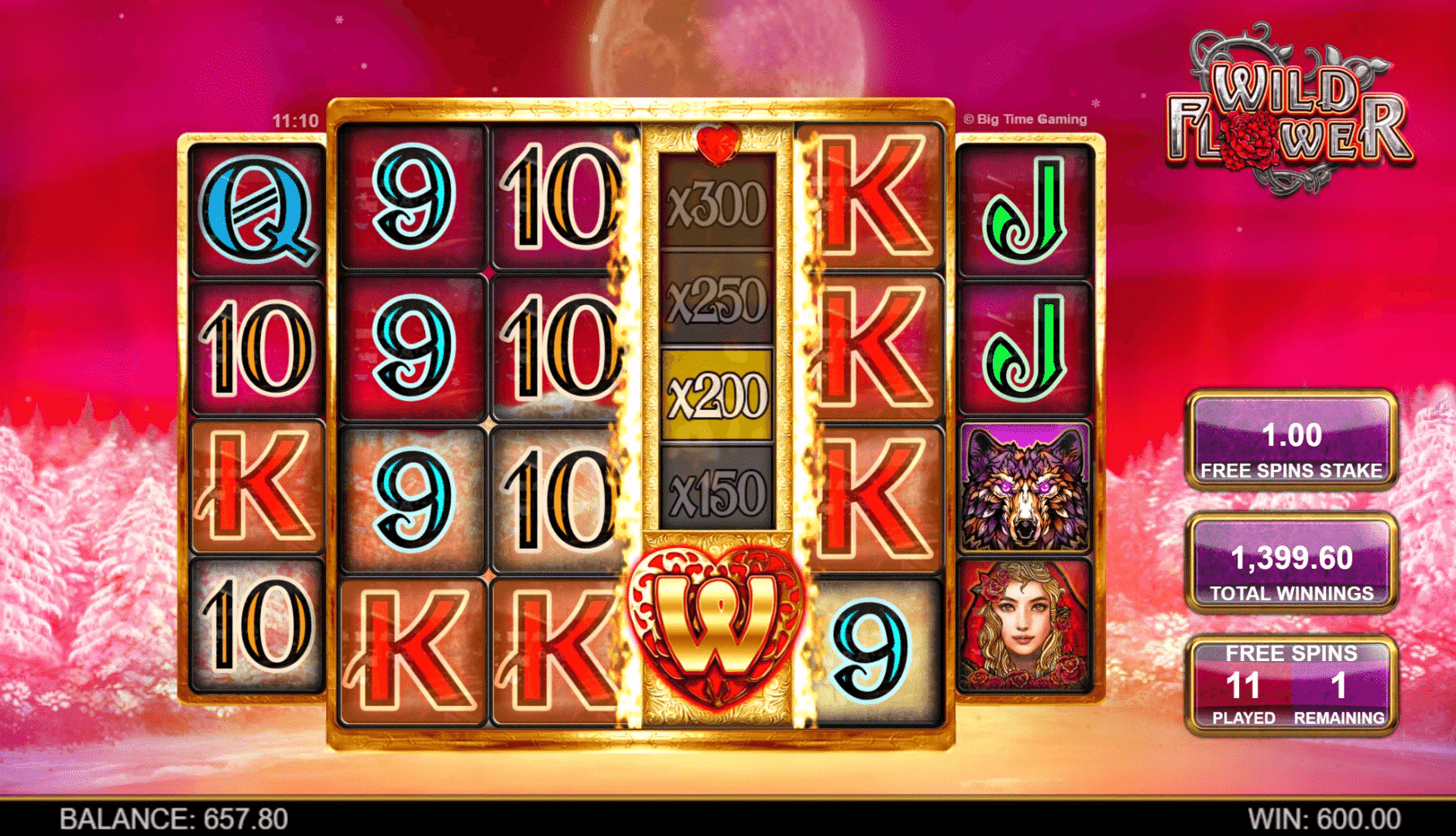 This could be the first in this slot series where we see players go for the Ladder Wild bonus. Even more so when offered the Enhanced Free Spins choice. Not simply because the RTP is higher, but because the thought of a x800 multiplier seems too good to turn down.
First Impression
Wild Flower doesn't produce any new mechanics or ideas that make us say "wow". Instead, it relies on some already popular approaches. Players across the globe have spent some time lately complaining that we aren't given enough entirely new concepts. However, as the old saying goes – if it isn't broken, why fix it? We're given just enough changes here to make Wild Flower a brilliant next step in this series, without being forced to complain that something once beautiful has been destroyed.
BTG are experts at offering enough tweaks to keep us interested, and knowing when not to go too far. With a max win of over 100,000x, a decent RTP, high volatility and multipliers of x800 plus, this slot is sure to produce some huge wins. The potential here is the wow factor. Big Time Gaming have made it clear that their games are intended to be enjoyed regardless of stake. We expect to see players of all stakes enjoying this new release, hopefully hitting some huge wins along the way.
*The screenshots taken of games reviewed on this site are taken from Demo Play, as reviews are often written before games are released for real play.
Wild Flower Slot Review
Wild Flower is a new casino slot from Big Time Gaming where we get to take part in an enchanting gaming adventure. Where the game has been inspired by BTG's previous slots Lil' Devil, The Final Countdown and Danger! High Voltage, with a great emphasis on inspired, as they have picked out the goodies from these predecessors and added new features to be able to make the game really maximized.
It is a very cold and frosty place that we have ended up at and unlike similar places where it eventually gets hotter, this place is cursed and within an eternal coldness. This is what brings us players into the picture, as we can manage to break this curse and once again be able to make the plants and the wildflowers grow. Wildflowers often symbolize happiness, as it gives the plant the opportunity to grow completely freely at will and out of control. Which usually results in that wildflowers can get the most spectacular and interesting colors, which can confirm why flowers are the universally most beloved object. Just like how satisfying it is to see a wildflower grow big and beautiful, we can also witness a giant win grow within this slot during the spins that truly can be a delight to the eyes.
The lower paying symbols consist of 9, 10, J, Q, K and A. The higher paying symbols consist of a pentagram, paw, a woman with a red hat surrounded by roses and a beautifully designed wolf. A win is created when 3 or more of the same symbol type are on adjacent reels starting on the leftmost reel. The wolf symbol gives a win already with 2 symbols and if you get 6 of this it gives 10X the bet. Full Reel Wilds are something that can land, and these consist of cold Wild Ice and hot Wild Flowers. There are two different scatter symbols that can land on the reels and these are the yellow moon scatter and the red moon mega scatter. The Base game consists of a calmer and somewhat mysterious music, where we then during the game get to take part in adrenaline-filled music from The Cult. Let's find out what the features do.
Wild Flower Slot Features
During your spins you can land a win on an incredible 114000X the bet. This will be possible through the features Wild Symbols and Free Spins feature where you will have to choose between two different starting modes which are either My Heart Beats Faster or The Most Beautiful Thing. These two Free Spins can also be Enhanced, which can increase the chances of getting big wins.
Wild Symbols
These help to create more winning combinations by substituting for all other symbols. The only symbols they do not substitute for are the scatter symbols. It can land 2 different full reel wilds, namely Wild Ice and Wild Flowers which can certainly contribute to a greater increase in winning combinations. The difference between these is that when Wild Flowers land, it has a multiplier of 8X. Both of these different Wilds can only land on any of the reels 2, 3, 4 or 5.
Free Spins
As mentioned, there are 2 different scatter symbols and if you land 3 of these either separately or mixed, the Free Spins feature is activated. If the Red Moon megascatter symbol is involved, you will receive Enhanced Free Spins. What then happens is that you will have to choose between two different options which will then be your starting position during the upcoming spins. These different ones do the following:
The Most Beautiful Thing
You are welcomed with 7 free spins and a symbol that will be turned into sticky wilds is randomly generated. It is either 9, 10, J, Q, K or A that will be chosen and when that symbol then lands during the upcoming spins it turns into a sticky wild on either the reels 2, 3, 4 or 5. If you manage to fill an entire reel with sticky wilds, you get to take part in 3 extra free spins.
Heart Beats Faster
You are welcomed with 12 free spins and you can land a Ladder Wild during these spins. This Ladder Wild is a wild that covers an entire reel and it will randomly show a multiplier of either 10X, 20X, 40X or 80X. You can also take advantage of extra free spins if you manage to land 3 or more scatter symbols.
If you succeed in activating the Free Spins using at least 1 Red Moon megascatter, you will be able to take part in the Enhanced Free Spins. These have the same features as normal free spins, but where an upgrade has been made on each. These do the following:
Enhanced The Most Beautiful Thing
When you spin the reels and a Sticky Wild land behind an existing Sticky Wild, its multiplier will increase by 1. It can be a multiplier of up to 3X.
Enhanced Heart Beats Faster
When you create a winning combination that includes the Ladder Wild, its multiplier will increase incrementally. Where it can have the values 10X, 20X, 40X, 80X, 100X, 150X, 200X, 250X, 300X, 350X, 400X, 500X, 600X, 700X and finally 800X.
Wild Flower Slot Conclusion
A slot that has a cold and frosty appearance ultimately gives us a really warm welcome. Where it has been inspired by previous slots from Big Time Gaming such as Lil' Devil, The Final Countdown and Danger! High Voltage both in terms of appearance and features. But there have been some upgrades that really make one rejoice a little extra during the spins and it is the Wilds who are the stars of this game. In the Base game you can land full reel wilds, where one of these comes with an 8X multiplier. There will be a lot of entertaining spins with an atmospheric music in the background, but since it is a high volatility, it can take a long time before the Free Spins are activated. This results in the mood being built up as we know that it is one of the best payouts slots that can give up to 114000X the bet, and it will be really a great feeling when this feature is finally activated. Depending on whether you have Red Moon megascatter symbols or not, decides whether you can take part in normal free spins or enhanced free spins. Regardless, you have to choose between two options, one focusing on sticky wilds and the other on ladder wilds.
Most people know that Big Time Gaming is a giant when it comes to real slots online, where they have revolutionized the industry with, among other things, Megaways mechanic. Here they once again show how skilled they are at creating slots and with a little inspiration from previous successful slots and innovations, the Wild Flower could be created. A slot that has a very thankful RTP of 96.52%, high volatility and a potential maximum win of an incredible 114000X the bet. This results in a large number of emotional spins, when with the wonderful choices within the Free Spins feature you can manage to scoop up big wins.
It starts cold, but as it gets warmer, the wildflowers will be able to grow up large. Like this, the slot will spin hot and finally it has the potential to grow up gigantic winnings.