Slot European Roulette Silver — Game Review
Roulette Silver (iSoftBet)
Roulette Silver is probably the closest thing you will get to the casino floor – this spectacular roulette version was created by iSoftBet – a company who specialise in superb online casino games for players all over the world. As soon as you launch the game, you will see what makes this game so popular. Add a touch of luxury to your gameplay with the crystal clear graphics and 3D features thanks to Roulette Silver.
You will feel like a VIP in a private room by playing Roulette Silver. There are many bets that you can place your cash on in this European version of roulette.
Roulette Silver (iSoftBet)
1 vote
Like Roulette Online:

€/$200 BONUS
97.86%
PAYOUT
€100 BONUS
96.43%
PAYOUT
€1500 + 150 Free Spins BONUS
96.78%
PAYOUT
5 BTC BONUS
96.07%
PAYOUT
Rules of play
You'll notice that the 3D roulette wheel offers 37 different pockets. The single green zero is placed to the top of the wheel and running around the wheel are black and red pockets with numbers 1 to 36. The rules of the game are simple – just like all the other roulette games on offer; place your chips on the table and sit back and hope for a win – this will come via the outcome of a ball running around the wheel.
Game differences
So, what makes Roulette Silver different to other roulette games on offer? Well, to start with, the design of this roulette game is stunning – crystal clear graphics and the table and wheel look so life-like. The table cloth is navy blue with the betting options stamped on top. Chip denominations; 0.10, 0.50, 1.00, 5.00 and 10.00 are situated on the edge of the table and you click these to place your bets. Top right is a running panel with the history of the wheel. The roulette wheel – the most important feature is sitting to the top left and when you are happy with your bets, the ball will launch into the wheel and come to rest in a pocket. Next to the history panel will be a zoomed image of the wheel – to show you in closer detail the outcome of the game. The winning number will be shown via a silver pawn on the betting table and if you placed a winning bet, you will be credited accordingly.
House edge and limits
Minimum bets are 0.10 and maximum are just 10.00 – this is pretty low when you compare it to other tables with a maximum of 75,000. House edge is 2.70%.
Strategy required?
Roulette Silver is a game more suited to non-high roller players, thanks to the maximum bet of just 10.00. Players can use this maximum of 10.00 to try and accumulate as much wins as possible. The straight up bet offers a return of 35:1, so it would be better to try and place as many straight up bets as you can in order to get the biggest payout on offer.
Devices to play on
Roulette Silver can only be played on via a desktop.
US players allowed
Residents of the US are not permitted to play Roulette Silver.
iSoftBet also offer…
iSoftBet have an impressive portfolio of games – these include table games, casino games, online slots and instant wins. Out of all the games on offer, the most popular games include; Joker Vegas 4Up, Blackjack Super 7's Multihand, Roulette VIP and Punto Banco.
Verdict
We haven't come across a roulette game yet that offers the superb graphics and atmosphere that Roulette Silver offers, but there is a downside to this version of roulette – the betting limits. Novice players are more suited to this game than high rollers, but there's still the potential to accumulate some big cash with straight up bets.
3D European Roulette Review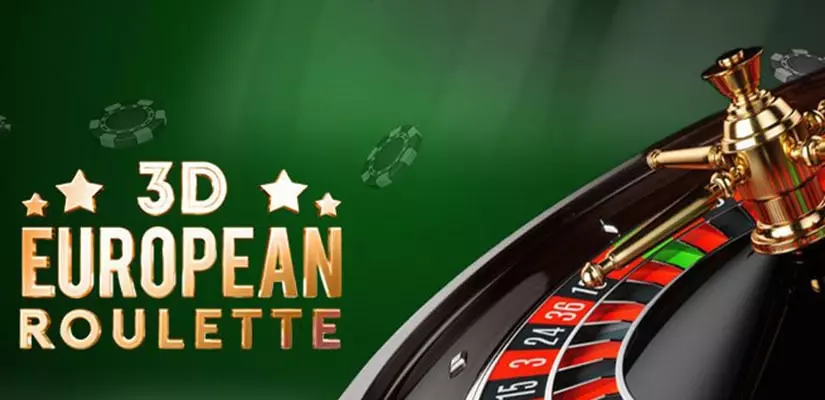 When it comes to lesser-known software providers, Iron Dog Studio is one of the best companies that you never heard of. This company has come out with some excellent titles but has yet to reach the popularity of Microgaming, NetEnt, Play'n GO or other top-shelf providers. Among Iron Dog's gaming library, we find 3D European Roulette, a great virtual adaptation of the classic table game. In this review, we will take a look at this title and see how it stacks up against others of the same type.
3D European Roulette Summary
Software Provider
Iron Dog Studio
RTP
97.30% (98.65% on even money bets)
Minimum Bet
$1
Maximum Bet
$100
Wheel Number
single-wheel
Ball Number
1
Multiplayer
no
Jackpot
no
Popular Bets and Payouts of 3D European Roulette
3D European Roulette by Iron Dog Studio does not break the mould too far and mostly sticks to the tried and tested formula of roulette. As expected from a European variation, it comes with a 37-pocket wheel. There are 18 red and 18 black pockets, in addition to the single green one for the zero. Moreover, this game also features the standard European Roulette payout ratios. A Straight bet will be the usual 35:1, while a successful Split will reward you with 17:1. By the same token, a Street bet will pay 11:1 and whereas the Corner still has a 8:1 payout.
As far as the Outside bets are concerned, they also come with the standard ratios. High or Low, Red or Black, and Even or Odd all pay the usual even money, while the Dozen and Column will reward you with a payout of 2:1. Based on these payout ratios and the odds involves, it is safe to conclude that 3D European Roulette features an RTP of 97.3%, which translates to a house edge of 2.70%. This is typical for this variation and what we would expect from such a game.
Specific Features of 3D European Roulette
What separates 3D European Roulette from games of the same type is undoubtedly the graphics. Iron Dog Studio has certainly put in a lot of effort to ensure that you have an excellent experience and that includes having a pretty game to look at. The graphical fidelity of this title is some of the best that you will find in the industry, especially for a virtual game. This is one of the most realistic representations of European Roulette that you will find on the Internet, rivaling and even surpassing in some areas the games developed from Microgaming, NetEnt and Playtech. The animations are buttery smooth and the game runs like a dream.
As for gameplay features, you will find the usual options. After every spin, you have the opportunity to put down the same bet with one click, thanks to the Rebet function and even increase the value of your wager twofold. Something that you rarely see in European Roulette variations is the La Partage rule. This is traditionally reserved for French Roulette variations and is one of the most player-friendly rules out there. Whenever you put down an even money bet and the ball lands in the zero pocket, you will get half of your bet back. This effectively reduced the house edge of even money wagers by half, down to 1.35%.
Verdict
Overall, 3D European Roulette by Iron Dog Studio is one of the best roulette titles that you can play. Not only does it have excellent graphics and interface, but it also sports some top-tier rules. It uses the 37-pocket wheel and also comes with the La Partage rules. This is the best that you can ask for in the online gambling industry and we heavily recommend this game.
Quick Links
Popular Bets and Payouts
Specific Features
Verdict