Slot Euphoria Megaways — Game Review
Euphoria Megaways Slot
Things take an intergalactic turn with the brand-new Euphoria Megaways slot! Vibrant colours and exceptional graphics await, combined with dynamic gameplay and possibly up to 10,000x the stake!
Claim one of our SUPERB bonus offers below and jump straight into this colourful reel adventure!
Play With These Top Bonuses
Euphoria Megaways Slot Review
Intergalactic travel is a staple within the sci-fi genre and often leads to beautiful places. As such, it has also inspired numerous video slots, including the Mystery Mission to the Moon slot. With the Euphoria Megaways slot, you can explore space alongside several exciting bonus features, like Free Spins, Euphoria Spins, cascades, Max Megaways, and more!
Table of Contents:
About Euphoria Megaways Slot
Design, Symbols, and Graphics
RTP, Variance, and Payouts
Gameplay and Features
Our Verdict
About Euphoria Megaways Slot
In the Euphoria Megaways slot, you will be welcomed by a dynamic grid of 6 reels, where the number of rows for each can vary between 2 and 7. Moreover, wins can be formed by landing matching symbols across three or more adjacent reels, starting from the leftmost position.
This gameplay creates a much more dynamic experience, and considering the number of rows, there can be up to 117,649 possible ways to win.
Your bets may vary between the minimum of £0.20 and the maximum of £20. Even though this betting range is perfect for those that prefer smaller stakes, high rollers might not find it very suitable.
Design, Symbols, and Graphics
I am a massive fan of the chosen theme and how it has been presented. You will find yourself travelling at hyper-speed through a purple-coloured space. Stars twinkle in the background, and some stream past you, creating fantastic and immersive animations. The music is cinematic and futuristic, and the reels are filled with beautifully designed symbols.
Speaking of symbols, quite a few may land during your time playing the slot. The low-paying ones consist of 9-A royals and are worth up to 1.25x your stake for a full line. On the other hand, the high-paying symbols are four gems in different colours and shapes (green, purple, blue, and white), and they pay between 2x to 50x your stake.
Regarding bonus symbols, you can look forward to standard Wilds, which substitute for pay symbols in winning combinations, and can only land on reels 2, 3, 4, 5, and 6. Mystery symbols and special star symbols are also included, as well as two different scatter symbols, but more about them later.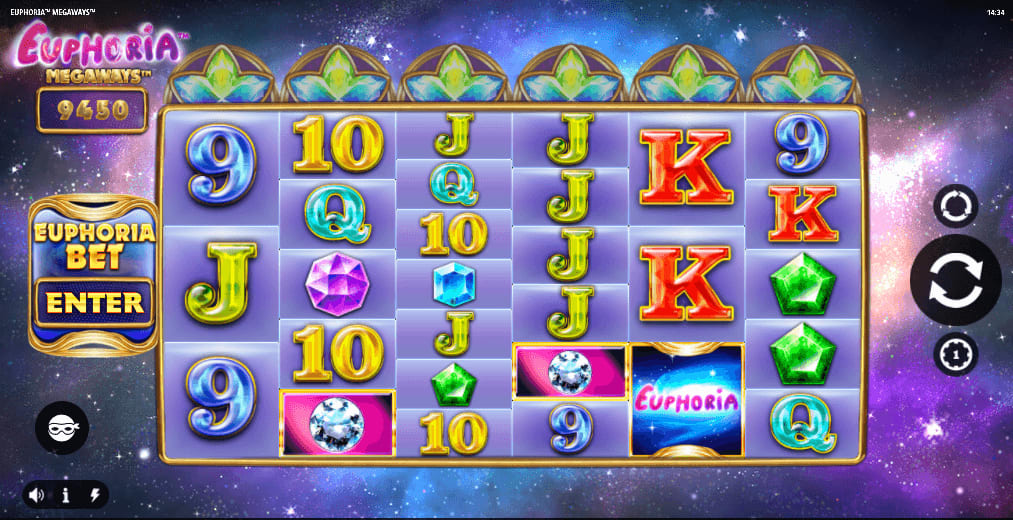 RTP, Variance, and Payouts for Euphoria Megaways Slot
The Euphoria Megaways RTP is set at an average of 96.0%. Moreover, the game's high volatility model is paired with a maximum win potential that may reach up to 10,000x your stake.
You can learn more about these technical terms in our Variance, Volatility, and RTP guide.
Gameplay and Features on Euphoria Megaways Slot
This slot truly shines when it comes to bonus features. Let's explore each of them now and see what they can offer!
Cascade Feature
When a win is formed, the participating symbols will disappear from the reel, and new ones will drop to replace them. If another win is formed, then another Cascade will be triggered, potentially leading to additional wins and consecutive payouts.
Euphoria Spins Feature
The Euphoria Spins may randomly trigger during any base game spin. When this happens, two Star symbols are guaranteed to land on that spin.
Max Megaways Feature
This is another randomly triggered feature, and as the name suggests, it increases the number of paylines to the maximum of 117,649 for that spin. It's important to note that both the Euphoria Spins and the Max Megaways features may trigger simultaneously.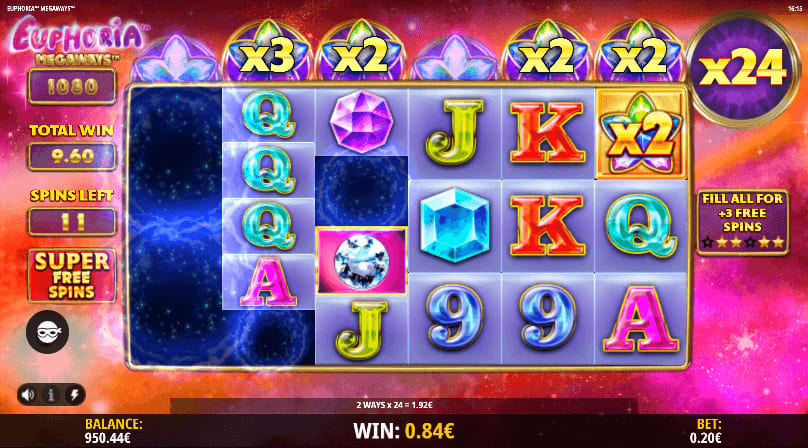 Free Spins Feature
Landing 3, 4, 5, or 6 Regular Scatters will award you 8, 10, 12, or 14 free spins, respectively. During the feature, any Star symbol that lands will be collected on the reel it lands on. That reel will have a multiplier of x2 for the duration of the feature, and it can increase to x3 by landing another Star on the same reel.
Collecting 6 Stars on all 6 reels will grant you 3 extra spins. The multipliers will also multiply each other if a win is formed with the multiplier reaching up to x729.
Super Free Spins Feature
These are triggered by landing Regular Scatters and at least one Super Scatter. The number of free spins is determined by the number of triggering scatters, much like the Regular Free Spins. Both features play the same, except that payouts can be higher during the Super Free Spins feature.
Other iSoftBet Slots
iSoftBet always seems to release games that offer great gameplay and have amazingly detailed presentations. If you like the Euphoria Megaways slot, you can check out the original Euphoria slot. You can also check out the Max Win W.P.D. slot, and the Hot Zone Wild slot.
Our Verdict
The Euphoria Megaways slot provides a quality gaming experience and checks all the boxes for a quality game. The presentation is magnificent, and the high volatility is perfectly paired with the RTP and the maximum potential payout of up to 10,000x the stake.
All in all, it's a great successor to an already well-regarded game, but the only downside is the relatively small betting range. However, it does include some excellent bonus features to keep things interesting.
The Stash
Vi piacerebbe prendere parte alla rapina del secolo? Ebbene, il noto provider di giochi online Blueprint Gaming ha appena rilasciato una nuova video slot dal titolo The Stash che prende spunto da una banda di gangster e dal caveau di una banca pieno di diamanti preziosi che, una volta rubati, potranno far vincere 25.000 volte la puntata!
Descrizione della nuova video slot di Blueprint Gaming The Stash
Il gioco proposto in questa macchinetta è piuttosto movimentato e si esplica attraverso diverse funzionalità che vedranno scendere in campo jolly, scatter e simboli money. Il wild ha sempre abbinato un moltiplicatore e quando atterra si espande aumentandone il valore, gli scatter sono i diamanti e serviranno per giocare i free spin, dove c'è un altro moltiplicatore che aumenta, e il simbolo money darà l'accesso ad una funzione che si gioca con i simboli appiccicosi a cui sono abbinati premi e modificatori di ogni tipo, e con i respin! Prima di analizzare il gioco vero e proprio, però sarebbe opportuno spendere due parole sulle puntate che dovranno essere effettuate prima di azionare lo spin. Questa slot online The Stash targata Blueprint Gaming è predisposta per essere giocata già con soli 0.20 monete demo e sino ad un massimo di 20 crediti finti. Si ricorda infatti, che su questa nostra piattaforma, si giocherà solo per puro divertimento, sia con The Stash che con tutte le slot machine degli altri provider, ma nella loro versione dimostrativa. Per cui si potranno puntare soltanto le monete virtuali che il gioco mette a disposizione.
Simboli e griglia di gioco
Giocando con questa nuova slot The Stash il giocatore sarà catapultato sulle strade di una città, i free spin saranno invece giochi all'interno della banca. Sulle bobine di questa video slot faranno dunque capolino 5 figure losche, di cui un paio risultano armati. La griglia di gioco è composta da 5 bobine di diversa altezza, secondo lo schema 3 — 4 — 4 — 4 — 3 e al giocatore propone 576 modi per vincere. Il gangster più redditizio, in una combo di 5 vale 3.75 volte la puntata mentre i simboli di basso pagamento al massimo restituiscono 0.50x. Le combinazioni per essere vincenti dovranno essere composte da sinistra a destra, a partire dalla prima bobina ed includere 3, 4 e 5 simboli corrispondenti. I premi assegnati terranno come sempre conto dell'importo in monete demo giocato e dei singoli valori dei simboli, così come riportati nella tabella dei pagamenti, visionabile cliccando sul pulsante del menu sulla sinistra dell'area di gioco, in basso.
Ricordiamo che questa macchinetta è stata progettata per essere giocata su tutti i dispositivi, inclusi computer desktop e laptop, tablet e dispositivi mobili. A coloro che preferiscono giocare veloce, si consiglia di utilizzare il pulsante dell'autoplay, dove potranno selezionare fino a 100 giri consecutivi. Come simboli speciali troveremo il wild, lo scatter e il simbolo Money ed ognuno di essi attiverà una determinata funzione.
Funzionalità di gioco e meccaniche
Come si è potuto intuire dalla descrizione sin qui fatta, in questa nuova slot online targata Blueprint Gaming si giocherà con meccaniche di gioco abbastanza semplici che coinvolgeranno i suoi simboli speciali. Il wild ad esempio raffigura l'automobile dei rapinatori, e quando atterra sui rulli porterà con sé un moltiplicatore il cui valore aumenta ad ogni posizione occupata. Il wild infatti eserciterà un'azione di spinta sulla sua bobina, fino ad occuparla per l'intera altezza facendo aumentare anche il valore del suo moltiplicatore. Il giocatore così avrà maggiori possibilità di formare una vittoria alla quale sarà perfino applicato il moltiplicatore. Il wild potrà atterrare soltanto sui 3 rulli centrali.
Da tenere d'occhio sono anche i simboli con i diamanti, il cui atterraggio è atteso solo sui rulli 1 e 5. Quando se ne ottengono 2 a vista si attiveranno i free spin e partiranno 8 giri gratuiti che saranno giocati con un moltiplicatore, indicato sulla sinistra dei rulli, che inizia da x1 ma aumenta di +1 tutte le volte che sui rulli arriva il wild moltiplicatore in espansione ed aumenta anche del valore del moltiplicatore del jolly.
Se invece sui 3 rulli centrali arriveranno 3 simboli Money, questi si bloccheranno sulle loro posizioni e si giocherà con la funzione tipo hold and win che qui prende il nome di Lock & Spin. Al giocatore saranno assegnati 3 giri iniziali e i simboli che hanno attivato la funzione si doteranno di un moltiplicatore di scommessa. Si giocherà con una griglia di gioco con 3 bobine, perchè i rulli 1 e 5 risulteranno bloccati. Ogni simbolo che atterra nel corso dei respin riporta i giri a 3. Potranno atterrare anche i modificatori, ovvero gli stessi gangster, ed ognuno di essi avrà un determinato compito: il gangster con lo sfondo blu aprirà le bobine bloccate, quello viola aggiunge valori 1x, 3 e 5x a qualsiasi altro valore sui rulli, il personaggio blu funziona da collezionista di tutti i premi a vista, quello rosso aumenta il valore dei premi a quelli successivi e il Super Collector con la stella raccoglie tutti i premi, li rimuove e raddoppia il tutto!
La rapina finale si attiva ottenendo sui rulli sia gli scatter con il diamante, sulle bobine 1 e 5 che i 3 simboli money sui rulli centrali. Il giocatore quindi prenderà parte alla sua rapina giocando dapprima gli 8 free spin con il moltiplicatore che aumenta grazie al wild in espansione e subito dopo la funzione con i respin, ai cui premi finali sarà pure applicato il moltiplicatore ottenuto nel round bonus gratuito. Il giocatore pagando invece 60 o 100 volte la puntata potrà optare di acquistare la funzione Shoot & Spins oppure i Free Spin e pagando 1.000 volte l'importo scommesso avrà anche la possibilità di azionare la funzione The Ultimate Heist! Al costo di un 25% in più della scommessa, invece si potrà essere facilitati nell'attivare i giochi bonus, grazie alla modalità Ante Bet che si dovrà attivare all'inizio del gioco.
Il nostro giudizio sulla slot The Stash
La percentuale teorica di ritorno al giocatore in questa slot games gratis The Stash è data al 96%, si tratta quindi di un valore nella media per una slot online e si giocherà con una volatilità classificata nella fascia alta.
Slot Euphoria Megaways — Game Review
April 3, 2023
March 29, 2023
March 27, 2023
March 25, 2023
Online Casino Slot Review
Sports Betting Review
December 2, 2021
Euphoria Megaways Slot Review
Euphoria is an online slot game built around five reels and three-row formats. With a space theme, you can spin away from just 30p. The game has a random Euphoria Spin feature where star symbols come with multipliers that can combine up to 27x.
There are 243 ways to win on Euphoria Megaways with cosmic payouts. This game has almost everything to offer. Collect multipliers and get to the free spins round for your chance to win massive prizes.
Theme and Design
The art and design of Euphoria are beautiful though it doesn't have anything like a strong theme. The design features lots of shining gemstones floating in a realistic, purple space location. These symbols are made from traditional card symbols. The notable signs feature glimmering jewels in every cast and each spin has its reward.
There is a full paytable within the game that tells you how much each germ is worth.
The color is bright and striking. The playing card symbols look like they were from gemstones. Everything has lots of flashes and a 3D effect to the image. It makes the signs look like they want to fall from the screen.
Features
Euphoria has a buy bonus feature where players can buy free spins bonus feature up to 100x the stake. For instance, if your stake is 2 euros, the bonus feature will cost you 200 euros.
The game comes with an erratic triggered Euphoria spin feature. This feature can present itself at any time on any base game spin. A total of 3-star symbols can land with each increasing the multiplier. These stars are wild and will replace all other symbols bar scatter. As such, 2x and 3x multiplier values will multiply together result in payouts of up to 72x.
The free spin feature is where there is all the action. Players can unlock a 243x multiplier by getting a 3x multiplier on each of the five reels. It can get you 25,000x your stake wins. But the volatility of the game is too high so expect fewer winnings.
How to Play Euphoria
The game is easy as there are no customizable features to set before the game. It's a good thing because it can confuse when there are many features to the position. You only need to place your total bet per spin amount. You then click the spin button or auto spin feature that will set the reels spinning in motion.
A winning combination comes when you match three or more of one kind of a symbol. It also comes from any available pay lines from the left of the reels to the right.
Pros
Great on mobile
Cons
Conclusion
The Euphoria casino slot is a high-volatility game. It means the wins are bigger, risks are high, and wins are fewer. You have to wait for a while before you hit a win.
This game is beautiful with a nice look. But expect a period of dry spells because of the volatility. It's slightly dull, but the payoff is worth it.
About us
Find top Online casino slots and sports betting review.
Email us : [email protected]
Call us : +91 8800229789