Slot Empire Fortune — Game Review
Empire Fortune: slot review
Empire Fortune is een slot met een jackpot tot €7,8 miljoen! Ontdek alles over deze online gokkast in de expert slot review van Meneer Casino.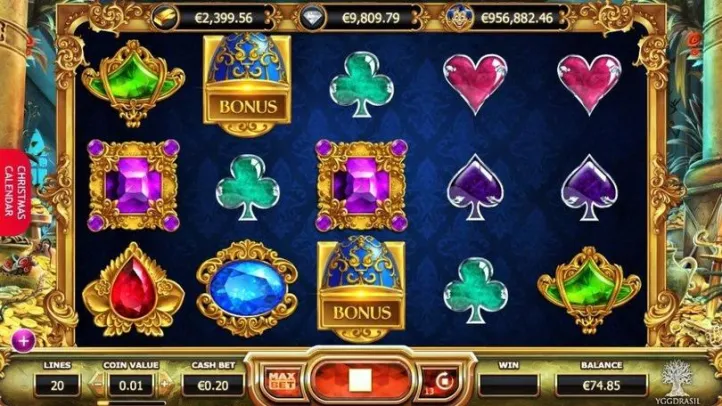 Empire Fortune: kans op miljoenen met een inzet van €0,20!
Dat je in online casino's gigantische jackpots kan winnen, weet je waarschijnlijk allang.
De beroemde jackpot-slot Mega Moolah (van spelprovider Microgaming) heeft al vele tientallen mensen miljonair gemaakt. Een Belgische speler won in 2021 zelfs €19,4 miljoen.
Spelprovider Yggdrasil is vooral bekend om de jackpot-slot Joker Millions. De hoogste jackpot ooit op Joker Millions was €7,8 miljoen. Deze viel in 2018 in online casino LeoVegas.
Maar Yggdrasil heeft nog een andere slot waarop je precies dezelfde jackpot kan winnen: Empire Fortune.
Is de slot Empire Fortune de moeite waard om op te spelen? En is het slimmer om op deze slot te spelen of op Joker Millions?
Meneer Casino onderwierp Empire Fortune aan een grondige test voor deze slot review.
Let op: helaas is Empire Jackpot op dit moment in geen van de legale online casino's van Nederland te spelen.
Hoe werkt Empire Fortune?
Empire Fortune is een mooie slot, voorzien van een zwoele soundtrack die in de verte misschien wat doet denken aan muziek uit de Efteling.
Er zijn vijf rollen en 20 winlijnen. De minimuminzet is €0,20 per spin. De hoogste inzet is €100,- per spin.
De symbolen bestaan uit fonkelende juwelen, aangevuld met schoppen, harten, ruiten en klaver.
Op de rollen staan ook jokers. Maar let op: de jokers tellen niet als wild-symbool. Wat doen deze symbolen dan wel? Ze leveren je free spins op.
3 jokers = 10 gratis spins, multiplier x2
4 jokers = 20 gratis spins, multiplier x4
5 jokers = 30 gratis spins, multiplier x10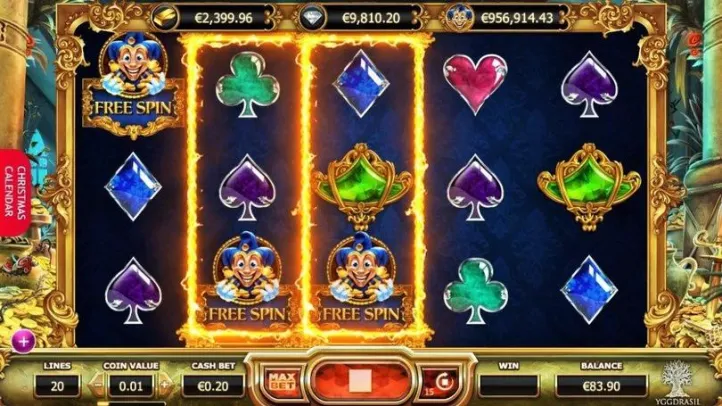 Drie jokers: goed voor 10 free spins met een multiplier x2.
Ten slotte staat op elke rol een chic Fabergé-ei. Draai je minimaal drie Fabergé-eieren waar dan ook op de rollen, dan start de bonusronde.
Je ziet drie 'jackpot wheels' die boven op elkaar liggen, als een bruidstaart. Met drie eieren start je met een spin op het onderste rad. Met vier eieren krijg je een spin op het middelste rad en draai je vijf Fabergés, dan mag je meteen op het bovenste rad beginnen.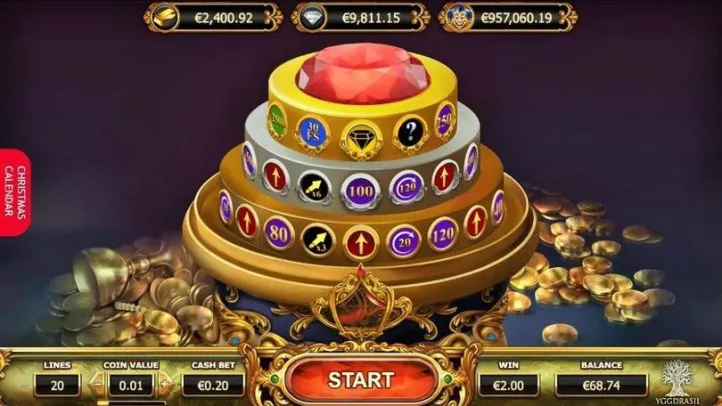 Drie jackpotwielen. Hoe hoger je komt, hoe beter de prijzen.
Op de wheels staan bedragen, die goed zijn voor cash prijzen. Je kunt ook een aantal free spins draaien of een vuurpijl.
Een vuurpijl is goed voor 3, 6 of zelfs 12 verschillende prijzen die random gekozen worden uit alle prijzen van de bruidstaart.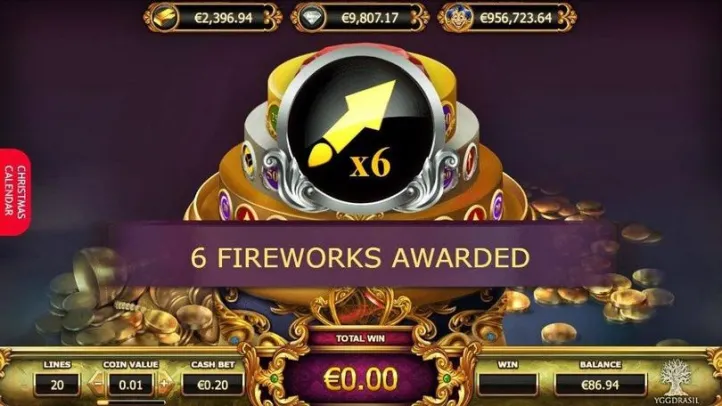 Deze vuurpijl is goed voor maar liefst 6 prijzen.
En heb je heel veel geluk, dan win je een van de drie jackpots (hieronder meer daarover).
Spannend? Héél spannend!
Extra leuk: als je twee jokers of twee Fabergé-eieren op de rollen draait, blijven deze tijdens de volgende spin staan. De hold feature, noemt Yggdrasil dat. Zo maak je nog meer kans op free spins of het spannende jackpot-spel van Empire Fortune.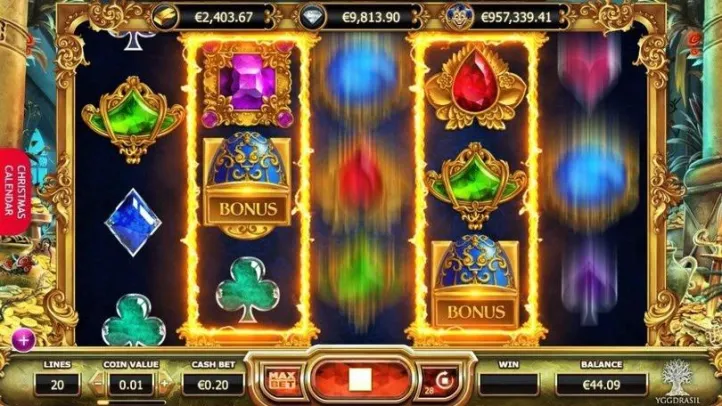 De twee Fabergé-eieren blijven staan tijdens de volgende spin.
De jackpots van Empire Fortune
Empire Fortune heeft drie jackpots.
De Mini Jackpot en Medium Jackpot zijn lokale jackpots – de hoogte van deze prijzen verschilt per online casino. De grote Ultra Jackpot is in alle online casino's hetzelfde.
Van alle inzetten gaat 0,9% naar de Mini Jackpot. Gemiddeld valt deze jackpot op €2681,-.
Van alle inzetten gaat 0,9% naar de Medium Jackpot. Gemiddeld valt deze jackpot op €19.588,-.
Van alle inzetten gaat 5,5% naar de Ultra Jackpot. Gemiddeld valt deze jackpot op €2.821.629,-.
De 1000 spins van Meneer Casino
Meneer Casino speelt voor zijn slot reviews altijd 1000 spins met echt geld. Voor de Empire Fortune slot review kiest hij voor een inzet van €0,20 per spin.
De eerste 200 spins gaan zeer voorspoedig. Met enige regelmaat vallen prijzen tussen de €1,- en de €2,-. Daar speelt Meneer Casino natuurlijk niet voor, maar het houdt je qua budget wel lekker in de race.
Na 55 spins vallen er al drie Fabergé-eieren in beeld. Dus: spelen om de drie jackpots. Die vallen helaas niet. Meneer Casino moet zich tevreden stellen met €2,50.
Na nog een paar magere bonusrondes (€0,80 en €0,40!) stopt het rad op een vuurpijl. Dat betekent zes prijzen. Helaas zit er geen jackpot bij, maar een totale winst van €12,50 is toch mooi.
Daarna gaat het saldo van Meneer Casino helaas rap naar beneden. Slechts één keer komen de free spins langs en die leveren maar €0,54 op. Na 900 spins staat er een verlies op het scherm van bijna €60,-.
Maar dan… net voor het einde, komt toch nog een keer de jackpotronde. Dit keer draait het rad van fortuin voor €26,20 aan prijzen bij elkaar. Geen jackpot, maar toch ook lang niet slecht!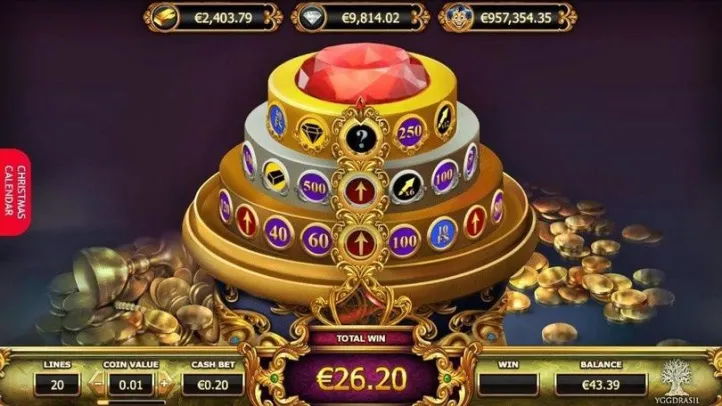 Big win op Empire Fortune: €26,20.
Helemaal aan het einde van de 1000 spannende spins, staat Meneer Casino op een verlies van €42,71.
Over het uitbetalingspercentage van Empire Fortune
Voor de duidelijkheid: het theoretische uitbetalingspercentage (ook wel RTP of return to player) van de slot Empire Fortune bedraagt 94,3%. Dat betekent dat deze gokkast op de zeer lange termijn, gemeten over miljoenen spins, uiteindelijk van iedere ingezette euro weer 94,3 cent als prijzen uitkeert.
Speel je een kleiner aantal spins, dan kan het daadwerkelijke uitbetalingspercentage veel hoger of veel lager liggen dan die 94,3% – een kwestie van geluk hebben of juist pech.
Meneer Casino had in de 1000 spins die hij voor deze slot review speelde minder geluk dan gemiddeld, want de testsessie eindigde met een groter verlies. Dat zegt niets over jouw kansen om te winnen op Empire Fortune.
De resultaten op Empire Fortune
Het verlies na 1000 spins à €0,20: €42,71
De 5 hoogste prijzen: €26,20 / €15,- / €12,50 / €4,32 / €4,-
Free Spins: 1 keer (winst €0,54)
Jackpotronde: 12 keer (gem. winst €5,39)
Volgens Yggdrasil is het uitbetalingspercentage (RTP) van Empire Fortune: 94,3%
Slotoverweging
Empire Fortune is een moderne, verzorgde en spannende slot, waarop je ook nog eens kans maakt op een miljoenenprijs.
Meneer Casino vindt Empire Fortune een stuk leuker en afwisselender dan Joker Millions, het andere jackpotspel van Yggdrasil. De bonusronde is extreem spannend, vooral wanneer je een vuurpijl draait, en dankzij de hold feature krijg je die bonusronde ook redelijk vaak.
Het uitbetalingspercentage van 94,3% is wel aan de krappe kant, maar je speelt deze slot toch vooral om de Empire Fortune-jackpot te winnen en als je eenmaal miljonair bent, klaag je niet meer over de lage RTP.
Meneer Casino zegt: heel veel succes!
Waar kun je Empire Fortune spelen?
Empire Fortune kun je op dit moment helaas in geen van de Nederlandse online casino's spelen. Meneer Casino verwacht wel dat deze slot binnenkort zal verschijnen in het assortiment van een of meerdere casino 's.
Tot die tijd is het beste alternatief als je een miljoenenprijs wilt winnen Mega Moolah, onder meer te spelen bij Jack's Online Casino.
Empire Fortune Slot Review
Walk away with an eye popping Progressive Jackpot at Empire Fortune Slot game!
Powered By Yggdrasil Gaming
Empire Fortune Slot Information
| | |
| --- | --- |
| Software | Yggdrasil Gaming |
| Slot Type | Video Slots |
| RTP | 94.3% |
| Reels | 5 |
| | |
| --- | --- |
| Min Coins Size | 0.01 |
| Paylines | 20 |
| Max Coins Size | 5 |
| Jackpot | 2500 |
Overview of Empire Fortune Slot
Empire Fortune is a wealthy looking video slot game which has a lot to offer in many ways. The game has excellent animations and symbol details which give out an aura of wealth and riches. The background music is aristocratic to say the least and brings you back in time when aristocracy was at its peak. The designers made sure to add interesting bonus features in the game including the elusive jackpot prize which can range in the millions. Empire Fortune has a lot to offer so all that remains is for you to give the game a try and see if you will walk away a wealthy man.
Yggdrasil Gaming Empire
The release of the game was postponed several times across Yggdrasil casinos. It seems that the designers at Yggdrasil Gaming wanted to make sure everything was top notch with the slot before releasing it to the public. They certainly managed to do a great job releasing one of their few Jackpot slots on the market. Empire Fortune is sure to attract a big number of players across Yggdrasil Gaming casinos.
Features of Cosmic Disco Slots

Graphics, Sound effects and Looks
Empire Fortune has a total of 20 active pay lines which go across 5 reels and 3 rows. The bet size in the game is easily regulated with the Coin Value button, 0.01 – 5. This means that the bet size can range anywhere from the minimum $0.20 to the maximum of $100 per spin. After everything is set all you need to do is hit the Spin button or use the Auto Play option for an unlimited number of free spins.

Symbols and their significance
Strangely enough Empire Fortune doesn't have a wild symbol in its pay table. The game has a scatter free spins symbol and a bonus symbol which grants you access to the jackpot game. The higher paying symbols in the game are the Jewel symbols, while the lower paying symbols are the card suit symbols.
Empire Mobile
Yggdrasil Gaming is known as a mobile friendly software provider. All of their slots are fully optimized to run on Android and iOS mobile platforms. This way you will have no problems playing Empire Fortune from your mobile device. Just launch the slot from within your mobile browser without any extra software needed and you will be ready to chase the jackpot in seconds.
Empire Fortune Hold Feature
The bonus features in Empire Fortune may be a bit hard to trigger so the designers came up with an excellent Hold Feature. Each time two bonus or free spins symbols land on the reels without a third matching symbol they will be held in place and a re-spin is awarded. This way players double their chances of triggering the bonus round. If this happens during the free spins bonus round the player is also awarded an extra free spin.
Empire Fortune Free Spins
The free spins bonus in Empire Fortune is triggered with 3, 4 or 5 Free Spins scatters on the reels. If it's triggered with 3 scatters the player is awarded with 10 free spins played on a x2 multiplier. Four scatters will grant you 20 free spins with a x4 multiplier and 5 scatters award a whopping 30 free spins played on a x10 multiplier.
Empire Fortune Jackpot Wheel
The Jackpot Wheel in the game is triggered with 3, 4 or 5 Bonus Symbols on the reels. The player is taken to the Jackpot Wheel where 3 different levels are available. If you triggered the bonus with 3 bonus symbols you get one spin on the first level, with 4 bonus symbols one spin on the second level and with 5 bonus symbols one spin on the third level. The jackpot prizes are divided into 3 levels. The lowest is the Diamond Jackpot, the middle is the Golden Jackpot and the highest is the Joker Jackpot. All jackpots are won if the wheel stops at the corresponding jackpot symbol.
But there is much more to this bonus game than the jackpot. You can get coin prizes in your spin, advance to the next level and another spin, 10, 20 or 30 free spins on a x2, x4 or x10 multiplier and the Fireworks Feature.
Fireworks Feature
The fireworks feature is the most interesting part of this bonus after the jackpots. If this feature is triggered the player will be awarded with 3, 6 or 12 rockets. Each rocket will explode on some position on the jackpot wheel including the jackpots. This way players have up to 12 chances to trigger the free spins bonus, win coin prizes or hit one of the available jackpots.
A great Jackpot slot game
Yggdrasil Gaming doesn't have a big offer of jackpot slots so Empire Fortune is a great addition to their portfolio. The game has everything you can want in a video slot game, ranging from great bonus feature to great jackpot payouts. Now that the slot is finally available across Yggdrasil Gaming casinos all you need to do is choose the right casino and give this jackpot slot a try for real money.