Slot Cobra Queen — Game Review
Cobra Queen Slot
Would you like to go back to ancient Egypt to reveal hidden secrets and rule the kingdom together with the Cobra Queen? You can do that in this slot coming from Max Win Gaming. It was released on 16/03/2021, and it didn't take long to see its huge popularity. In Cobra Queen, you can enjoy wild symbols, locked wilds, and free spins. In this review, you can learn everything there is to know about the features, theoretical RTP, volatility, max payout, and so on.
Software:
Max Win Gaming
Release Date: 16.03.2021
Volatility:
High
RTP:
96.0%
Multiplier:
No
Max. win:
2,040x
Bonus game:
No
Free spins:
Yes
Scatter Symbol:
Yes
Wild symbol:
Yes
Symbol Stacked:
No
Jackpot Game: No
Slot lines:
10
Slot reels:
5
Layout:
5-3
Stakes range (€/£/$):
0.20 to 40
Slot Theme:
Ancient civilizations
Technology:
JS, HTML5
Best Casino Bonus for Real Money on this Slot Welcome offer: up to €400 + 150 Free Spins
Cobra Queen Free Play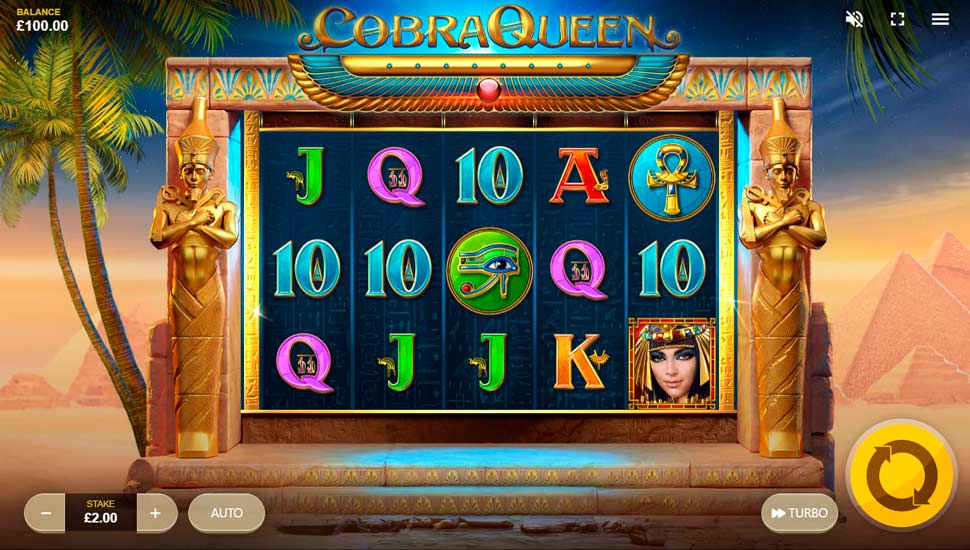 By clicking I confirm that I am 18+
Play for free
The demo failed to load?Tell us
Best Casinos to Play Cobra Queen for Real Money
If you like this Egyptian-themed slot machine, you should play Cobra Queen for real money in some of the best casinos available. We've put together a list of the best picks with this slot machine. Take a look at all of the bonuses below and select the casino that suits you the most. If it's hard for you to choose, you can read the review of each of them to help you decide easier.
9.5/10
8.9/10
How to Play
Want to learn how to play the Cobra Queen slot? Awesome! We're going to help you get started right away. That's why we've put together a simple guide below.
Load Cobra Queen and click the play button to continue to the main screen
Click the three lines in the top right corner to get an overview of the paytable
Click on stake if you want to play with a different bet size for each spin
You could also use autoplay if you want the reels to spin by themselves
When you're ready to play Cobra Queen, simply click the yellow spin button
Cobra Queen has 5 reels, 3 rows, and 10 paylines. This is a rather standard setup for most titles out there. To hit a winning combination, you'll need 3+ identical symbols to appear from left to right, except for the scatter symbol and the Cobra Queen. The Cobra Queen can reward you with a payout with only 2 symbols on a winning payline, and the scatter symbol can reward you with free spins if it appears on reels 1, 3, or 5.
On the reels in this slot machine, you'll become familiar with symbols like the Cobra Queen, a golden statue of the Pharaoh, a scarab necklace with eagle wings, the eye of Horus, and an ankh. These symbols are rather typical but also well fitted to a slot machine with an Egyptian theme.
The minimum bet in Cobra Queen is set to be €0.2 per spin and goes up to €40. Although the minimum bet is at a nice amount, the maximum bet could've been a bit higher in our opinion.
Cobra Queen RTP and Volatility
7.7/10
The return to player in Cobra Queen is 96.02% and it has high volatility.
Max Win Gaming has set the theoretical payout percentage to be 96.02%. This means that Cobra Queen follows the industry standard, which is great to see. You can expect big wins to hit more often, at least compared to low volatile slots (because of the high volatility).
Theme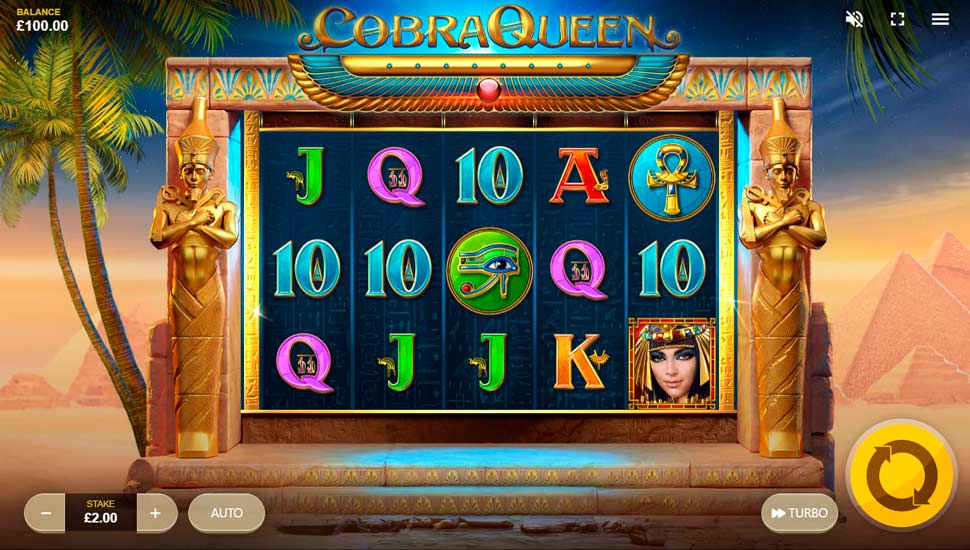 The setting in Cobra Queen takes place in ancient Egypt. This is why you'll be able to see several pyramids in the background of the slot machine, palm trees, sand, blocks of stones, a clear sky with shining stars, and so on. On the left and right sides of the reels, you'll also see two golden Pharao statues. While spinning, you can hear drums and other instruments being played, as well as a woman humming mystically. There is no doubt that Max Win Gaming has made sure that the overall design of Cobra Queen lives up to the theme of ancient Egypt.
Cobra Queen has several features that you can look forward to. Every winning payline locks its win amount above the last participating symbol on that payline, and it'll become a wild symbol next spin. Every time the wild symbol hits a winning payline, it adds the current win to its value.
If the wild symbol is connected to several winning paylines, then all of the amounts add to its value. This means that the wild is one of the most valuable symbols but other symbols can make sure you get some nice wins too. For example, 5 symbols of the Cobra Queen pay 1,000x bet. The symbols of 10, J, Q, and K only pay up to 80x the size of your bet.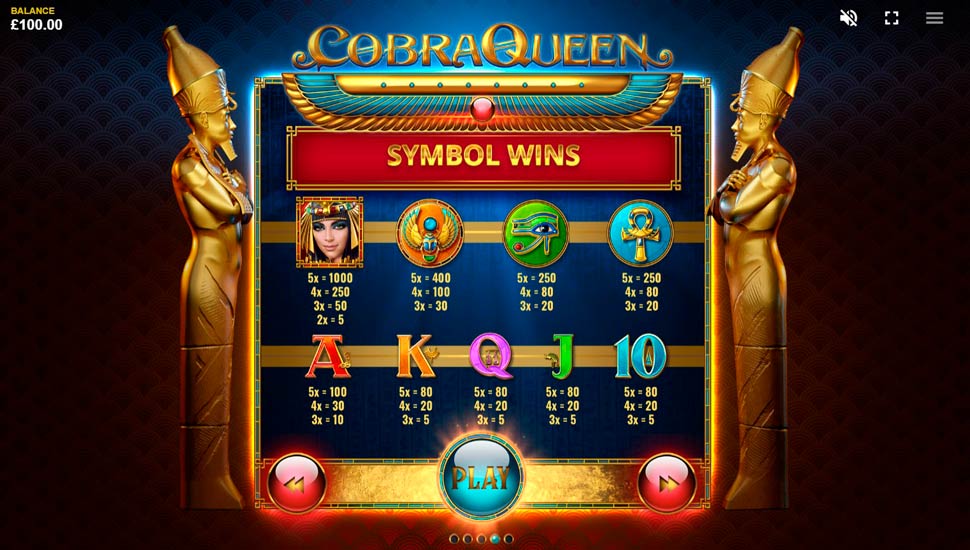 Mobile Compatibility
If you're using a small device like a smartphone, or tablet, you'll be happy to hear that you can enjoy Cobra Queen on these devices. Max Win Gaming has made sure to fully optimize all of their games, including Cobra Queen, so you shouldn't experience lag or interruptions.
About Max Win Gaming
A team of young and dedicated slot machine experts started Max Win Gaming in 2015. Their company is now one of the most attractive ones in the online casino industry. They've released titles like Casino Spin, Splendour Forest, Yummy Wilds, Leprechaun's Magic Megaways, Epic Treasure, Dream Destiny, Ali Baba's Luck, Golden Gods, and many more.
Bonus Rounds & Free Spins
Free Spins Bonus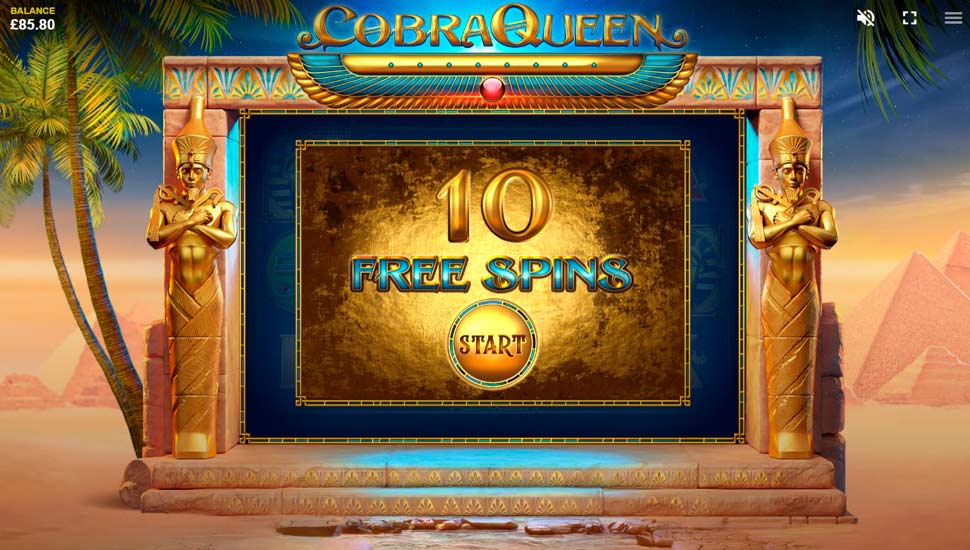 If the symbol of the Golden Pharaoh appears on reels 1, 3, or 5, the free spins bonus will activate. During this feature, wild symbols will be sticky/locked in place and their values will stack until the end of the bonus round. The value will then be paid out as a win. During the free spins bonus, you'll be able to win the maximum payout of 2,040 times your bet, with some luck of course.
Cobra Queen Demo Play
The demo version of Cobra Queen is available here on SlotsJudge. If you want to learn more about it, we recommend that you try it. It's a nice way to become familiar with everything there's to know about the slot machine. You can try it for real money when you feel confident enough.
Max Win
The maximum payout is 2,040 times the size of your bet in Cobra Queen.
You'll be able to win quite the payout in Cobra Queen. It can happen during the main game or during the free spins bonus. It's capped at 2,040x the size of your bet. In order to win it, you have to be lucky with the Wild symbols.
overall rating:
7.7/10
Cobra Queen has 5 reels, 3 rows, and 10 paylines. It has a theme of ancient Egypt and the main character in the game is the Cobra Queen. Max Win Gaming has surely managed to implement great graphical details and animations, and the music/sound effects are impressive. It only has a couple of features, but they can be rather rewarding while spinning. Hopefully, you'll win the maximum payout of 2,040x bet. The RTP is 96.02% and the volatility is set to be high.
Fire Queen Slots
Will you take up the battle against the battle-hardened Fire Queen to see if you can plunder her loot, or will the fiery maiden scorch all comers? This is the premise of WMS' (now part of Scientific Games) exciting and unusual Double Money Burst slot.
This is certainly one of the more unusual slots you can play, with a total of 11 reels (although this is not immediately apparent) arranged into three separate sections – four reels in a 2×2 box, another four in another 2×2 box, and the three other reels each with six symbols on show.
However, despite its somewhat unusual layout, it doesn't take long to get the hang of it.
Overview: Fire Queen
The Fire Queen is a Double Money Burst slot, which means it is highly volatile. This needs to be taken into consideration before you play.
Big wins are possible, but they are relatively rare and small wins are the norm.
The slot setup is also a little confusing initially. The two 2×2 boxes on the lefthand side are actually eight individual reels; however, the two horizontally adjacent reels must match up along with others in the 9th, 10th, or 11th reels in order to make a payline.
Speaking of which, there are 100 paylines in operation on the slot, and you can vary the size of your bet by deciding how much to wager on two paylines.
The minimum bet is $0.50 and the maximum $100 per spin.
Who will the Fire Queen slot appeal to?
This slot will appeal to players who enjoy differently formatted slots to the usual 5×3 reel games. The way this slot is laid out may sound initially confusing, but after 10 spins or so, you'll be familiar with how it works, and from then on playing is a breeze.
Additionally, given that this is a very volatile slot, Fire Queen will appeal to players who prefer slots that offer the occasional big payout, as opposed to regular smaller payouts.
To be fair, when we trialled the game, we did hit wins relatively frequently (although most were considerably smaller than the initial wager).
Where to play the Fire Queen online slot in NJ
The Fire Queen online slot is a fairly easy game to find in New Jersey, as it is on the roster at a variety of the best online casino sites in NJ.
Our favorite site is VirginCasino.com – and of course you can also access the game at sister site Tropicana online casino.
Gameplay: Fire Queen
We've already explained how the reels are grouped together and how they combine to create winning paylines, but there is a whole host more information about the game to discover.
Let's start with the basics and say that the symbols on the reels are a mix of low symbols (the ubiquitous player card symbols from 10 through to ace), and then there are a number of other higher value symbols all with some link to the Fire Queen.
These include a flower, a charm, a fiery bird (one could assume it is a phoenix), a ring, a horse with a fiery mane, and a candle.
When you hit "spin," the eight reels on the left of the screen come to rest first, followed by the three larger reels 9, 10, and 11.
When all reels are at rest, the paylines are calculated in the usual way, horizontally across the reels from left to right.
However, the two sets of 2×2 reels also have a couple of other little features which can help you win.
The first of these is that when the in-game wild symbol (the Fire Queen herself) lands in any position on one of the two 2×2 reels, she will send a fire bolt to the other 2×2 reel to turn the corresponding symbol on that reel wild too.
It is worth noting that all symbols on the 9 th , 10th , and 11 th reels are stacked, and that includes the wild symbol which can help you achieve some really impressive wins in the base game on occasion.
The other thing to be aware of on the 2×2 reels is that if all four of the symbols shown in one of the 2×2 boxes are the same (that includes any symbol in the game), then you will automatically enter the free spins round and receive five free spins.
However, if you have the scatter symbol (a mystic ball) on reels 9, 10, and 11 on the same spin, the number of free spins you receive increases to 20.
If you fail to hit four similar symbols on the 2×2 reels, then you can still trigger five free spins by landing three of the Mystic Ball symbols on reels 9, 10, and 11.
The free spins round can be particularly lucrative, especially considering that if any Fire Queen wild appears on the 9 th , 10 th, or 11 th reel on a spin, then it will turn the entire reel wild.
But it should also be noted that free spins payouts are extremely volatile too, and you can often receive a rather small amount after playing free spins.
Special features: Fire Queen
Super stacked symbols
A nice touch is that on reels 9, 10 and 11 all the symbols, including the wild symbol, can be stacked up to four symbols high and the wilds can be stacked to cover the complete reel.
Free spins
The fact you can trigger free spins in numerous ways is a thoughtful addition.
The 2×2 box generating free spins (if it was this that did trigger the bonus) also adds value, especially when a wild is present on those reels.
Transferable wilds
The fact that wild symbols transfer from one 2×2 set of reels to the corresponding symbol in the other is incredibly useful, especially during the free spins round when it can prove especially profitable.
What works?
Unusual reel layout
There is no doubt at all that the Fire Queen slot is visually striking.
Its unusual layout may initially look somewhat complex, but once you have had a few spins and read through the instructions, it is surprisingly easy to follow.
Bigger base game wins
One of the nice touches is that it is possible to win some very decent amounts in the base game, especially with stacked wilds on reels 9, 10, and 11. This can really bump up the value of a win if you can land one or more of these across the reels.
Free spins triggers
The fact that on every spin you have three chances to trigger free spins (one in each of the two 2×2 boxes housing the first eight reels and once using the Mystic Ball symbol on reels 9, 10, and 11) gives you added chances and makes it feel like there's something to play for on every spin.
What doesn't?
No multipliers
Multipliers would help with some of the lower value wins, especially in the free spins round, but alas there aren't any.
Variable free spins payout sizes
It isn't too difficult to hit free spins, but you'll often win only a small amount. A high percentage of the time you will walk away with less than 5x your total stake.
Small jackpot size
One of the most disappointing aspects of the slot is the size of the jackpot, a rather disappointing 400 coins in the base game, although you could win more on cumulative spins in the free spins round.
That size jackpot isn't likely to attract too many players who enjoy bigger jackpot games.
The scores
Graphics and soundtrack: 3/5
It's fair to say that the graphics on the slot are perhaps a little basic looking, but the soundtrack is cleverly done, with flame effects and a dark ominous tone playing throughout.
Add a sprinkling of effects for the wins and the ambience created by the slot is generally good.
Originality and creativity: 5/5
Top marks here, which is a rarity. I think the idea of having 11 reels, and especially how they are organized and the links between them, could have been horrendously messy.
Instead, what you have is a New Jersey online slot game that looks complicated, but is actually exceedingly easy to play. Creative use of wilds and also three free spins triggers also ensure excellent marks here.
Play value: 3/5
This is a difficult one, as it does depend entirely on how the game plays and how volatile it is. I've had sessions that have all but wiped me out. On another after just a few $10 spins, I ended up with a free spins bonus win of more than 2,700.
In general though, the smaller wins and dry runs are balanced out with the occasional bigger win.
Jackpot potential: 1/5
This is the one big disappointment with the slot with a base game jackpot of just 400 coins. Much more can be won in free spins, but that jackpot is unlikely to attract many players to give the game a try, which is a real shame.
Repeat play: 5/5
Despite that low jackpot, I think the Fire Queen slot is a winner.
Provided you can accept volatile slots and are prepared to take the hits of dry runs alongside the days when the slot pays out big, this is one slot you will definitely come back to play time and time again.
Total score: 17/25
Don't underestimate just how good the Fire Queen slot is. Sure it may look a little gimmicky and perhaps a tad complicated, but it is surprisingly easy and huge fun to play.
And there is always the chance of some massive wins in the free spins round.
Image credit: David Porras / Shutterstock.com