Slot Candy Candy — Game Review
Candy King Slot Review
With Wumpa Bumpa and supercandysugarlistic symbols, this Candy King mobile slot by mFortune is a real sweet treat.
Note: this game is no longer available to play.
Once you've downloaded this Candy King app on your phone or tablet via the mFortune casino, every one of your senses will be hit by the colours and movements on the screen.
Which is funny, because we tested this slot game app and left it idle for 5 hours, came back, and were able to play without it crashing.
So it's basically unbreakable. And whilst at first, all the colours and movements might make you feel like it's trying too hard, you soon get into an easy rhythm with this mFortune slot that is hard to beat.
We more than doubled our starting budget
So what impressive wins did we get to do that? None.
We just kept getting some decent 5 of a kind wins, and that click me bonus that shows up every 20 spins or so, giving you a chance to gamble for some higher prizes.
And slowly, but surely, we built up our stack. It was surprisingly easy.
We're not saying it will be for you (because, gambling), but this Candy King slot game certainly has the potential to keep your budget very steady, if not on the increase.
Forget the jackpot and free spins – Candy King slot is all about the sweets
Because despite it's sugar coated theme, and the fact we thought it would be annoying to get the click me bonus so often, these 9 paylines make it so easy to win, that we found ourselves playing for far longer than we thought we would.
Add a great gamble feature that gives you more choice and control, and we suspect that we'll be coming back to the Candy King slot machine when we need a sweet rush to our wallets.
Candy King slot stats
| | |
| --- | --- |
| Mobile Slot released | July 2015 |
| Slot type | Video Slot |
| Software | mFortune |
| Jackpot amount | A few hundred / thousands at most |
| Slot reels / paylines | 5 Reels / 9 Paylines |
| Slot volatility | Low |
| Coins range | 0.02 — 20.00 |
| Min/Max bet | 0.18 / 180 |
| Max win | 90,000 |
| Free spins | Up to 9 Free Spins / No Multipliers |
| Bonus rounds | Click Me Bonus, Free Spins, Wilds, Gamble |
| Slot Themes | Sweets |
In-game bonus features
Jackpot: Get 5 Jackpot symbols on an active payline will win you the jackpot amount. If a wild is used to make a 5 symbol win, you don't get the jackpot, but you do win 300 times your line bet.
Wild Symbol: The orange faced, green haired, Wumpa Bumpa is the wild symbol and replaces all other symbols.
Free Spins: These come rarely, and with no multipliers, are more of a sweet treat than a real big winning opportunity.
Get 3, 4 or 5 green candy symbols anywhere on the five reels and you'll win 5, 7 or 9 free spins, respectively.
Gumball Gamble: This click me feature shows up often and is where you get the chance to build up your budget.
It activates when you get 2, 3, 4, or 5 gumball symbols on an active payline. Activate with more symbols give you the chance to win more cash.
Here you'll get a conveyor belt of sweets randomly pass buy. Each of the sweets are worth different values. You get 3 tokens in total to 'spin' the conveyor belt. After each token you get a choice to either keep the sweets, or throw that choice away and try again. On the third token you keep what you get.
You are aiming to get the blue liquorice candy, as it's the highest paying symbol. If you get that one, the layered white black and orange tower, or the flying saucers, you should generally keep.
Anything else, and we tend to spin again, because we like to gamble.
Gamble Button: This is a nice double or nothing game. After any win you can choose to gamble your slot winnings and get double the amount, by guessing whether the golden ticket is hiding under the mind or orange chocolate bar.
What's really nice, is that you can choose to either turn this feature off completely, or for it to activate every single time you win, or when you win anything over 5x, 10x or 50x your bet.
These work even if you play on auto-spin.
Candy King Review Conclusion
Despite borrowing heavily from both Charlie and the Chocolate Factory and the Candy Crush mobile game, this candy slot theme is very well done and fun enough to keep you playing.
It's the small details that draw you in. From the cavity filled teeth of the wumpa bumpa wild symbol, to the flying saucers across the screen.
That, and the fact this Candy King mobile slot is one of those rare treats of a low variance slot; genuinely helping you play for longer, but with decent enough wins that you don't feel like you're playing for nothing.
Note: New to mFortune casino? Get £€5 free no deposit needed to try out all their slot games.
Review by Lucky Mobile Slots , last updated: July 16, 2019 — Rating 4
The End of Candy Crush: A View From the Top

Last night, after returning home from a screening of the terrible-but-not-sufficiently-atrocious-enough-to-be-a-classic Syfy (really?) film Sharknado, I booted up my phone for my new bedtime ritual: swiping candies while listening to Arcade Fire's latest album.
I polished off a few levels and was met with an unusual message.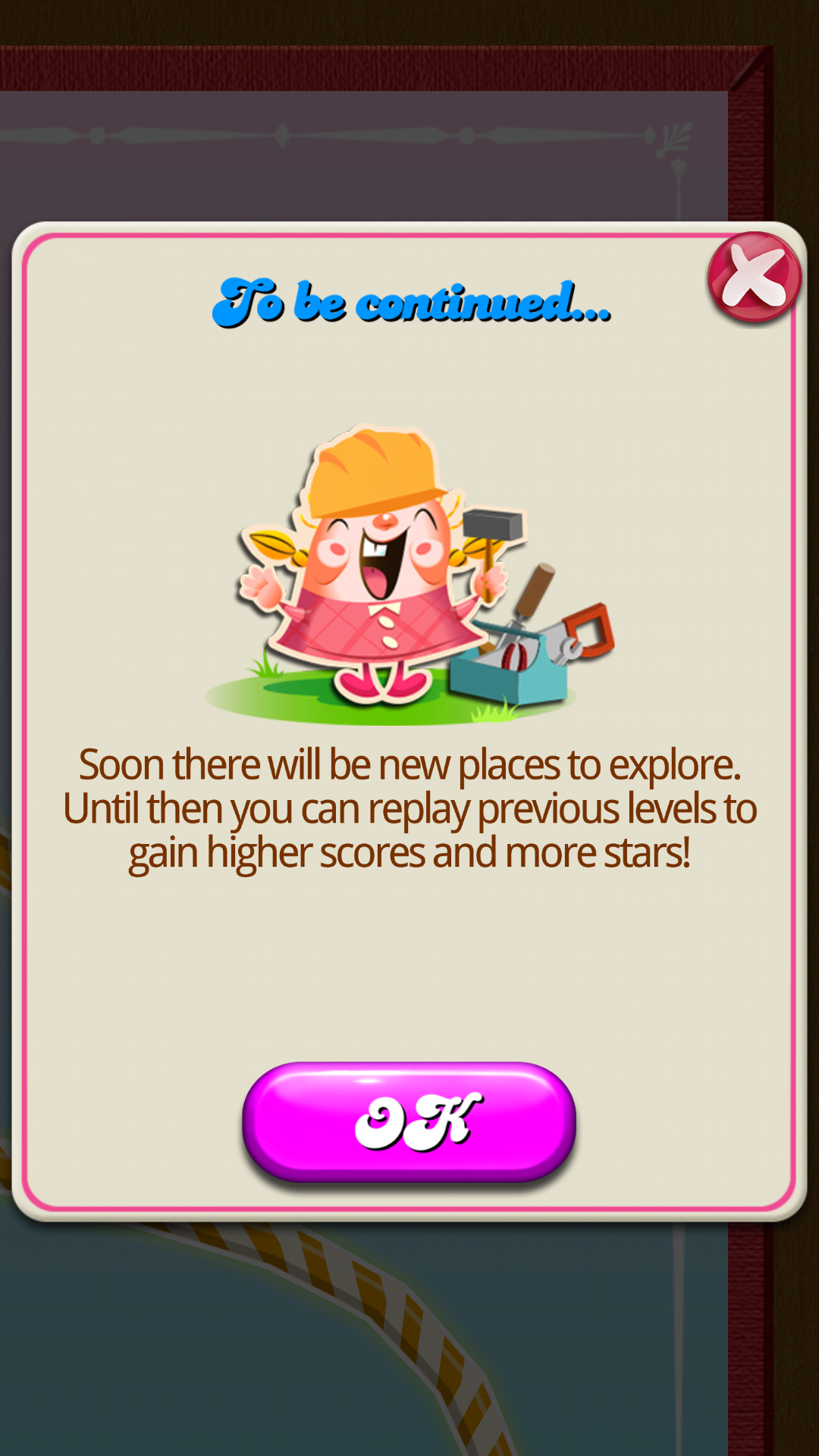 When I first wrote my Candy Crush review two months ago, I had only tackled one-third of the game's levels. Several hundred levels later, what's the verdict?
Cost
To my surprise, the entirety of Candy Crush is well and truly beatable without spending a dime. Although the difficulty continually increased, I never truly hit a brick wall that I had to pay my way though. Which isn't to say the game didn't present more than its fair share of frustration. A handful of predominantly luck-based levels required dozens of attempts to complete. Although the levels generally give players between 30 and 50 moves to spend, for the game's worst offenders, defeat can be all but ensured after only a few moves. Playing these levels felt like taking pulls from a slot machine. Success simply wasn't possible from most starting configurations. And should you be dealt a promising hand, you still need to play with near-perfect efficiency to seize the opportunity.
All told, I completed the game without once spending money to finish a level. I did, however, pay my way through the content gates (the alternative is to pester friends with Facebook requests) that appeared every 15 levels. Discounting the free credits that were given to my account by King Games, I spent a total of $6.60 while playing Candy Crush Saga from start to finish.
Catharsis
Frustration aside, playing Candy Crush is extremely cathartic. Its turn-based gameplay is perfectly suited for deliberate and calculated play. Personally, I play at a very slow pace, mulling over each move and visualizing future board states in my mind, only proceeding after narrowing down on the most promising option. The game's limited supply of moves creates some real "back against the wall" scenarios, and weaseling an unlikely victory out of the apparent jaws of defeat can feel truly euphoric. Many games left me wishing I had recorded my gameplay.
Level Design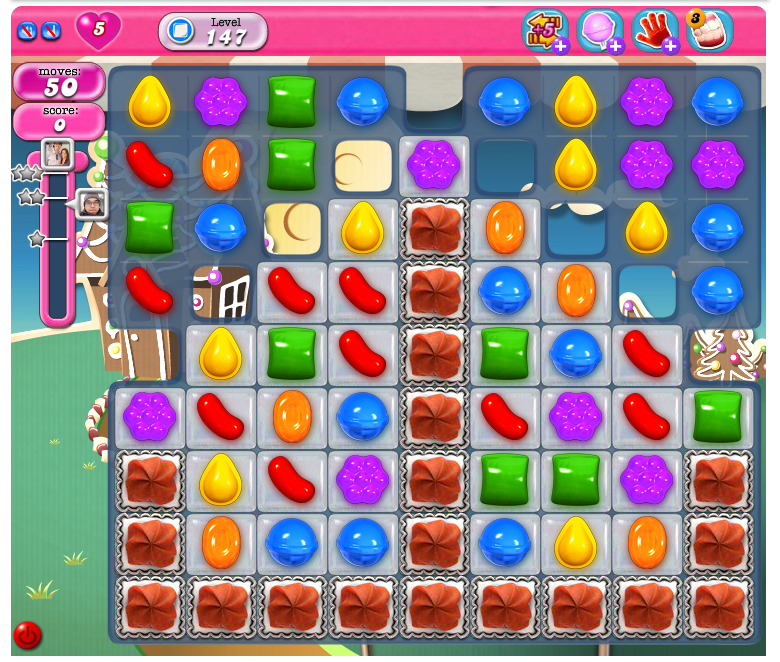 At its best, Candy Crush's level design is truly top notch. Like any good puzzle game (is this where I namedrop Jonathan Blow?), Candy Crush subtly changes the formula to force the player to engage their brain in new and unique ways. There were long stretches of levels that hit the perfect balance of creativity and challenging. One particular level had me stuck for days, but the design was so engaging and skill-testing that I was almost disappointed when I finally cleared it.
But at its worst, Candy Crush is just a shitstain. Some levels give the player no freedom of movement, laying them at the mercy of forced-moves and a cruel RNG mistress. Others provide challenging objectives that can be entirely circumvented with the purchase of a given bonus.
Conclusion
There's a good game built into Candy Crush, but it's wrapped in the outrageous trappings of a cash-extraction gauntlet that intersperses compelling gameplay with barriers that demand tribute be paid either in dollars or in frustration. As much as I begrudge the formula, Candy Crush Saga is clearly a success by any conceivable metrics. For better or worse, the free-to-pay model doesn't appear to be going anywhere.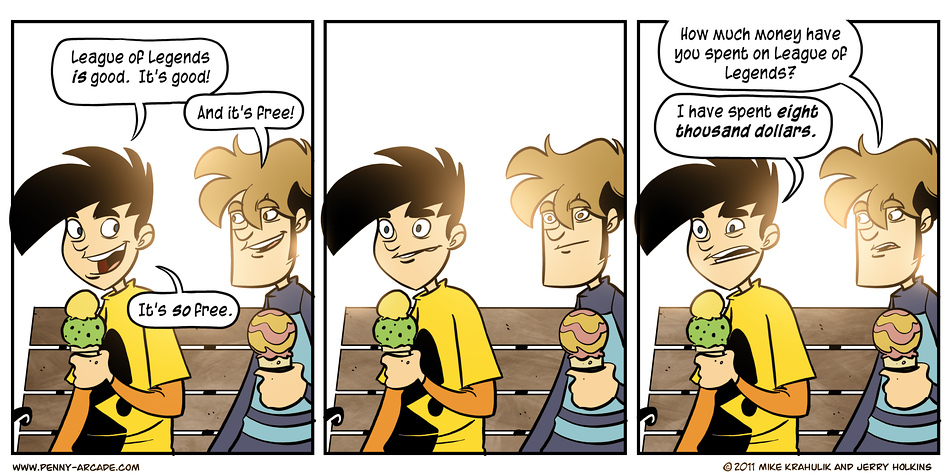 Discuss this article in our forums.
Candy Pop Slot Review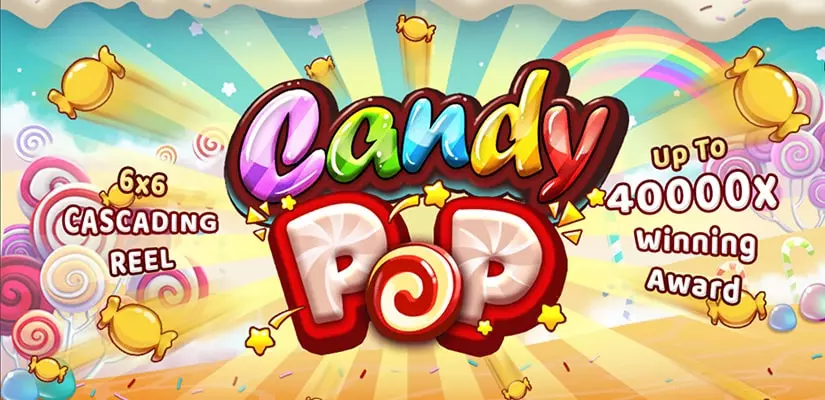 Candy Pop is yet another video slot from Spadegaming. As its name implies, this game is all about candy and how wonderful it is. It gets even better when you factor gaming wins into the mix. This is what Candy Pop offers you and as soon as you open the game, you will know if you are in the right place or not. Granted, the visuals are not for everyone and some players might be put off by them.
In terms of gameplay, Candy Pop utilizes a 6×6 grid and does away with old-school paylines. However, it does allow players from every budget to participate in the fun, thanks to the wide betting limits. In the review below, we will go in-depth about Candy Pop and all the amazing features found in this game.
Candy Pop Slot Summary
Software Provider
Spadegaming
Payline Number
Cluster Pays
RTP
97%
Minimum Bet
$0.60
Maximum Bet
$300
Wild Symbol
No
Scatter Symbol
No
Bonus Features
Multipliers, Different Stages, Multiple Bonus Rounds
Jackpot
N/A
Symbols and Winning Combinations of Candy Pop Slot
As far as slot games go, Candy Pop does not include too many symbols. In fact, there is only a handful of them. This is somewhat unusual for modern slot games, which comes with a dozen or more symbols. Candy Pop, instead, only utilizes five different ones and all of them are basic. The symbols in Candy Pop take the form of some type of candy, to stay in line with the theme.
Before we get into the symbols, we first have to take into account how you form winning combinations with them. As we have mentioned above, Candy Pop does not use a traditional payline system or an X-ways-to-win setup. Instead, it features the Cluster Pays model, where you can score wins regardless of the positions of the symbols. To hit a combination, you would need to position 3 or more symbols of the same type next to each other, either vertically or horizontally.
There is a clear hierarchy between the symbols, based on the payouts they offer. Each symbol has a different shape and color, making it easy to distinguish from the others.
The Red Candy is the least paying symbol, offering 20 coins for a x6 line. After that comes the Orange Candy with a reward of 30 coins for a full combination. The Green Candy is middle-of-the-road in terms of payout, giving you the chance to win 50 coins when you line up 6. Second-to-last, you find the Blue Circle Candy and its payout of 100 coins. Most rewarding is the Blue Star Candy, which will pay 200 coins for a sequence of six.
Bonus Features of Candy Pop Slot
There is more to this game than simply forming combinations, however. The special features of Candy Pop add flavor to the gameplay. The most noticeable is the Cascading Symbols and it is active during the base game. Whenever you form a winning combination, the participating symbols will disappear and any above them will fall down. After this, new symbols will be dropped down from the top to fill the empty positions. If new combinations are formed, the whole thing repeats until no new wins are scored.
Aside from this, we also have to take into account the special bonus rounds. There are two of these and they are both level-specific. During the base game, you will form winning combinations. When this happens, the game will mark the positions involved. After 3 wins are formed on a single position it will receive a gold border. You need to acquire six of these to trigger the bonus round.
When you do this during Level 2, the lock borders will turn into coins and initiate the Candy Machine Bonus Game. Effectively, the game will allow you to get candy from a machine and each type of candy comes with a multiplier. There are three types of candy that you can get with multipliers ranging between x0.5 and x5, x10 and x30, or x50 – x100. The candy you get is completely random.
The other bonus round is available on Level 3 and triggered under the same conditions. When you begin the round, the reels will be cleared and several lollipops will be added to them. The lollipops will stay in place for the duration of the round. Much like the other bonus rounds, there are three types of lollipops, with the same multipliers. You will have 3 spins to get more lollipops and when you do score a lollipop, the number of spins will reset back to 3. The bonus feature is concluded when no more symbols drop or the whole grid is filled with them.
You may have noticed that we have talked about Levels before. This is because Candy Pop features three different stages, each with its own distinct bonus round. The bonus rounds have a major impact on your win potential and it is in your best interest to take advantage of them and move on to the next one when available. Doing so is not particularly difficult and all you have to do is score large enough wins. When you start on Level 1, you will need to score 50 wins of any kind to enter Level 2. From Level 2, you would have to hit five-time cascades to gain entry to Level 3. There is a progress bar on the left which signifies how far away from the next Level you are. You can always go back to a lower Level if you wish.
Our Verdict
It is clear that Candy Pop is not for everyone. The game is too different both aesthetically and in terms of gameplay from most other titles in the slots genre. For those who like this style of slots play, we are sure that Candy Pop will hit the right notes. However, those who prefer a more traditional slots experience are better off looking at different games.
Quick Links
Symbols and Combinations
Bonus Features
Verdict