Slot Book of Heroes — Game Review
Heroes Slot Review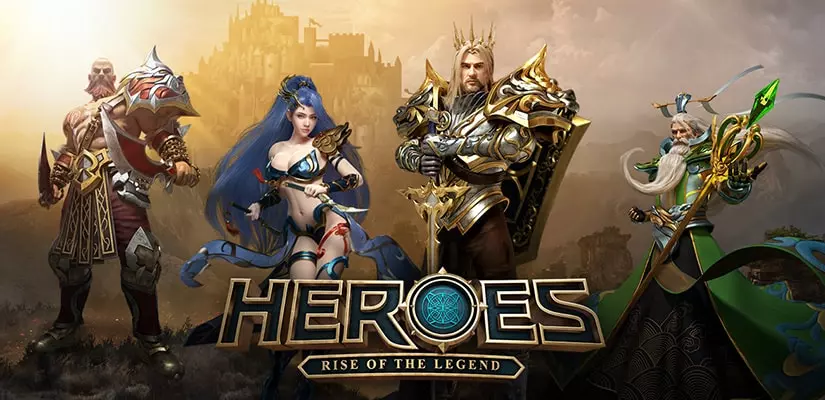 Heroes is a video slot brought to us by Spadegaming and it is a game that you do not want to miss. Released in the summer of 2019, Heroes takes inspiration from multiple mythologies and brings them together to form a compelling and exciting slot game. From the moment you open the game, Heroes makes a strong impression. Great visual design and background music make for a thrilling presentation and Spadegamiing has nailed it. On the gameplay side of things, Heroes functions on 5 reels and 50 unique paylines. But there is much more to this game than simple paylines and below, we will explore all aspects of this title.
Heroes Slot Summary
Software Provider
Spadegaming
Payline Number
50
RTP
not published
Minimum Bet
$0.50
Maximum Bet
$500
Wild Symbol
Yes
Scatter Symbol
Yes
Bonus Features
Free Spins, Special Free Spins Rounds, Multipliers, Expanding Wilds, Exploding Wilds, Symbol Collection, Stacked Symbols, Stacked Wilds
Jackpot
N/A
Symbols and Winning Combinations of Heroes Slot
Heroes come with a large variety of symbols, more than many other video slot titles. As such, you will see plenty of symbols on the reels every time you spin them. Of course, you need to have an idea of what you stand to win when playing this game and we will discuss all symbols featured in Heroes.
Primarily, the symbols in this title are separated into low- and high-paying groups. The low-paying symbols take the form of High Cards and Weapons. The High Cards are the least rewarding of the whole bunch and will appear more frequently. Specifically, the Jack and Queen symbols offer a payout of 50 coins for a x5 combination. On the other hand, the King and Ace will provide a marginally better reward of 60 coins for a full sequence.
The Weapons symbols are more rewarding though not as much as the Heroes symbols, which we will get to shortly. The Staff and the Knives share a paytable and will net you 100 coins when you spin 5 of each type. The Short-Swords and the Sword symbols increase the reward up to 120 coins for a x5 combination.
The Heroes symbols significantly up the ante and will be your primary targets when you play this game. Lowest of the group is the Master Jiang symbol, offering 200 coins when you spin 5 of it. It is followed up by the Princess Yue symbol and its payout of 250 coins for a max sequence. The Iron Khan is up next and when you spin 5 across all reels, you will earn 300 coins. The last of the basic symbols is King Arthur, promising 400 coins to those who hit a x5 combination.
Aside from the basic symbols, Heroes also features two special ones, as well. These include the Wild and Scatter, each with its special function. The Wild is the best-paying symbol in the game, offering 500 coins when you spin 5 in sequence. Moreover, it will also substitute for all basic symbols in winning combinations. On the other hand, the Scatter will spin on the second, third, and fourth reel exclusively. When you spin three at the same time, your total bet will be multiplied by 5.
Bonus Features of Heroes Slot
Much like other Spadegaming titles, Heroes is not without its set of bonus features. The most readily-apparent one is that Heroes symbols can appear stacked on the reels. This means that they can take up a maximum of three positions.
This stacked feature also plays into the next one, called Heroes Accumulation. Every time you spin a fully-stacked Hero onto the reels – meaning that the Hero symbol has to cover all three positions – you will gain a point towards the Accumulation Bar. When you acquire 25 points, the game will enter into a bonus round of 12 free spins.
Before the free spins begin, the game will pick a Hero at random. Each Hero affects the round differently, but all add some degree of value to it. For example, during a King Arthur Round, all King Arthur symbols will stay on their positions for the duration of the round. Moreover, each King Arthur symbol will add a random multiplier. During this segment, Scatter symbols will add one additional spin every time they land on the reels. After each spin, the game will add up all King Arthur symbols and will reward you for them, with respect to any multiplier acquired during the process.
The Iron Khan Round offers something completely different. During the free spins, any Iron Khan symbols will serve as Wild symbols. Moreover, when they land on the reels, these symbols will explode and expand in all four directions. Payouts are awarded after the symbol expansion.
A Princess Yue Round offers Stacked Wilds. More specifically, Princess Yue symbols are accumulated during this round with three symbols per reel. When you collect three Princess Yue symbols on a given reel, that reel will transform into a reel Wild for the remainder of the round.
Finally, Master Jiang Rounds are also not to be discounted. For the first 11 spins of the round, all Master Jiang symbols are collected and stored, up to a maximum of 12. On the final free spin, all the acquired symbols are then released onto the reels, with the exception of the first one. These symbols now serve the function of Wilds, increasing your odds at forming large wins.
However, it is worth noting that during the Free Spins, all symbols come with a reduced payout. The Hero symbols are halved in terms of rewards, whereas the low-paying ones are hit even harder. This is something that you will have to account for if you wish to play this game.
Our Verdict
Like most other Spadegaming titles, Heroes is compelling and full of innovative and well-designed features. This title will no doubt appeal to those who like mythology and fantasy where thematics are concerned. On a gameplay level, Heroes is also quite entertaining. The only complaint that we have is that the payouts are reduced during free spins. While the bonuses features you benefit from during free spins are arguably powerful, the reduction in rewards leaves a bad taste in players' mouths. Regardless, we believe that Heroes is a great video slot and we find no issue in endorsing it.
Quick Links
Symbols and Combinations
Bonus Features
Verdict
Company of Heroes 3 Review (PS5, Xbox Series X/S, & PC)
If you love Total War , then you definitely want to check out Company of Heroes , too. Or, if you've been a fan since the first Company of Heroes real-time strategy (RTS) video game came out in 2006, then you definitely need to check out the sequel. So far, there have been three mainline entries in the series, all RTS games that so candidly define the genre. A little tactical gameplay here, and a little cover and terrain there, Company of Heroes understands the gravity of adopting the significant World War II events to a fault.
I have to say, the first-ever Company of Heroes in 2006 really threw the ball out of the park as far as expectations went. So much so that the sequel struggled to meet the high standards set by one of its own. And, consequently, the uncertainty I had coming in to check out the third entry. Will Company of Heroes 3 live up to its high reputation in the RTS gaming space? Does it fulfill the demanding intricacies of war? Are the graphics and performance up to par? Just how great is Company of Heroes 3 ? Let's find out in today's Company of Heroes 3 review.
Two Campaigns. Four Factions. One Game.
Relic's ambitiously implemented two campaigns: one set in the vineyards of Italy and the other in the desert lands of North Africa. Four factions take reign against one another here, including the British and US armies for the Allies and the Wehrmacht and Afrikakorps for the Axis. History-wise, four factions make sense, with the game set in the theaters of World War II, but I certainly wouldn't have minded an even more extensive variety of factions.
Wishes aside, Company of Heroes 3 makes for a wholesome multiplayer experience. Who wants to boggle down strategic maps and storytelling all alone? When can you jump straight into the meat of the game, where moment-to-moment gameplay reigns?
The Sights
From a bird's eye view, you get a pretty good picture of the sights beneath. The map looks huge, though it definitely focuses on a section of the larger Italian and North African sites. It's refined and beautifully textured. The ocean has crystal blue water, and the land is flowy and rugged. It's brilliant. I'd have loved a little more detail, with the possibility of cracks showing and an on-ground view of the terrain made possible. Overall, it's aesthetically good enough for the third sequel.
Where to Start?
This doesn't champion war, given the current climate. Still, it's utterly fun, settling in the Wehrmacht's commander's shoes and executing some poor judgment. Well, tactical demands, still. You'll be launching missiles on enemy front lines, whether it's from tanks or sea monsters. The Italian campaign mode is much larger, evidently borrowing a thing or two from Total War .
The mission here is to work your way upwards, from the tip of Italy's Sicily to heavily-protected Rome. Each section of the map varies in size, terrain, and difficulty, though the enemy AI barely tries to make the conquership harder for you (more on that later). Resources could run out if used unwisely.
These are the usual war elements like manpower, fuel, and ammunition. Some routes are well-guarded, and others pose less of a risk. It sometimes does feel like the case of the hare or tortoise juxtaposed. Deciding whether to take the faster route and exhaust resources and risk defeat or the slower route and conserve resources, but hardly put in the effort that equals fun.
Ultimately, Company of Heroes 3 is a game that champions dominance, all while building your forces, positioning them in areas of advantage where there are enough spots of cover, capturing territories, and defending them against enemy forces.
It's Your World
Italy's side of the Mediterranean is more free-form, borrowing ideas from the Total War campaign maps and allowing you to capture territories in your own way. As soon as you obliterate the Germans' air, sea, and land defenses, more urgent matters arise. You could help allies in other parts of the map, which comes in handy for strengthening relations with the UK and the US generals, which later counts toward support for the final takeover of Rome.
This packed tactical content makes Company of Heroes 3 such a blast. That you're always kept on your toes and that losing a battle is as easy as taking a mere breather. What's more? The progress made feels unique to you. Depending on your actions, however accidental, the missions adjust to your journey. How cool is that?
Don't Be Afraid to Consult
If, at any point, takeovers start to take a toll on you, don't be afraid to consult the tutorial book. It's much more fun that way, as you have all the possible moves at your fingertips. Like the naval vessels, for instance. They can be easy to miss. Or, the supply points, which you shouldn't ideally destroy, or else the resource bonus you'd have received from capturing said territory would go to waste.
Though Not Much Consulting is Needed
On that note, you'll hardly need too much consulting, especially when you've managed to soar in the real-time missions and want to test the wider campaign map's waters. It's just hardly dynamic, in the sense that once you capture a territory, the enemy AI does very little to try and pry it away from your hands. So, essentially, all you need to do is capture a town and go on vacation. No setting up of defenses or being on high alert is needed.
It's funny because conquering other towns needs tearing down their defenses first. So, why not implement the possibility of the enemy AI retaking a lost territory, thus forcing you to proceed through the game cautiously? Without that constant challenge, campaign maps feel easy even after you've won over a city.
It's made worse by the simplicity of the gameplay. Seriously, you could easily get by pushing your little men slowly up the countryside for the first few hours. No mastery of the multiple combat systems at play is necessary. Or, an evident effect on your abilities when your men's health starts to drop.
The Detriment Factor
The strength of Company of Heroes 3 lies in its real-time battles. Because of the series' mastery of the genre over the years, they've perfected the craft so much that it feels overly exhilarating to play. You're constantly kept on your toes throughout the missions, and your brain fires up from moment to moment, cooking up some insane strategy to capture enemy territories and make them your own.
If only the journey didn't stop there because once you capture a territory, it's all pretty much smooth sailing. The enemy AI could care less whether you've left a previously conquered territory unattended. Or, whether you've built strong enough defenses to withstand any future contentions.
Simply put, once you've captured towns, you're free to move on upward until you've reached the capital. The result of which is a somewhat linear feel to a specific story of the US and UK's liberation of Italy. To call Company of Heroes 3 a sandbox would be a long stretch, which I have to say is a missed opportunity to take this game to a whole new level truly.
Verdict
There're plenty of accolades to throw at Company of Heroes 3 , from the fully-fleshed tactical moment-to-moment gameplay, courtesy of the years of experience since the series' first release in 2006, to the evidently refined and polished settings of the theaters of World War II, unlike any we've seen so far. The scenery is so gorgeous-looking. It offers such an undeniable joy to maneuver.
Thanks to the variety of factions, settings, and tactical systems, Company of Heroes 3 will surely get you hooked for the several hours gamers willingly throw at RTS games. The only worrisome thing is that the enemy AI just doesn't deliver, even on cranked-up difficulty. The opening hours are simple, perhaps too simple to feel any challenge in capturing territories.
The opposition starts picking up the pace, and the battles become more intense. However, it's hard to want to return for a second go at it, when you just don't feel the rush of adrenaline that games like these promise to deliver. The first try is a blast, though. Not to mention the additional North African operation, which will begin soon after the single-player Italian one ends.
I love the vast content, the similarly extensive maps, and the tense moments between making battle decisions, only mere milliseconds apart. I only wish the game posed more of a challenge and that capturing a territory didn't mean total success but instead meant a change in mission from attack to defense. All in all, Company of Heroes 3 is a no-brainer title you wouldn't want to miss checking out, albeit for the first time.
Super Heroes Slot Review
As the name quite obviously implies, this game is of course about Super Heroes. However, these are not from the popular comic books or film series such as Marvel but rather some new saviours here to fight evil and protect the world. These super heroes are futuristic ones and the slot follows this theme with a rather murky dystopian cityscape and some edgy scifi-esque graphics.
Gameplay, Betting Range and RTP
Super Heroes with a 5 reel slot, 3 rows, and 25 fixed paylines is over the top with a rather foreboding red sky, a precursor of the future and what is to come. There are 6 main characters battling evil — Knox, Raven, Mirage, Tesla, Trance, and Hopper and interestingly they do not actually play as the symbols. Each of them has their own personality created specifically for this game, which makes it quite interesting.
The characters have traits such as mischievous, mysterious, hectic, mesmerising, hard hitting, and super charge, all with a little of their character reflected in their names. Instead of these new heroes, the 4 highest symbols are actually 4 somewhat menacing bad guy characters most easily described by their colour — brown, green, blue, and purple. Some lower values are simply just shapes and are similarly coloured, red, green, blue, and purple.
Prior to getting into this very exciting game, it is important to cover a few of the basics of game play in Super Heroes. Players begin by first setting the coin value that allows any coin size from 0.01 to 5. There is a minimum bet of €0.20 up to a decent €100 as the maximum. There is no progressive jackpot in this Yggdrasil game and sadly the actual jackpot is not the largest being only 500 coins. However, the Return to Player (RTP) rate of 96.5% does yield some decent wins and makes this a relatively profitable game, which makes players come back repeatedly.
Winning Symbols and the Bonus Features
Up next are the all-important bonus features and Super Heroes does not disappoint on this front. There are a few key symbols worthy of note at this point. A big Wild exists, which also buzzes and as usual, can substitute for all other symbols barring the Scatter icon. It is helpful and substitutes for the icon that would provide the highest win possible. The Scatter comes in the form of a bronze looking coin with the words Free Spin emblazoned across the middle.
The first feature is called the Super Hero feature. This can randomly appear throughout the regular game play. During random play, the superhero will be arbitrarily chosen for a specific level to play at. Later in the free spins feature, they will strictly begin only on the first level. When this occurs, one of the superheroes will appear on either side of the reels. It is important to remember who can do what as each of the super heroes has a different ability and this can drastically affect winnings and further game play.
As well as having different skills, there are 4 levels in each Super Hero game. The first is Mirage, which can turn all of the high valued icons into dice. This dice then spins a mystery win, which can be anywhere up to the amount of 1,000x. Raven will make up to 4 of the reels become Wild Reels. Hopper makes from 1 to 5 symbols turn Wild depending on which level the player is currently on – level 1 provides 2 Wilds but level 4 wins 5 Wilds. Tesla changes up to 5 into matching ones, which will guarantee a pleasant win for the player. Trance can add 4 extra spins to the game but this option only occurs when the free spin part of the game is underway. This occurs per level, hence, on level 1, only 1 extra spin is awarded but by level 4 there are 4 extra spins.
Finally, Knox multiples the overall total win by a multiplier of up to 5 times and does this by powering a power-ball and firing it off all of this just adding to the Super Hero mayhem. Overall, Super Heroes is a fun way to add some cash and boost those winnings. As mentioned before, there are 4 levels within each of these separate super hero games. The higher the level, the bigger the reward at the end.
Then the free spinscome. These are created by having a minimum of 3 and maximum of 5 Scatter symbols anywhere on the screen. The free spin winning number is rather small though with only 4, 5, or 7 spins won depending on the amount of Scatters that were landed on the reels in the first place. Do not forget, though, this is where Trance's ability comes in handy by adding in those extra spins for more winning chances. During the free spins, the Super Hero feature is also triggered and obviously starts each level from the first before gradually moving to higher levels.
Super Heroes Goes Mobile
Super Heroes is an excellent game and becoming increasingly popular. To add to that it is mobile friendly. In fact, it was specifically designed initially for mobile phone screens. Compatible with all devices, android, iPhones, tablets and laptops alike, this is a welcome addition to the gaming world. Yggdrasil may not be well known at present but with its continuous output of quality games such as these, it surely will soon become a household name in the gaming world. The stunning graphics for the 5 super heroes definitely gives this game an edge over many others out there.
Whilst the payouts may not be as huge as on some other slots they are very consistent and the features are highly entertaining. The comic book feel is appealing to all types of gamers. The immersive nature of the game, the excellent bonuses, and the current super hero trend in pop culture serve to make this game an unmissable one.