Slot Beriched — Game Review
Beriched Slot
Witches are presented in folklore and most cultures as being evil and powerful, and that they live in small cottages somewhere in the woods. But is that always the case? When it comes to the witch that we are going to talk about in this review, the cottage part is true, but not the evil part, so you don't have to worry about a Hansel and Gretel situation. The name of the slot is Beriched, which is a really interesting play on words. It can bring you a maximum potential payout of up to 2,754x the stake, so keep reading to find out more.
Play With These Top Bonuses
Beriched Slot Review
It might be a bit spooky to enter a witch's dark cottage, but you will not regret it. You will get to brew potions and earn amazing prizes thanks to the fun bonus features that include free spins and an interesting recipes bonus feature.
Table of Contents
About Beriched Slot
Design, Symbols, and Graphics
RTP, Variance, and Payouts
Gameplay and Features
Beriched Slot on Mobile
Our Verdict
About Beriched Slot
When it comes to fantasy and mythology-themed video slots, Red Tiger Gaming is the go-to developer. Being in the industry since, 2014, this company has a lot of experience and expertise in the iGaming industry, which is evident from its incredible games.
The Beriched slot is played on a regular layout that consists of 4 rows and 5 reels, while the number of paylines is 20. A winning combination must start from the first reel on the left and it requires at least 3 identical symbols to land on one of those available paylines.
The betting range is not very big, but you can select your preferred bet from the available options. They start with the minimum bet of £0.10 and go up to the maximum bet of £40 per spin. The maximum payout is up to 2,754x the stake on a single spin.
Design, Symbols and Graphics
This magic-themed video slot offers an immersive experience thanks to the superior graphics and the realistic scene of the witch's cottage. The reels are masterfully designed with golden trims, intricate designs and precious pink jewels.
As far as the backdrop goes, you can see the inside of the candle-lit cottage. The fireplace is on the right side, while the left side has a hanging cauldron and a lantern.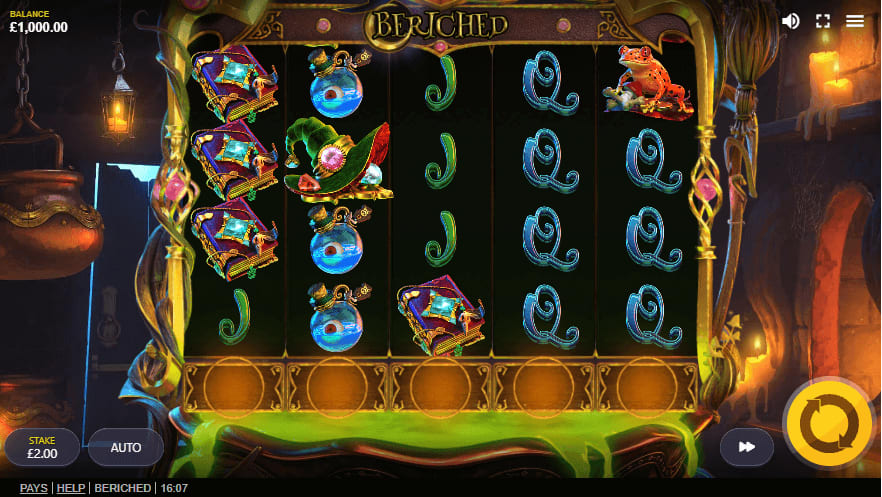 The low-paying group of symbols consists of 10, J, Q, K, and A, while the high-paying group is made up of different kinds of potion ingredients. It starts with a voodoo doll, a blue potion, an orange frog, a spellbook, and the top-paying symbol is the witch's hat, and it will bring you 10x the stake for a full payline.
The wild symbol is a green orb that can substitute the regular symbols. If you manage to land 5 of them on a payline, you will earn 15x the stake. The second special symbol is the scatter, presented by a cauldron, which can trigger the free spins.
RTP, Variance and Payouts for Beriched Slot
The Beriched slot RTP is capped at 95.78%, which is almost at the industry average of 96%. As far as the volatility goes, this is a highly volatile game, so you can expect really worthy, but scarce rewards. The maximum possible win is marked at 2,754x the stake.
If you want more detailed information regarding the RTP and the different volatility models of these games, you can read our Variance, Volatility and RTP Guide.
Gameplay and Features on Beriched Slot
Now that we've explained what the gameplay in the base game is like, let's take a look at the bonus feature that Beriched slot comes with and see what they have to offer.
Recipes Feature
When you play the game, you will notice that a random symbol sequence appears under the reels, with only one symbol per reel. This is referred to as the Recipes feature and if you manage to land those symbols on their respective reels, the special symbol lock mechanic will be triggered.
Those symbols will be locked in place and for the following spin. If you manage to land another correct symbol from the recipe, the symbol lock mechanic will be retriggered. If you manage to land all the symbols, the recipe will be complete and all of those symbols will be turned into wilds, after which, an appropriate payout will be made.
Free Spins Feature
Activate this feature by landing 3 scatters at the same time, which will earn you 10 free spins. The recipe will be the same and the already locked symbols will turn into sticky wilds. This goes for all the other recipe symbols that land during the free spins feature and these sticky wild will remain on the reels until the end of the feature. The free spins cannot be retriggered.
Beriched Slot on Mobile
Thanks to the state of the art HTML5 technology that Beriched slot is equipped with, you can also play this game on a smaller screen without any issues. It's compatible with any Windows, Android, and iOS device. All you need to do to join the witch in her cottage and brew a potion is to open the game directly in the browser.
Other Red Tiger Gaming Slots
Here is a quick look at some of the latest releases by Red Tiger Gaming that we think you should check out first-hand.
Forever 7s — if you are looking for a unique gaming experience, then this is the game for you. The 3×1 layout comes with a single payline, but a fun experience. The paytable is made only of Lucky Number 7s. The RTP stands at 95.67%, while the maximum possible win is capped at 1,500x the stake.
Lion's Hoard — this medieval treasury is full of gold that's definitely worth playing for. The game is played on a 5×4 layout and offers 20 active paylines. The maximum possible win in this highly volatile game is 8,160x the stake, while the RTP is capped at 95.77%.
Dynamite Riches Megaways — enter an old mine full of gold and jewels and you might dig out some of them for yourself. Each of the 6 reels can be up to 7 rows high, which makes it possible to have up to 117,649 ways to win. This is a game with a maximum win of 7,000x the stake and an RTP of 95.71%.
Slotswise Verdict
Overall, the Beriched slot is not a bad choice if you can't decide what you want to play. The witch theme is perfectly captured by the visuals and the design of the game, which add a certain level of mysticism and excitement.
Despite having only 2 bonus features, they are both very creative and allow for a very interesting experience. The recipes in the base game might be a bit harder to complete, but when combined with the free spins feature, it makes for a great opportunity to win worthy prizes. The only downsides would be the fact that a 2,754x the stake win is a little underwhelming for a high volatility game.
Beriched
The Beriched online slot from Red Tiger Gaming is based on a fun magic theme. Witches are known for brewing special potions, and that's what you'll do for big wins in this slot. With lots of ways to win and an innovative recipe-making free spins mode, this is the perfect title for players who like something different.
Show
Rating: 85% | Made By Red Tiger Gaming | Reviewed On October 23, 2021
Casinos with Beriched
Filter Casinos
Add Filter
Loading filter options.
Casinos with Beriched
Casino
Rating
Visit
Review
AHTI Games
88%
AHTI Games Review
✔
Goodman Casino
88%
Goodman Casino Review
✔
Hejgo
88%
Hejgo Review
✔
Slots Magic
86%
Slots Magic Review
✔
Mr Green
86%
Mr Green Review
✔
Wildz Casino
84%
Wildz Casino Review
✔
Loyal Casino
75%
Loyal Casino Review
✔
Betpukka
75%
Betpukka Review
✔
BitStarz
75%
BitStarz Review
✔
N1 Casino
70%
N1 Casino Review
✔
TuskCasino
60%
TuskCasino Review
✔
SpinBetter
91%
SpinBetter Review
✔
Gslot Casino
88%
Gslot Casino Review
✔
CasinoBuck
88%
CasinoBuck Review
✔
Gioo
88%
Gioo Review
✔
22BET Casino
88%
22BET Casino Review
✔
TipBet Casino
86%
TipBet Casino Review
✔
Unibet
86%
Unibet Review
✔
7Bit Casino
84%
7Bit Casino Review
✔
Frank Casino
83%
Frank Casino Review
✔
Show All
An Introduction to Beriched
One of the problems that we see in the online slot industry is a lack of innovative features. Some companies like Red Tiger Gaming do push the envelope, but many are content to push the same old thing. With the Beriched video slot, we see some innovative ideas that we can't remember having ever been visited.
These ideas fit in perfectly with the theme and format of the game. Overall, they're an impressive fit.
The gameplay largely centers around trying to trigger a free spins mode. During the regular game mode, you'll see special mechanics at work, which we'll get into down below. With that said, the regular payouts also bring a lot of value as well with a high hit-rate. Additionally, the magic aspect of the theme is tied in perfectly with the gameplay elements.
Speaking of the theme, you'll see Red Tiger Gaming's approach to high-quality graphics in full gear here. The symbols are some of the best produced that we can remember having seen that weren't straight out of a high definition movie, and the background quality matches them. The amount of attention to detail that went into the presentation of this game is simply impressive. You won't see many slot releases that are super competitive with how great this title looks.
Betting and Layout
We love it when a game gives players plenty of room to get wins in a variety of ways. That's why we like how Red Tiger Gaming handled the format in this title. They appear to have deliberately made it bigger than it needed to be for the number of paylines so that the features would have more room to trigger. Here's what you can expect:
Five vertical reels are separated by thin barriers to hold four symbols each.
You get a total of 20 paylines to play with. They start on the leftmost reel and go toward the right.
Red Tiger Gaming did not elect to allow players to change the number of lines. We feel this probably has something to do with how the features work (especially the recipes).
A total of 12 overall betting options are available. You can wager as little as €0.20 per turn. However, the maximum goes up to €40 per spin.
This slot describes payouts based on a multiple of your overall bet size. However, you can find the equivalent line bet wager amount by multiplying these numbers by 20.
A particularly balanced style of play is used in this title. We like that approach because it makes it a viable option for a wider range of players. Additionally, the volatility is in the medium-low range, which also has a wide appeal. As such, Red Tiger Gaming has made this slot a solid fit for a majority of online slot fans, which is something we can definitely get behind.
Gameplay and Features
The play style of the Beriched online slot is all about a combination of two components. The first is the regular pay table and how it has an above-average hit-rate. Additionally, it's about the recipes in the regular game mode and free spins. We'll get into how these work below, but we love how the gameplay ties into the theme so perfectly.
Wild W Symbols
Before we get into how the recipes work, we need to look at the wilds first. You'll see why below. The golden W with the green background is wild, and it has the best regular payouts in the slot. The wins you can get of combinations just of this wild are as follows:
We have identified two things that we think players should know about these wilds before playing. First off, they do not substitute for the scattered bonus symbols. That's pretty standard. However, some games have that not be the case, so we thought it important to mention.
Additionally, the way the game evaluates wild wins on each line is pretty important too. The process starts by looking at each individual payline. From there, the wilds are handled in a way that will give you the single best available payout on that payline.
For an example of how this works, consider what happens if you have four wilds followed by a potion symbol on a line. Your two ways to get paid are four of a kind in wilds or five of a kind in potions. The former gives a win of 60x, but the latter gives a 50x payout. As a result, the game defaults to the four of a kind combination even though a five of a kind payout is available so that you get the best individual win available on the line.
Recipes Mechanic
The recipes mechanic is a really neat part of the Beriched video slot experience. At the beginning of your session, random symbols are shown at the bottom of the game board. There's a special row to hold these recipe symbols. When you get one of that symbol on its respective reel, it locks into place for another spin. Getting more of that symbol will continue this lock mechanic.
Once you get all five, even if it's on different spins, the recipe resets to something new.
When this reset happens, all of the matching symbols turn into wilds for the given spin. This gives you chances to get lots of wins on the same turn, which is the kind of thing that fits the magical theme pretty well.
Scatters and Free Spins
The purple and gold cauldron symbols are the scattered bonus symbols. However, they only appear on the first, third and fifth reels. When you get all three on the reels at once, they trigger a set of 10 free spins.
What makes these free spins stand out is that the symbol matching aspect of the recipes change. Instead of needing to finish the recipe to get wild conversions, it happens on every matching symbol individually. This drastically increases the value of the free spins compared to the regular game mode.
How to Win at Beriched
Even though the features are a key part of the overall experience, the volatility is still in the medium-low range. Additionally, the hit-rate is a bit above average. As a result, you can adjust your betting, if you so desire, by slightly increasing your wager.
Something small like an increase of one-fourth to one-third of your bet size works well here. The idea is that you still have reasonable swings thanks to the volatility being below average. However, you'll get larger payouts proportionate to your larger bet sizes.
Payout Structure for Beriched
Aside from the wild symbols, the best paying symbols in the game are the green witch hates. They pay 200x for five on a payline. The purple book drops down a bit to 80x for five, and five of the orange frog pays 60x. Wins of 50x and 40x are yours for five of the potion and voodoo doll symbols, respectively.
At the lower end of the pay table, you have card rank symbols. They are in different colors, but they also show up in a special font. We love how this font looks because it matches the theme perfectly. These symbols pay from 30x down to the 8x level, all of which are multiplied by the total wager.
Overview
The action is absolutely raised up by the awesome amount to which the graphics level is suited for the slot's concept. In addition to that, the hit frequency of the bonus features in this slot is large enough that slot fans will be sure to not get bored.
In addition to that, as a part of this company's offering of titles as a whole, this is a title that fills a critical position because it has appeal to a lot of players. If you have been a fan of other titles that feature this style of driving concept, then this is a video slot you will not want to avoid, and if excitement is the thing you're needing in your play, then you'll totally love the gameplay experience that this title brings to your sessions.
FAQ
Which online casinos have Beriched?
Use the list of Beriched casinos to see all online casinos that have Beriched. We filter the casino top list to only show Beriched casinos that accept players from your location.
What is the Return to Player (RTP) for Beriched?
The Beriched RTP is 95.78%. An RTP of 95.78% puts Beriched among slots with a below-average Return to Player. An Average RTP is at least 96%, and a high RTP at least 98%.