Slot Ascension Rise to Riches — Game Review
Ascension: Rise to Riches Slot
Kom oog in oog te staan met de koning en koningin van Egypte in deze old-school versus new school online slot-epos – de Ascension: Rise to Riches Slot.
In samenwerking met Old Skool Studio's maakte Microgaming deze reskin van 9 Masks of Fire wat ook weer een kloon was van Quick Hits. Alhoewel het Egyptische thema alles behalve origineel is, is de ontwikkelaar er wel in geslaagd om het geheel er mooi uit te laten zien.
Aan de linkerkant van het veld zien we hoe de Epic Strike winsten kunnen oplopen, zo verlies je je doel nooit uit het oog: die hoofdprijs van 2.000x je inzet.
Deze gokkast heeft een vrij lage variantie (lager ook dan 9 Masks of Fire) waardoor je kan rekenen op regelmatige kleine(re) winsten.
In de free spins ronde krijg je multipliers, maar je uiteindelijke doel is om zoveel mogelijk Osiris-scatters te verzamelen, waardoor de jackpot zal oplopen.
Zal je op de jackpot-ladder tot grote hoogte stijgen om de verborgen schatten te bereiken, of zullen de goden je verslaan?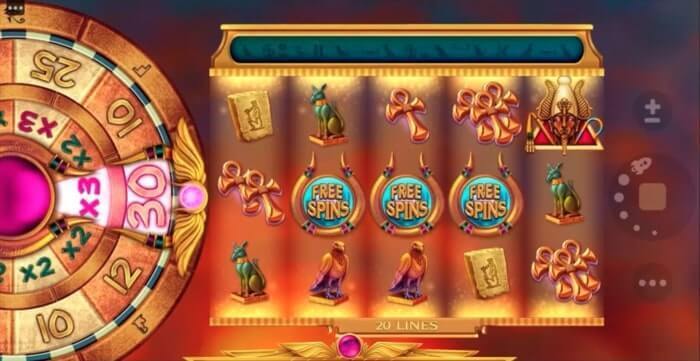 Hoe werkt de Ascension: Rise to Riches Slot?
Het spel speelt prima, zeker gezien de lage variantie. Inzetten kan tussen de 20 cent en de 120 euro en de maximale winst te behalen is 2.000x per draai.
De RTP van 96,24% is ook niet slecht trouwens.
Winnende combinaties worden gevormd door 3 of meer gelijke symbolen op een van de winlijnen. Deze beginnen op reel 1 en lopen van links naar rechts. Combinaties zijn alleen goed voor een uitbetaling als de symbolen op aaneengesloten reels vallen.
Symbolen en uitbetalingen
Verwacht geen innovatie als het gaat om de uitvoering van het thema. Het is zeker niet slecht gedaan, maar de symbolen, animaties en illustraties hebben we allemaal al eens eerder gezien.
De belangrijkste symbolen in dit spel variëren van de speciale symbolen (Scarabee Wild, Osiris-scatter, Free Spins scatter) tot gewone symbolen zoals de Ankh, verschillende boeken, Horus, Bastet en de Farao.
De gouden gevleugelde scarabee-wild vervangt alle gewone symbolen, en is ook het best betalende symbool in het spel. Land er 5 op een winlijn en je wordt beloond met een uitbetaling van 125x je inzet.
Bonussen
Aan de linkerkant van het speelveld zien we de Epic Strike scatter jackpotten.
Deze zijn te winnen in zowel het basisspel als de free spins.
Je hebt tussen de 3 en 9 Osiris-scatters nodig om de Epic Strike feature te activeren. Hoeveel je wint, hangt af van hoeveel scatters je hebt gedraaid.
3 scatters levert je 1x je inzet op.
4 scatters levert je 5x je inzet op.
5 scatters levert je 15x je inzet op.
6 scatters levert je 40x je inzet op.
7 scatters levert je 100x je inzet op.
8 scatters levert je 500x je inzet op.
9 scatters levert je 2.000x je inzet op.
De scatter die nodig is voor de free spins ronde komt alleen voor op reel 2,3 en 4. Om de free spins ronde te activeren moet je er 3 draaien.
Je krijg sowieso 1x je inzet uitbetaald en mag nu aan het free spins wiel draaien om te bepalen hoeveel spins je krijgt.
Het wiel kent tussen de 10 en 30 gratis spins aan je toe en een vermenigvuldiger van 2x of 3x.
Wat vinden wij van de Ascension: Rise to Riches Slot?
Met Ascension: Rise to Riches heeft Microgaming zeker het (bonus)wiel niet opnieuw uitgevonden. Er zijn heel veel van dit soort online slots beschikbaar.
De Epic Strike feature houdt de spanning er nog enigszins in maar de variantie en de maximale winst doen ons bloed niet echt sneller stromen.
De slot is best mooi maar ook qua thema is er niks nieuws te beleven.
Als het je niet lukt om een scherm vol wilds te krijgen zal de maximale winst eerder rond de 750x je inzet liggen dan 2.000x.
Wat vinden wij?
Goed
Ascension: Rise to Riches brengt niks nieuws ter tafel. Het thema en de gameplay hebben we al vele malen voorbij zien komen.
100 gratis spins of tot €250 stortingsbonus
Ascension: Rise to Riches
Join us as we ascend on an epic adventure to Ancient Egypt, be sure to feast your eyes upon the Ancient God Osiris himself in Ascension: Rise To Riches by Microgaming partner Old Skool Studios!
Ascension: Rise to Riches dives deep into the heart of Egypt, and if there's one thing we've come to know about Egypt, it's that where there's Pyramids and Sand, there's treasure to be found.
Join us in this Ascension: Rise to Riches Slot Review, Where we'll hopefully Rise to Riches ourselves as we play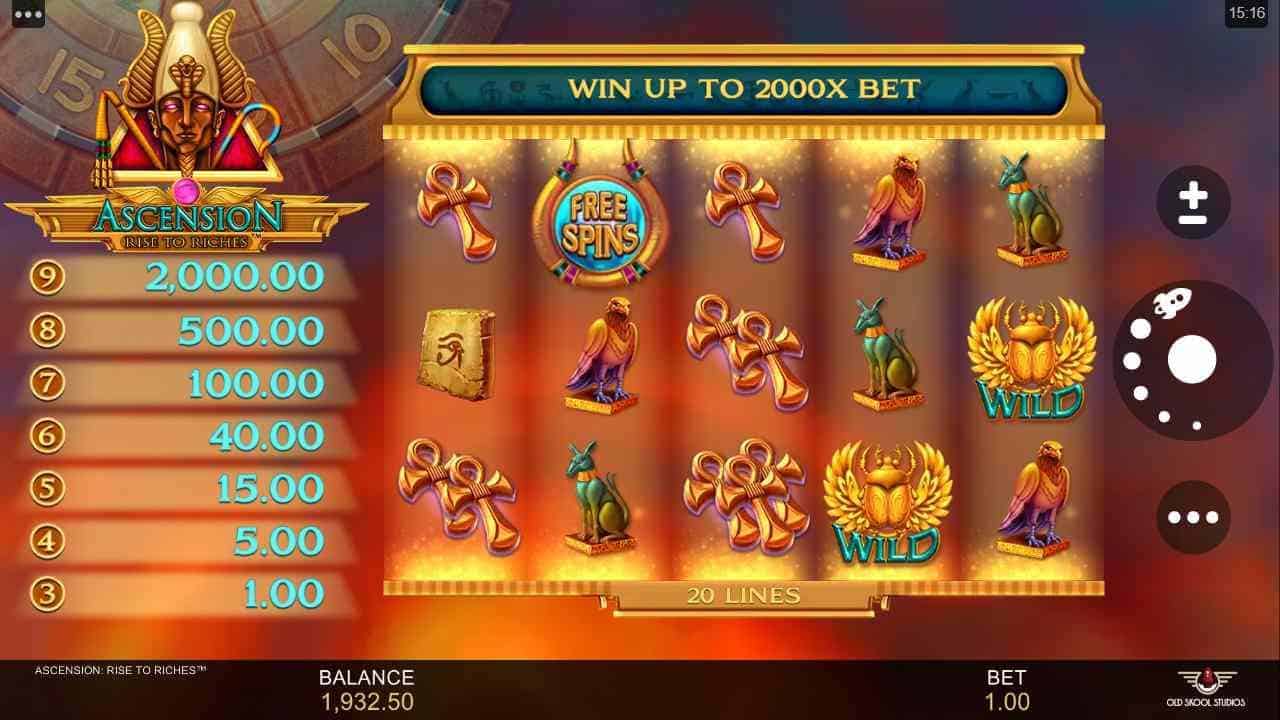 Ascension: Rise To Riches Theme
When we think about the title Ascension: Rise to Riches, it doesn't really give us any clues to what the slot theme could be, once you see it for yourself it becomes apparent that it is based around the Egyptian era.
The backdrop in Ascension: Rise to Riches is nothing spectacular, there is not much significant detail in the background whatsoever, the only thing you will notice is a tiled wheel standing idle on the far left corner of the screen.
The title Ascension: Rise to Riches can be seen underneath Osiris on the left-hand side, with 7 amounts subject to that. It seems Old Skool has put most of the detail on the left side of the screen, leaving the right side a little bare.
Even though Ascension: Rise To Riches is simple in terms of visuals, we are compensated for this with Sound effects. Old Skool has compiled an array of sounds that really tie in with the theme, making it realistic and exciting all at the same time.
We know Egyptians loved everything Gold, so we can't help but notice that Old Skool has embraced that in Ascension: Rise to Riches by making Gold the theme colour.
But will we have any luck winning some Gold of our own?
Ascension: Rise To Riches Betting and Symbols
Ascension: Rise to Riches offers its players a wide variety of Betting options.
Bet sizes can be customised by Total bet, Coins Per Line and Coin size in Ascension: Rise to Riches. The lowest betting option is £/€0.20 per spin, and the highest betting option is £/€120 per spin.
With plenty in between the two to choose from, there's an ideal option for everyone here.
When looking into symbols, the highest paying symbol is the triple Ankh symbol, followed by the Double Ankh and single Ankh, but any combination of these symbols will pay. Following on from the Ankh symbols we have Anubis and Ra.
Low paying symbols consist of two tile symbols. There is also a Wild, which substitutes for any regular symbol. Special symbols are made up of Free Spins Scatter Symbols and Osiris Scatters
Features
| | |
| --- | --- |
| Bonus Game | No |
| Free Spins | Yes |
| Autoplay | Yes |
| Multipliers | No |
| | |
| --- | --- |
| Wilds | Yes |
| Jackpots | No |
| Megaways | No |
| Bonus Buy | No |
Ascension: Rise to Riches Base Game and Features
Ascension: Rise to Riches is a 5 reel slot with 20 fixed paylines and offers a generous max win of up to 2000x your bet.
To form a win, you will need a connection of 3 or more symbols from left to right, starting from the left-most reel.
The Osiris Scatter in Ascension: Rise to Riches is the only symbol that is not required to be in a win line, as these symbols serve to trigger the Epic Strike Feature.
We have previously touched upon the 7 figures located on the left side of the screen, these figures are the main part of the Epic Strike Feature.
In order to earn yourselves one of these prizes, you will need a minimum of 3 Osiris Scatters to land in view. The more Osiris Scatters you land, the more you win.
3 Osiris Scatters – 1x
4 Osiris Scatters – 5x
5 Osiris Scatters – 15x
6 Osiris Scatters – 40x
7 Osiris Scatters – 100x
8 Osiris Scatters – 500x
9 Osiris Scatters – 2000x
Ascension: Rise to Riches Free Spins
Free Spins in Ascension: Rise to Riches can only be triggered on reels 2, 3 and 4.
Once Free Spins has landed, the once idle wheel on the far left corner will come to life. On the outer part of the wheel are ten numbers, these amount to Free Spins. The ten inner numbers however amount to a starting multiplier. The Multiplier applies to all wins except Osiris Scatters.
The max amount of Free Spins that you could win are 30, the minimum amount is 10 with 4 other amounts in between. There are however only 2 Multipliers available on the wheel in Free Spins, a 2x or a 3x.
Spin the wheel to determine your fate!
During Free Spins, you will have the opportunity to earn extra spins, to do this you will need to land 3 Free Spins symbols. The amount of spins awarded through a re-trigger is equal to the initial trigger.
Once Free Spins come to an end, normal gameplay can resume.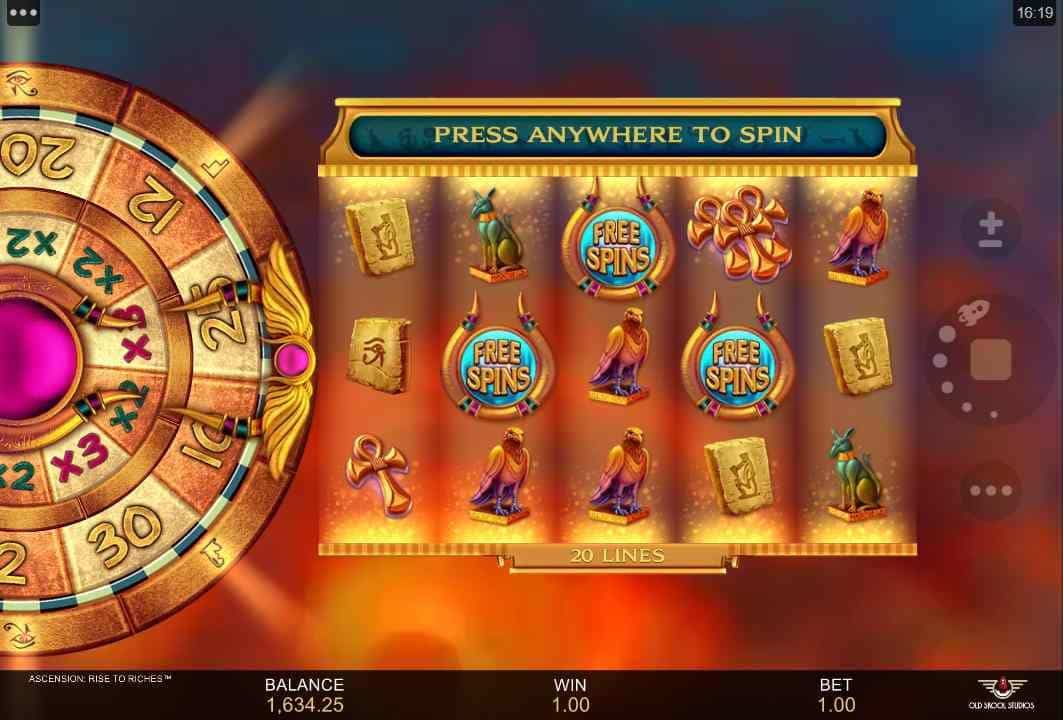 Ascension: Rise to Riches Our Verdict
Old Skool Studios has attempted to revive the Egyptian era within Ascension: Rise to Riches, but given how over-utilised this theme is, it's hard to be impressed by that alone.
When looking to the stats, things look a little more impressive Ascension: Rise to Riches has an above-average RTP of 96.24% and a maximum win capacity of 2000x. This Maximum win value may seem low when compared to most other slots at the moment, but it is a lower volatility game.
For players who prefer a more relaxing and simple gaming experience, Ascension: Rise to Riches will definitely be your cup of tea.
Although it may not be for everyone, Ascension: Rise to Riches does have its own unique qualities, the Epic Strike Feature and Osiris Scatters that Rise you to Riches are both a very welcome addition to this slot.