Slot Adventure Trail — Game Review
View Our No Deposit Offer T&C APPLY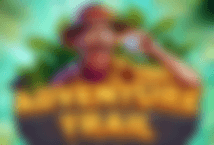 Since Playtech Has Been Creating Online Slot Games For Years, It Knows How To Keep Players Engaged. While Adventure Trail Has A Fairly Typical Action And Adventure Theme, It Raises The Bar With Some Really Good Features. Moreover, If You Love A Progressive Jackpot Feature, You Will Want To Activate The Fire Blaze Respin With Four Jackpot Prizes If You Want To Win Some Excellent Free Spins.
Soundtrack, Graphics, And Theme
There Are Vines And Creepers Surrounding The Reels In This Rainforest-Themed Game. With The Help Of A Compass And Some Binoculars, A Brave Adventurer Is Attempting To Uncover Some Long-Lost Treasure, But Beware Of Crocodiles! There Is A Nicely Put-Together Game With A Gentle Tune Playing In The Background, However, It Is Quickly Overshadowed By The Generic Game Sounds That Herald Each Win.
The Adventure Trail's RTP And Volatility
A Little Above Average For An Online Slots Game, Adventure Trail Has An RTP Of 96.64 Percent. You Will Need At Least 100 Spins To Get The Best Results In This Medium Volatility Game.
Adventure Trail: How To Play
The Adventure Trail Slot Machine Is No Exception To The Easy-To-Use Design Of Playtech Slots:
1. Use The Arrow Buttons To Adjust The Wager On Each Spin Of The Reels.
2. Hit The Spin Button Once When You Are Ready To Play.
3. The Autoplay Button Allows You To Access Multiple Hands-Free Spins. Press The Spin Button To Activate Your Selection After You Have Adjusted The Slider For Up To 100 Automatic Spins.
4. Faster Spins Are Delivered By The Turbo Button.
5. Under The Game, There Is A Speaker Icon That Can Be Used To Muffle Game Sounds.
6. Using The I Button In The Bottom Left-Hand Corner Of The Game, You Can Access The Game Rules And Paytables.
Sizes Of Bets And Paytable Wins
You Can Play Adventure Trail From 0.10 To 500.00 Per Spin. Winning Combinations Require Three, Four, Or Five Matches From Left To Right Across One Payline, With Winning Amounts Paid Multiplying Your Bet:
— Ten, Jack, Queen, King, Ace = 0.1x, 0.4x, 1.6x
— Compass = 0.2x, 0.5x, 2.5x
— Binoculars = 0.2x, 0.8x, 3x
— Crocodile = 0.3x, 1x, 4x
— Explorer = 0.3x, 1.5x, 6x
— Scatter = 1x, 10x, 50x
Cash Payouts During The Fire Blaze Respins Are Determined By The Size Of The Money Symbols At The End Of The Round:
— 1×1 Monkey = 1x
— 2×1 Monkey = 2x
— 3×1 Monkey = 4x
— 2×2 Monkey = 5x, 8x, 10x Or Mini Jackpot
— 3×2 Monkey = 15x, 25x, Mini Or Minor Jackpot
— 2×3 Monkey = 15x, 25x, Mini Or Minor Jackpot
— 2×4 Monkey = 30x, 40x, Mini Or Minor Jackpot
— 3×3 Monkey = 50x, 80x, Minor Or Major Jackpot
— 2×5 Monkey = 80x, 200x, Minor Or Major Jackpot
— 3×4 Monkey = 200x, 300x, Minor Or Major Jackpot
— 3×5 Monkey = Grand Jackpot
For Jackpot Prizes, You Will Receive Multiples Of Your Total Bet:
— Mini Jackpot = 20x
— Minor Jackpot = 100x
— Major Jackpot = 500x
— Grand Jackpot = 2,000x
Bonus Features & Free Spins On Adventure Trail
— Wild
Wild Symbol In The Game Is The Map. Due To Its Limited Appearance On Reels Two, Three, Four, And Five, It Cannot Generate Winning Combinations On Its Own. However, It Can Replace All Game Symbols Except The Seaplane Scatter And The Golden Monkey Bonus. Also, It Can Appear Stacked, Increasing Your Chances Of Winning.
— Scatter
The Seaplane Is The Scatter, Which Awards Cash Payouts When Two, Three, Or Four Land Anywhere On The Reels. The Free Spins Bonus Round Is Also Activated By Three Or More Scatters, Awarding You With Six Free Spins. You Have A Good Chance Of Landing The Fire Blaze Respins Bonus During The Feature Bonus Round Since The Low-Value Playing Card Icons Are Removed From The Reels.
— Bonus
The Golden Monkey Studded With Gemstones Is The Game's Bonus Symbol, With Six Of These Symbols Triggering The Fire Blaze Respins Feature. All Monkey Symbols Remain Sticky Throughout The Feature, Which Awards Three Respins. A New Monkey Symbol Landing On A Respin Will Reset The Counter To Three And Remain Sticky. The Monkey Symbols Group Together To Form Larger Symbols, Which Pay Out At The End Of The Game.
Overall Review
Those Who Enjoy Action And Adventure Slots Games Should Definitely Try Adventure Trail. There's No Denying That It's Not Quite As Good As Gonzo's Quest Megaways, But It Certainly Packs A Punch. In Free Spins Bonus Round, Low-Value Symbols Are Removed, Which Increases Your Chances Of Landing Six Or More Monkey Bonus Symbols, Which Are When The Biggest Cash Prizes Can Be Won!
This Is A Medium Volatility Playtech Slot, So Try It Out Before You Risk Your Money. At Slots Temple, You Can Do This For Free, So Take A Spin To See If It Could Become Your New Favorite Game.
*All values (Bet Levels, Maximum Win, etc.) mentioned in relation to this slot game are subject to change at any time
Responsible Gaming •
Contact Us •
FAQs •
Terms & Conditions •
Privacy Policy •
Affiliates •
Online Slots •
Blog •
A-Z Games
Dead Man's Trail Slot Review
Dead Man's Trail is a new casino slot from Relax Gaming where we get to take part in exciting adventures among fortune seeking pirates. Where the legend says that gigantic wins can be made for the brave people who follow the dead man's trail and that is exactly what we are going to do. But nothing comes served on silver platters, instead a game awaits with high volatility, where the lucky player can eventually win up to 50,000X the bet.
Slots with a pirate theme are constantly recurring, where they, like the pirates' adventurousness and exciting quests, are usually reflected in the features of these various slots. We have, among other things, taken part in Pirates' Plenty Megaways and Booty Bay, where they both gave us the opportunity to take part in very nerve-wracking features. Yes, the pirates live constantly on the edge with a fast-paced presence, where risky adventures finally can pay off. Let's find out what this slot contains and what you can expect to see during the spins.
The lower paying symbols consist of J, Q, K and A. If you land 5 of the same symbol type, it gives 3X the bet. The higher paying symbols consist of 4 different pirates with background colors showing blue, green, orange and red. If you land 5 of the same symbol type, it gives between 5X to 30X the bet. The golden W is the game's wild which gives 60X if you land 5 of them and the pirate ship is the game's scatter symbol. During the Trail Bonus feature, a wonderful mix of other action symbols will also be able to land, where we talk more about these within the feature section. It will also be able to land coin symbols during the spins, where the right amount of these activates the Coin feature. Let's find out what the features do.
Dead Man's Trail Slot Features
What's the max win in the Dead Man's Trail slot?
You can win up to 50000X the bet.
What features are in the Dead Man's Trail slot?
The features are Wild Symbol, Trail Bonus, Coin and Bonus Buy.
Wild Symbol
The game's wild symbol helps to create more winning combinations by substituting for other symbols. The only symbol it doesn't substitute for is the scatter symbol.
Trail Bonus
If you land 3 or more scatter symbols, the Trail Bonus feature is activated. You will then be moved to a new place, where you will be able to walk along a map that has 37 tiles with 1 to 9 steps at a time. When you land on a tile, a feature will be activated that provides different conditions for the game. The four normal tiles that you can land on are and do the following:
Normal Tile = This gives you a visible value based on your bet size.
Start Tile = This will reset the special action.
End Tile = This ends the feature, and you will receive the total win.
Mystery Chest = This will activate between 1 to 11 special actions.
The various special actions that this Mystery Chest can activate are and do the following:
Scout = This adds 100X to 1000X to a random normal tile.
Commander = This adds 3X to 5X to all normal tiles.
One-Eye = This will multiply 2X to 5X with a normal tile, where this is repeated 2 to 4 times.
Collector = This will collect all values from the normal tiles, where this collected value is added to the total win.
Reset = This will substitute all End tiles with normal tiles.
Collect & Command = This will collect all values from all normal tiles, then this summed value will be placed on all normal tiles and also to the total win.
Super Reset = This will replace all End tiles with temporary Mystery chests.
Coin Win = This will add a random coin win of 25X to 50X to the total win.
Persistent Scout = This works as the scout; the difference is that it is activated at each round.
Persistent One-Eye = This works as the One-Eye, where the difference is that it is activated at each round.
Persistent Commander = This works as the Commander, where the difference being that it is activated at each round.
Regarding Scout, One-Eye and Commander, they can upgrade their respective Persistent action by adding their displayed value to the value of an active persistent action. Once you have taken part in normal tiles or mystery chests, these will turn into End tiles. Each normal tile has a maximum limit of 10000X.
Coin
When you land coin symbols on 3 or more reels, the Coin feature is activated. These coin symbols show value from a predefined set that is based on your bet size and by activating this feature, you get to take part in the total value from these coin symbols.
Bonus Buy
If you want to take advantage of the Trail Bonus directly, you can use the Bonus Buy feature. You then pay 100X the bet and then the bonus feature is activated, where the RTP has increased to 98.00%.
Dead Man's Trail Slot Conclusion
It is truly an action-packed adventure that Relax Gaming has managed to create within this slot, where we together with a bunch of pirates are in a pursuit of richness. Already at the start of the slot, you are greeted by a very atmospheric environment, where its careful design that takes place during a foggy night creates the perfect existence. It is really a calm before the storm in the base game, where you get a pleasant stay with the wild symbols and coin symbols. These coin symbols will often land during the spins, but it is necessary to land these on 3 or more reels in order to take part in them. When you have succeeded in doing so, all the values that appear on these coin symbols will be collected and then distributed.
When you land 3+ scatters or use the Bonus Buy feature, the Trail Bonus feature is activated and thus the fantastic adventure that this game revolves around begins. We will then be able to move around on a map, where each tile that you can land on has different features that can be activated. It's an incredibly large mix, where like the move on a Monopoly game, you get very nervous at every step taken on this board. It is reminiscent of the respins feature that has been seen in among others Money Train 2 and Baron Bloodmore and the Crimson Castle, where you mainly collect multipliers. Where these multipliers can, among other things, receive upgrades in the form of collectors, scouts and commanders assigned, which causes them to increase significantly. You will be moved 1 to 9 steps at each new round and this amazing adventure continues until you land on an end tile. Some visits to this Trail Bonus can sometimes end very quickly, where you have only received lower winnings, but like most games from this game provider, its high volatility can be favorable and generate gigantic winnings. Where they have chosen to add an extremely high potential maximum win of 50000X the bet, where you have a good level of the RTP in the base game of 96.29% and through the Bonus Buy you can instead take part in an incredibly high RTP of 98.00%.
With a packed bonus feature that this slot offers, the choice of theme feels perfect and their skillful creation of designs as well as mathematical models make the experience perfect. It is a slot that has a very high volatility and it therefore suits the riskier player.
Dead Man's Trail is a slot that allows us to take part in an adventure out at sea among pirates, where this stormy sea can show us the way to the Trail Bonus which can give huge winnings.