Slot 15 Crystal Roses A Tale of Love — Game Review
15 Crystal Roses A Tale Of Love Slot
Everyone dreams of finding the love of their life. We often have this idea in our heads from the stories and fairytales we heard of princes and princesses. Play N Go came up with such a game called 15 Crystal Roses A Tale of Love slot. There you can benefit from multiplier wild, stacked scatter feature and free spins. If this sounds interesting, keep on reading our 15 Crystal Roses A Tale of Love slot review.
Play With These Top Bonuses
15 Crystal Roses A Tale Of Love Slot Review
15 Crystal Roses A Tale of Love slot is categorised as a love slot due to the tale where there are the white horses, the female character looking like a princess and the male character looking like a knight. Let's see the details of the slot.
Table of Contents
About 15 Crystal Roses A Tale of Love Slot
Design, Symbols, and Graphics
RTP, Variance, and Payouts
Gameplay and Features
15 Crystal Roses A Tale of Love Slot on Mobile
Our Verdict
About 15 Crystal Roses A Tale of Love Slot
15 Crystal Roses A Tale of Love slotis a product of Play N Go, which is one of the most popular providers. The team obviously was romantically inspired to make the slot, which doesn't occur very often in slots from different providers.
The game action of the slot occurs on a grid made of 5 reels and 3 rows. You can make winning combinations on 20 fixed paylines, where you have to land three, four or five matching symbols adjacently left to right.
A good thing in the base game is the multipliers that may appear randomly. In addition, there is the Free Spins and Stacked Scatter feature. In the bonus games, you can win a maximum of up to10,000x the stake.
Design, Symbols and Graphics
If you think you'll see a lot of red colour on the reels, you'd be wrong. The outlook of the slot is a little dark coloured, and the only red symbol is the rose. However, the design and graphics excellently represent the theme which is connected to knight and princess.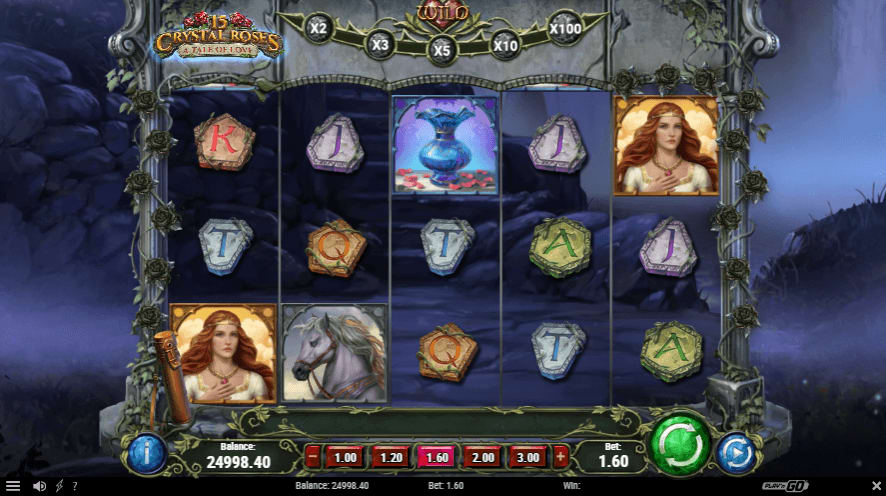 The lowest paying symbols are the 10-A card royals, which are carved on stones. Next are vases, horses, Lancelot, and Elaine. These have values of 7.5 to 25 times your stake. For five of a kind in a payline.
The Wild symbols pay 50x the stake for five in a payline. It also replaces regular pay symbols in other winning combinations. When the base game multipliers appear, they are attached to the wilds.
RTP, Variance and Payouts for 15 Crystal Roses A Tale of Love Slot
The 15 Crystal Roses A Tale of Love RTP is capped higher than the industry average, at 96.20%. The volatility of the game is high, which can bring less frequent but potentially bigger rewards. To better understand this, we suggest reading our variance, volatility and RTP guide.
The Betting range of 15 Crystal Roses A Tale of Love slot is from £0.10 and goes up to £100 while in the game you can win a maximum of up to 10,000x the stake.
Gameplay and Features on 15 Crystal Roses A Tale of Love Slot
15 Crystal Roses A Tale of Love slot comes with hot bonus features that start even from the base game. Let's see how can you trigger them.
Multiplier Wilds Feature
A love wild symbol may randomly appear with a multiplier attached on any spin starting from the base game. It may have a value of x2, x3, x5, x10, or x100. The multiplier is applied if a win is wormed with that wild, where only one wild per payline is possible.
Stacked Scatter Feature
The Crystal Rose scatter may land everywhere and on any spin, this feature may activate stacking Crystal Rose scatters 3-high.
Free Spins Feature
The free spins are triggered with three or more scatters in view. Here you have a goal to collect these scatters and increase the multiplier wild value for the duration of the feature.
3+ Scatters – 3 starting free spins and x2 multiplier wild.
6+ Scatters – 6 starting free spins and x3 multiplier wild.
9+ Scatters – 9 starting free spins and x5 multiplier wild.
12+ Scatters – 12 stating free spins and x10 multiplier wild.
15 Scatters – 15 starting free spins and x100 multiplier wild.
Every time you collect three scatters during the round, you get 3 free spins and an increased multiplier. If you collect 15 of them, they are removed from the grid and no additional spins can be won.
15 Crystal Roses A Tale of Love Slot on Mobile
15 Crystal Roses A Tale of Love slotis a mobile-optimised game that runs well on Windows, iOS and Android. It is read for instant play, so there is no need of downloading anything.
Other Play N Go Slots
There are a lot of high-quality Play N Go slots in the provider's portfolio, so it would be a pity not to mention a few. Here are some recommendations:
The Last Sundown — In The Last Sundown slot you can take advantage of splitting symbols, which can potentially increase your chances, as well as a free spins feature. The game comes with a maximum win potential of up to 36,000x the stake and the RTP is 96.20%.
Legend Of The Ice Dragon — At the Legend Of The Ice Dragon slot you can find wild symbols, multipliers and other bonus features that might be very helpful in your quest. These include Ice Frame, Freezing, and Ice Crystal feature. The game's winnings can reach up to 6,000x the stake, and the RTP is 96.29%.
Sparky & Shortz — Sparky & Shortz slot comes with wilds, scatters, multipliers, and free spins, which can make the game both exciting and lucrative. It has a maximum win potential of up to 10,000x the stake and an RTP of 96.28%.
Slotswise Verdict
Even though the design seems a little dark, it is excellently done. Also, three features including base game multipliers sound pretty exciting. Overall, Play N Go did a good job with the slot. If you want to try a 15 Crystal Roses A Tale of Love free play, you can check out some of the casinos we recommend on Slotswise.
15 Crystal Roses
The 15 Crystal Roses online slot is a game that centers largely around a set of multipliers. These multipliers are tied to the 15 roses noted in the title of the game. With a bit of a middle ages type of romantic theme, the chances for big wins are serious with such large multipliers.
Show
Rating: 85% | Made By Play'n GO | Reviewed On December 27, 2021
Casinos with 15 Crystal Roses
Filter Casinos
Add Filter
Loading filter options.
Casinos with 15 Crystal Roses
Casino
Rating
Visit
Review
AHTI Games
88%
AHTI Games Review
✔
Goodman Casino
88%
Goodman Casino Review
✔
Hejgo
88%
Hejgo Review
✔
Slots Magic
86%
Slots Magic Review
✔
Mr Green
86%
Mr Green Review
✔
FortuneJack
85%
FortuneJack Review
✔
Wildz Casino
84%
Wildz Casino Review
✔
Casino Heroes
80%
Casino Heroes Review
✔
InterCasino
78%
InterCasino Review
✔
Loyal Casino
75%
Loyal Casino Review
✔
BitStarz
75%
BitStarz Review
✔
N1 Casino
70%
N1 Casino Review
✔
TuskCasino
60%
TuskCasino Review
✔
Loki Casino
89%
Loki Casino Review
✔
Gslot Casino
88%
Gslot Casino Review
✔
CasinoBuck
88%
CasinoBuck Review
✔
Gioo
88%
Gioo Review
✔
22BET Casino
88%
22BET Casino Review
✔
Unibet
86%
Unibet Review
✔
Ilucki Casino
85%
Ilucki Casino Review
✔
Show All
An Introduction to 15 Crystal Roses
We like games that are atypical but still make a lot of sense. Unfortunately, we don't see a lot of them that break out away from the common themes that much. However, the 15 Crystal Roses video slot fits this concept perfectly with its romantic look and atypical gameplay.
If you like big multipliers and great artwork, this could easily be the perfect title for you.
The theme has a middle ages romantic feel to it. You can imagine something similar to the times of King Arthur in this way. The characters look great and have a tremendous amount of detail. Even the card rank symbols look really good, and they're honestly better looking than a lot of the main symbols we see in other titles. Overall, the presentation is on point to say the least.
In terms of gameplay, we hope you like multipliers. We say that because that's what you're getting here since the majority of the game is based on them. That leads to a whole lot of action, but it ties into the theme really well too. Additionally, you get a few different features that compound to give you even more value than they do individually. As a result, the play style is a lot of fun without being frantic.
Betting and Layout
You won't need to learn anything new to play this game if you've played many video slots at all. Play'n GO went with a classic format because it would be such a strong foundation for the feature set. Here's what you can expect:
The main gameplay area has five vertical reels. Three rows of symbols extend across them as well.
Across the top of the game board is a meter for multipliers. We'll look more at this down when we cover the feature set.
A total of 20 paylines are used in this game. However, Play'n GO does not allow you to change the number of active lines.
Additionally, all of these paylines only pay from the far left toward the right. They do not pay in both directions in this game.
This developer is known for offering a really wide range of bet sizes, and that's exactly what they did here as well. You'll have minimum bet sizes of €0.10 per turn, which fits virtually anyone.
The maximum goes up to €100 per spin. However, a whole lot of increments are available between this minimum and maximum.
We really like how Play'n GO handles listing wins in this game. They're all based on a multiple of your total bet size. However, they also list out charts in the pay table for the different effects of levels of multipliers. That's pretty convenient for a game that has so much of its gameplay based on multipliers like this.
The volatility for this game is a bit above-average as well. This is because of how much of the game is based on multipliers. We'll get more into how this works and what you can do to adjust your bet sizes if you wish down below.
Gameplay and Features
Play'n GO definitely created a game with a great style of play in the 15 Crystal Roses online slot. However, the focus on multipliers is a bit atypical. Because of this, we really recommend that you read over the following to learn the game mechanics. This will make it a whole lot easier to jump in and get started playing.
Wild Heart Symbols
The first symbol we need to look at is the crystal heart. It has a golden frame around it, and this is the wild symbol. This will substitute for everything in the game other than the Crystal Rose symbols.
You get some pretty strong payouts for combinations of the wilds even without multipliers. They are as follows:
The wilds give a lot more value in the free spins bonus round, which we'll look at down below. That aside, they help you to get a lot of winning combinations you wouldn't have picked up. As a result, they help you out a lot in terms of increasing the hit-rate.
Crystal Rose Scatter Stacks
The scatters help you out by giving you a set of free spins if you get three or more on the game board at once. However, something we want to point out first is the scatter stacks feature. This basically increases you chances of getting more scatters at once.
The basic idea behind this feature is that, completely at random, a spin can have the scattered stacked several positions high. When you get one of those spins, you get much better chances of hitting the free spins mode.
Additionally, we want to point out that we can't remember seeing this type of feature before. As a result, we think it's a pretty interesting twist on things.
Free Spins Bonus Round
When you start off in the free spins, you'll see the wild multiplier meter at the top come alive. Every three crystal roses collected in this feature moves this meter along one position. You'll also pick up three extra free spins when this happens. As a result, your wild multipliers can increase to be worth up to 100x.
However, if you trigger the free spins by getting 15 roses (ie: filling up the reels), you get a special mode. This is the legendary free spins mode, and you start with 15 free turns. Additionally, you'll start with the wild multiplier up at the 100x level, which is the maximum.
Quest Maps
Another feature available in the 15 Crystal Roses video slot is the quest maps system. Essentially, when you collect 15 crystal roses in total, you'll move along to the next position on the map. This allows you to cycle through getting increased multipliers over time. We think this is a neat approach that rewards coming back to this title repeatedly.
How to Win at 15 Crystal Roses
The volatility is definitely fairly high in this game. We put it well above-average, and it's largely due to the big multipliers available in the free spins mode. As a result, our recommendation is that players adjust by lowering their bet sizes a bit. Dropping down to about a third or so of what you're normally used to is probably a good starting place.
While you're free to play with whatever bet size you're comfortable with, this is the standard adjustment. Additionally, it helps to smooth out the effective spins quite a bit.
Payout Structure for 15 Crystal Roses
In the pay table, it shows a section with the wild wins with various multipliers. With the 100x multiplier on, you can win up to 5,000x. This is the top regular win in the game.
On the base level without the multipliers, however, the payouts are as follows. For the woman in gold, she gets you 25x for five of a kind. Players can also win 12.5x for five of the man. However, wins of 7.5x are available for five of either the horse or the blue vase. We want to also point out that these symbols are incredibly detailed and have an absolutely excellent look.
Rune-like card rank symbols round things out at the lower end. You start off with a 4x payout for five of the green A symbol. The red A and orange Q get you 3x for five of a kind of either. Finally, your payout for five of the purple J or blue T will be 2x.
Overview
The range of features incorporates plenty of different extra ways to get paid outside of the typical pay schedule offering. On top of that, everything is about fun with the 15 Crystal Roses online slot, and that is great news for people who want an exciting style of gameplay due to these multipliers.
As if that wasn't enough, the presentation and visual tone of this slot gives a fun experience that's in competition with most that the online casino industry as a whole has available. Because this title offers a tremendous level of quality while still standing out as an individual game, this video slot fits tremendously in Play'n GO's portfolio as a whole, and the driving romantic concept put into play as the basis for this game is a great foundation for the play style and excitement.
FAQ
Which online casinos have 15 Crystal Roses?
Use the list of 15 Crystal Roses casinos to see all online casinos that have 15 Crystal Roses. We filter the casino top list to only show 15 Crystal Roses casinos that accept players from your location.
What is the Return to Player (RTP) for 15 Crystal Roses?
The 15 Crystal Roses RTP is 94.2%. An RTP of 94.2% puts 15 Crystal Roses among slots with a below-average Return to Player. An Average RTP is at least 96%, and a high RTP at least 98%.